L-Leucine, L-Isoleucine, and L-Valine are commonly grouped together and referred to as Branched Chain Amino Acids, or BCAAs, because of their unique branched chemical structure. BCAAs are essential, meaning that they must be consumed through the diet, since the human body cannot make them from other compounds. BCAAs have long been used by strength-training and endurance athletes alike to activate muscle synthesis and reduce muscle breakdown caused by intense training. Optimum Nutrition's Instantized BCAA 5000 Powder is made useing a proprietary process that mixes easily and keeps the BCAAs suspended longer so that they do not readily settle to the bottom of the glass. Because if you can't drink your BCAAs, they can't help your performance.
Beyond The Basics
• 1st Ever Instantized Formula
• Mixes Easily with a Spoon
• Leucine, Isoleucine, & Valine in 2:1:1 Ratio
• Unflavored Versatility
• Highly Concentrated
• Supports Muscle Building & Recovery Efforts
Category: Vitamins & Supplements
How To Use It
Consume Instantized BCAA 5000 Powder between meals, 30-45 minutes before workouts, and/or immediately after workouts.
Most Recent of 1 Reviews
Verry good

Review by

Mullab

(29 January 2016)

Great for athletes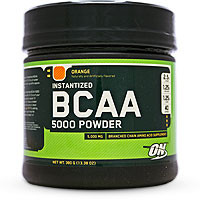 Take your fitness goal to the next level.
Free Delivery
for orders over R200.
All Major Centres
Orders over R200
Outlying Areas
Orders over R599
Expected Delivery
date for your parcel.
Johannesburg, Pretoria, Durban
Tue 27 June or Wed 28 June
Cape Town, Outlying Areas
Wed 28 June or Thu 29 June
Nutritional Information
Serving Size: 1 Heaping Teaspoon (5.6g)
Servings per Container: 60
Amount per Serving
%DV
L-Leucine
2.5g
†
L-Isoleucine
1.25g
†
L-Valine
1.25g
†
† % Daily Value not established
Ingredients
Other ingredients: Maltodextrin*, Lecithin.
* Adds a trivial amount of carbohydrates per serving.
Notice
Check with a qualified healthcare professional before taking this product if you are pregnant, nursing a baby, under 18 years of age, or if you have any known or suspected medical condition(s) and / or are taking any prescription or OTC medication(s).