Product Info
Fully Dosed Real Food Muscle Gainer is a premium lean mass gainer, formulated to nutritionally support athletes seeking improved muscle recovery and lean muscle gains.
Premium Carbohydrates
There premium muscle-building formulation features an approximately 2-to-1 ratio of workout-fueling carbohydrates to protein, designed to support and fuel the body's muscle building potential.
Fully Dosed have eliminated the use of sugars and other cheap, high GI carbohydrates, typically used in mass builders, in favour of a whole-food based carbohydrate blend sourced from oats, rice and potatoes. This "real food" carbohydrate blend provides the caloric support, without an insulin spike, needed to fuel working muscles and help the body recover from intense training.
A quality blend of whey and pea proteins, along with almonds provides high biological value protein needed to feed muscle gains.
Lean Muscle Gains
Used between meals, post-workout, or before bed, Fully Dosed Real Food Muscle Gainer can help fuel your recovery from heavy training whilst providing the nutritional assistance your body needs to optimally build lean muscle.
Related Products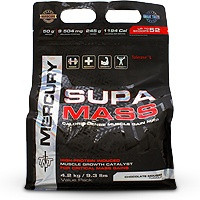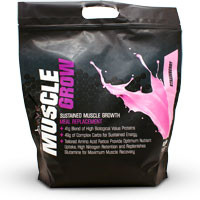 Nutrition Facts
Serving Size: 3 Level Scoops (130 grams)
Servings per Container: 30


Amount Per Serving
%NRV
Energy
1 925 kJ
460 kCal
Protein
30 g
54%
Glycaemic Carbohydrates
65 g
†
of which Total Sugar
1.5 g
†
Total Fat
7,2 g
†
of which Saturated Fat
2 g
†
Dietary Fibre#
7,8 g
†
Sodium
40 mg
†

Nutrient Reference Values (NRVs) for individuals 4 years and older.
† NRV not established
#AOAC 985.29
Ingredients
Milled Oats, Potato Flour, Milled Rice, Whey Protein, Pea Protein, Ground Almonds, Cocoa Powder, Organic Cacao Powder, Flavouring, Soluble fibre blend (Carrageenan, Guar Gum, Xanthan Gum), Sucralose.
ALLERGEN INFORMATION
Dairy (milk), Nuts.
This product is made in a facility that uses tree nuts, peanuts, soya, wheat (gluten), eggs, milk.
Recommended products to use with this item
Directions
• Add 450 to 500 ml of cold water or fat free milk to your shaker then add 3 scoops (approx. 130 g).
• Add 3 ice cubes (optional) and shake hard for 10-15 seconds until a smooth and creamy texture.Note - Blending can significantly enhance mouthfeel so if you want your shake to be even smoother and creamier, there's no better way to ensure this than using a blender.
• If your shake is too thick, simply add more water or milk. If too thin, use less next time.
• Using milk instead of water achieves a creamier end result.
• For best results take one serving immediately after weight training workouts.
• Additional servings may be taken during the day depending on individual caloric and nutritional requirements and ones need to gain muscle mass.
• Alternatively use as recommended by your nutritional advisor.
Notice
Seek advice from a healthcare practitioner before use if you have any pre-existing medical condition. Use this product as a food supplement only and consume in conjunction with a nutritious diet and appropriate exercise program. Do not use as a sole source of nutrition.
Customer Reviews
Expensive but worth it as a meal replacement

Review by Willy

(12 October 2020)

Mixes well with a blender. Tastes like food blended together.
Perfect when you to lazy to cook.
Bulking season must.

Good Product

Review by 420_Dwayne

(29 August 2019)

Good product, quite cheap, tastes great. Lots of almond chunks in it.

'Not Bad'. Gets the job done but it mixes pretty bad and ruins my stomach

Review by Mike

(8 August 2019)

Has a decent amount of calories per shake.
Very little sugar.

Pretty clumpy so mix with a blender, even then its still powdery.
Worst part is it wreaks havoc on my stomach when I consume more than 1 serving per day.

super suppliment ever i love it

Review by Hustle Muscle Personal Trainer

(2 August 2019)

it is the most best supplement that I ever use it is good for my body

Great taste, a little bit pricey, quite effective.

Review by CP

(4 June 2019)

Could use some more fats.