Product Info
SSA Supplements Beta Ecdysterone is a herbal extract which may promote increased protein synthesis for lean muscle gains.
An increase in protein synthesis makes your body's ability to utilize the protein it receives from whole food sources or protein shakes more efficient. This enhanced utilization of protein may increase lean muscle tissue and decrease body fat percentage.
Another possible effect of Beta Ecdysterone is the lowering of cholesterol and blood glucose, both of which promote longevity in humans.
SSA Supplements Beta Ecdysterone is a product to consider once an athlete or lifter feels they have hit a 'wall' in pursuit of their fitness goals.
Related Products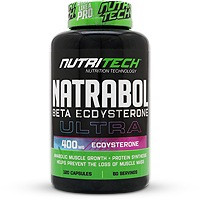 Nutrition Facts
Serving Size: 2 Capsules
Servings per Container: 30

Amount Per Serving
NRV
20-Beta-Hydroxyecdysterone 90%
300 mg
†
Black Pepper Extract 4:1
5 mg
†
NRV- Nutrient Reference Values for individuals older than 4 years.
†-NRV not established
Ingredients
20-Beta-Hydroxyecdysterone, Black Pepper Extract.
Other Ingredients: Di-Calcium Phosphate, Capsule Shell [Gelatin, Purified Water, Colourant (E171, E172, E110), Pirosil (Silicon Dioxide).
ALLERGEN INFORMATION
Contains no common allergens, but is produced in a facility that processes Whey, Casein and Egg.
Recommended products to use with this item
Directions
Take 1 to 2 capsules twice daily with a protein rich meal.
Notice
Seek advice from a health care practitioner before use if you have any pre-existing medical condition. Do not use if you are pregnant or nursing, or if you are being treated for heart disease or high blood pressure. Should not be used in conjunction with any prescription medication including MAO inhibitors, stimulants, or anti-depressants. Discontinue use and consult your doctor if any adverse reactions occur, KEEP OUT OF REACH OF CHILDREN
DO NOT EXCEED RECOMMENDED DAILY INTAKE, DIETARY SUPPLEMENETS SHOULD NOT REPLACE A PROPER DIET.