Product Info
USN Pure BCAA has been formulated to stimulate muscle growth & reduce muscle breakdown.
Athletes use BCAAs around their training times, either before or after to improve the body's utilisation of the protein-rich meal or shake they consume after their workout.
Another important benefit when taken before your gym session is the reduction of muscle catabolism or the breaking down of muscle fibre which may occur if not enough energy is available to fuel exercise.
USN Pure BCAA is available in convenient capsule format.
Related Products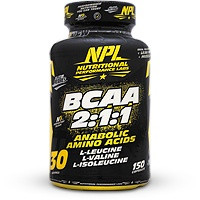 Nutrition Facts
Serving Size:4 Capsules
Servings per Container: 30

Amount Per Serving
L-leucine
1200 mg
L- isoleucine
600 mg
L-valine
600 mg
Ingredients
Sugar free, Bovine gelatine capsules
Recommended products to use with this item
Directions
• Take 1 – 2 dosages daily.
• Take 4 capsules 30 – 45 minutes prior to workout and or immediately thereafter.
• Ideally combine with a high quality protein drink.
• To enhance muscle hypertrophy and strength, a resistance weight training program of at least 10 – 12 weeks, 3 – 5 days per week should be followed.
Notice
High levels of free-form amino acids may cause gastric discomfort in sensitive individuals. Reduce dosage or discontinue use if this is the case. KEEP OUT OF REACH OF CHILDREN.