Product Info
• Evolve Nutrition Basix Cluster Dextrin® is a highly Branched Cyclic Dextrin, formed through the breakdown of Amylopectin, using a patented enzymatic treatment. This results in unique clusters, which are the formed into larger chains using additional branching enzymes.
• When compared to other carbohydrates sources, Evolve Nutrition Basix Cluster Dextrin® offers a low osmolality and high molecule weight with minimal blood-insulin effects, benefiting its use in and around training to enhance muscle cell volumization, improve recovery rates and performance levels, while restoring muscle glycogen levels.
• Evolve Nutrition Basix Cluster Dextrin® provides a vital energy source during periods of strenuous training. Being a highly versatile performance inclusion, add one serving to your pre-workout to elevate the transport-medium nutrient pump effect for absolute performance gains.
Related Products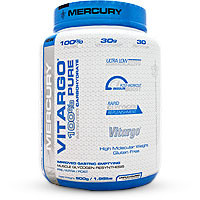 Nutrition Facts
Serving Size: 1 Scoop (12,5 g Serving)
Serving per Container: 40

Amount Per Serving
%NRV*
Energy
399 kCal
95 kJ
Protein
0 g
0%
Carbohydrate
12 g
†
of which Total Sugar
0 g
†
Total Fat
0 g
†
of which Saturated Fat
0 g
†
Dietary Fibre#
0 g
†
Total Sodium
0 mg
†
% Nutrient Reference Values (NRVs) for individuals 4 years and older (2010).
† NRV not established.
#AOAC 985.29 method of analysis.
Ingredients
Highly Branched Clyclic Dextrin (Cluster Dextrin®).
ALLERGEN INFORMATION
No common allergens included.
This product is manufactured in a facility that processes tree nuts, peanuts, soy, wheat (gluten), oats (gluten) and cow's milk.
Directions
• For one serving (12.5g), add one scoop to 125-175 ml of water or your Evolve pre-workout or your Evolve intra-workout.
• For intense training sessions, double your serving to a 25 g (2 scoops) dosage rate for heightened and sustained performance effects.
Notice
Use this product as a dietary supplement only. Intended for use in healthy adults over the age of 18. Consult your healthcare practitioner before use, especially if you are taking medication. Not recommended for pregnant or lactating females.
Customer Reviews
Won't train without it!

Review by Carlos

(24 February 2020)

For a high quality carb source it doesn't get any better than this! No, I'm not a rep for the company. Been training for 20+ years, so I know how important carbs are for putting on gains. My training performance skyrockets when I use it. Totally different than a preworkout which just whacks me on the floor.