Product Info
Muscle Wellness Vegan Protein is a hypo-allergenic natural plant based protein.
Does not contain any animal by-products, soya protein and is free from artificial colorants and sweeteners.
The combination of rice and pea protein provides a rich source of essential and non-essential amino acids that are highly bioavailable and easily digestible.
Having an amino acid profile which is comparable to the best animal protein sources containing high levels of Isoleucine, valine, arginine and lysine which are beneficial after an intense workout.
Vegan Protein uses protein which is hypo-allergenic and created using low temperature natural process without the use of chemicals.
Related Products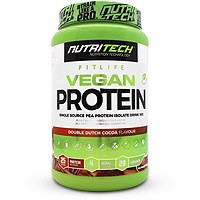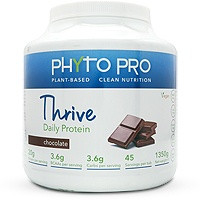 Nutrition Facts
Serving Size: 1 Heaped Scoop (30g)
Serving Per Container: 100 (3kg)
Amount Per Serving
Per 100g
Energy
658 kJ
2196 kJ
Protein
20 g
66.6 g
Carbohydrates
5.5 g
18.3 g
of which total sugars
1.5 g
5 g
Total Fat
1.3 g
4.33 g
of which saturated fats
1 g
3.5 g
Dietary Fibre
3.3 g
11 g
SUPER FOOD BLEND
500 mg
1665 mg
Barley Grass, Spirulina, Wheat Grass
Ingredients
Yellow Pea Protein, Hemp Seed Protein, Brown Rice Protein, Fructose, Organic Cacoa Powder (in chocolate flavour only), Organic Wheat Grass Powder, Organic Barley Grass, Organic Spirulina Powder.
ALLERGEN INFORMATION
No Known Allergens
Recommended products to use with this item
Directions
• Add one level scoop (30g) to approximately 250ml of water and shake in a shaker cup or blender for 20 seconds until powder is dissolved.
• Consume one serving 2-3 times per day or as required.
Customer Reviews
Clean Protein

Review by Taff

(17 May 2021)

No funny business, just pure veggie gains