Product Info
Nutritech Vegan Protein is a pea protein shake for dairy-free or vegan athletes.
Build Muscle
Protein increases lean muscle and is found in high concentrations in meat, eggs and dairy.
Vegetables do contain protein but in much lesser quantities which makes it challenging for vegan fitness athletes to get enough protein to meet their daily requirements.
This shake is a perfect solution for the vegan athlete, providing 25 grams of protein per serving.
Pea Power
The protein comes from peas which have an excellent amino acid profile and are easily digestible, lactose and gluten free.
Made using low heat isolation the result is a pea isolate powder which is 78% protein and has high bioavailability properties.
Non-GMO
Well suited to a vegan lifestyle the peas are made from GMO free golden peas grown in the USA with the Cocoa in the Chocolate flavour being GMO free to.
Great for Smoothies
The manufacturers have created a versatile product by offering a Chocolate flavour for athletes on the go and a natural, unflavoured version for smoothies.
Prevent Muscle Loss
Each serving will give you 4 grams of BCAAs which have been shown to prevent muscle loss during weight training and help build muscle.
The BCAA profile of pea protein is similar to whey, making it an excellent choice for a plant-based diet.
Workout Recovery
BCAAs and protein also help improve workout recovery by repairing trained muscles. Nutritech Vegan Protein is a quality nutritional shake to support a vegan fitness lifestyle.
Related Products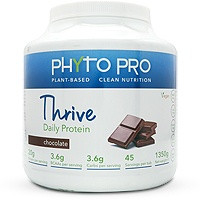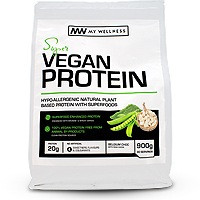 Nutrition Facts
Serving Size: 32 grams (2 rounded scoops)
Servings per Container: 28 (908 grams) / 62 (2kg)


Amount Per Serving
NRV*
Energy (kJ)
488
Energy (kcal)
115
Protein (g)
25
Carbohydrates (g)
0.9
of which total sugar (g)
0
Total Fat (g)
1.2
of which saturated fat (g)
0.3
Dietary Fibre (g)
0
Total Sodium (mg)
144
TYPICAL AMINO ACID PROFILE
Alanine (mg)
989
Arginine (mg)
2720
Aspartic acid (mg)
2746
Cystine (mg)
58
Glutamic acid (mg)
4672
Glycine (mg)
1002
Histidine (mg)
752
Isoleucine** (mg)
1165
Leucine** (mg)
2310
Lysine (mg)
1968
Methionine (mg)
211
Phenylalanine (mg)
1357
Proline (mg)
1152
Serine (mg)
1450
Threonine (mg)
1021
Tryptophan (mg)
192
Tyrosine (mg)
1011
Valine** (mg)
1123
* Nutrient reference values (NRVs) for individuals from the beginning of 37 months and older expressed per single serving.
Dietary Fibre method of analysis - AOAC - 991.43
** Branched chain amino acids (BCAAs)
Ingredients
Non-GMO Pea Protein Isolate, Non-GMO Fat-Reduced Cocoa (Chocolate only), Sodium Chloride, Stevia
ALLERGEN INFORMATION
Contains no common allergens
Manufactured in a facility that uses eggs, dairy, soy, wheat (gluten) and nuts.
Recommended products to use with this item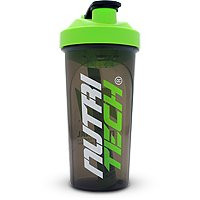 Directions
• Mix 2 rounded scoops (approx 32 grams) with 200-250 ml of water or almond milk in a shaker or add to a smoothie.
• Take 1 to 3 servings per day.
• Drink a serving within 20 minutes after finishing your workout.
• To add more protein to your diet, take 2 rounded scoops before exercise and between major meals.
Notice
Regular training and proper nutrition are essential for achieving your goals. This product is not intended to diagnose, treat, cure, or prevent any disease. Consult your doctor prior to using this product especially if you have any suspected or known medical condition. Do not exceed recommended daily intake. Dietary supplements should not replace a proper diet.
Customer Reviews
Great product and excellent service

Review by Anonymous

(3 September 2021)

Ordered the product at 2pm and got it at 7am the next day (Johannesburg region). Mixes well and tastes great. Great value for money

Best vegan protein powder

Review by Dani

(16 July 2021)

I use this protein powder every day and can honestly say it's amazing. Bought the 62 servings cocoa flavour last time and definitely getting the same again. Consistency and flavour is great!

One of the best out there!

Review by Werner

(4 May 2021)

This has to be one of the best vegan protein powders out there. It tastes really nice and does not block you up(if you know what i mean) like allot of other vegan protein powders do.

Really pleased!

Review by Anne

(2 March 2021)

I have just started using Nutritech vegan protein, unflavoured. It is honestly the best tasting vegan protein I have ever used, and does not leave an aftertaste, or taste awful while drinking. Will be ordering the 62 servings soon

Unflavored

Review by Etienne

(11 February 2021)

Been using the 28 serving unflavored powder, and already on my way to order the 62 serving. Taste is really good and not as sweet as the other brands out there. You have no silly after taste.

Nutritech Vegan Protein Chocolate

Review by Mieder

(28 November 2020)

Really not as sweet as most of the others and maybe not that tasty. Also not as maybe not refined as some of the others but mixes easily. I like it alot.

Great

Review by Josh

(11 August 2020)

Chocolate is the best I find that strawberry foams up too much. I don't know why.

Great Price, great service

Review by Doug64

(25 May 2020)

Thank you for your great prices and fast delivery!

Nutritech Vegan Protein

Review by Brent

(27 March 2020)

Very good Protein it has shaped my body i only use it.
Protein comes from plants.
I highly recommend Pea protein its the best.
Thanks Nutritech for great product.

Not great, not terrible

Review by Dumani

(7 March 2020)

I bought two tubs of this stuff after reading the reviews about it. Initially it made my tummy upset but the further i got into the tub the less upset my tummy became. The taste is nothing to write home about either. It doesn't really taste like anything, although the texture is a bit...interesting.

Not as unflavoured as you think!

Review by Ven

(31 December 2019)

I purchased the unflavoured Nutritech Vegan Protein and both my wife and I found it to be sickeningly sweet. It became cement after blending and gave us both digestive distress and running tummy. I will definitely not buy this again and would like to Nutritech to review their "unflavoured" protein as this is not what was expected. I have acquired unflavoured whey protein before and this is definitely is sweet.

Allergic reaction

Review by Carrie

(30 October 2019)

I was so excited to try this protein but within two days I developed a rash near the corner of my mouth and my eyelids. So sad ☹☹☹☹☹☹☹☹☹☹

VEGAN POWER

Review by Cherene

(17 October 2019)

Ons is 'n familie van 6 en gebruik hierdie produk al vir amper 2 jaar, want dis wanneer ons 'n 360 draai gemaak het om vegan te gaan. Ek is bankbaar vir Nutritech wat tyd ingesit het om hierdie produk op die mark te sit. Ons almal gebruik dit in ons smoothies vir 'n lekker ontbyt, my kids love dit. Ek kan so groot verskil sien in ons hele gesin se gesondheid en veral in ons klein lyfies, ek kan met trots sê my kids is gesond en my man lyk defnitief nie asof hy 39 is nie. Hy is sterker as ooit en het krag en stamina wat my verbaas. Maar wat kan mens sê die proteine kom direk van die bron soos die liewe Heer dit gemaak het.....van plante!

The Best

Review by Bernars

(15 September 2019)

Best Vegan protein that I have used

Great Shake

Review by Christelle

(26 July 2019)

Love the Strawberry one. With a bit of sweetener, water and soy milk makes a great breakfast shake for me..

Still searching

Review by CDG239

(8 July 2019)

I'm surprised at all the other reviews saying it tastes great. I've had the vegan Biogen (choc and vanilla), Usn plant protein and this one and I think the chocolate Biogen may be the best tasting one (if you mix it in a blender coz it one clumps). I find it has a waxy type coat that it leaves behind after each sip. Not terribly noticeable but its there. It also tastes more like caramel than chocolate to me. I'm still looking for a better option.

Love it! Taste great and well priced

Review by Nicky

(27 March 2019)

Hands down best vegan shake that I have used. Taste great and well priced

Good vegan shake

Review by Dean

(17 March 2019)

Good vegan shake. Taste is nice and mixes quite well. ????

I like it!

Review by Joanne T

(17 February 2019)

I like it!

One of the better vegan shakes on the market

Review by Gideon

(13 February 2019)

I am not a big fan of vegan protein but this one is decent

Great vegan shake

Review by Pregesh

(5 February 2019)

Happy with the vegan shake. One of the better ones that I have used

Really enjoying this Vegan Protein

Review by Thandeka

(3 February 2019)

Really enjoying this Vegan Protein

Best vegan shake!

Review by Sivuyile

(27 January 2019)

Best vegan shake!

Good product

Review by WERNER

(3 December 2018)

Buying another refill right now.

Great!

Review by Derick

(27 October 2018)

Love this Vegan Shake!

Great

Review by Daniel

(16 October 2018)

Taste is great for a vegan shake. Will keep on buying

Value for your money

Review by Ginja Ninja

(8 October 2018)

Im no expert, but the taste is good. Overall this product is good. I tried different brands, but always come back to this. Effective results for a great price... Overall good 2 great product.

Great Vegan Protein

Review by Tony

(30 September 2018)

I've been using vegan proteins for about 2 years. Swapping between different products to see which has a pleasant taste. So far this is one of the better tasting shakes. More importantly quality pea protein from America and not China!

Love it!

Review by Carl S

(7 September 2018)

Taste great and works well!

Excellent taste

Review by Lee

(7 March 2018)

I'm total vegan, since I started on nutritech Vegan protein my energy and strength has improved tremendously, truly a great product, and doesn't cause bloating.

Taste is good

Review by Taryn

(12 October 2017)

Bought Chocolate. Taste is good. One of the better vegan proteins I've had. Price is great compared to an imported product I used to get. Will buy again.