Product Info
Muscle Wellness Vegan Protein is a hypo-allergenic natural plant based protein.
Does not contain any animal by-products, soya protein and is free from artificial colorants and sweeteners.
The combination of rice and pea protein provides a rich source of essential and non-essential amino acids that are highly bioavailable and easily digestible.
Having an amino acid profile which is comparable to the best animal protein sources containing high levels of Isoleucine, valine, arginine and lysine which are beneficial after an intense workout.
Vegan Protein uses protein which is hypo-allergenic and created using low temperature natural process without the use of chemicals.
Related Products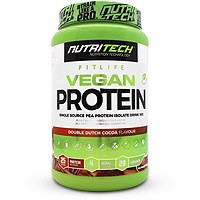 Nutrition Facts
Serving Size: 1 Heaped Scoop (30g)
Serving Per Container: 30 (900 g) / 66 (2 kg)
Amount Per Serving
Per 100g
Energy
658 kJ
2196 kJ
Protein
20 g
66.6 g
Carbohydrates
5.5 g
18.3 g
of which total sugars
1.5 g
5 g
Total Fat
1.3 g
4.33 g
of which saturated fats
1 g
3.5 g
Dietary Fibre
3.3 g
11 g
SUPER FOOD BLEND
500 mg
1665 mg
Barley Grass, Spirulina, Wheat Grass
Ingredients
Yellow Pea Protein, Hemp Seed Protein, Brown Rice Protein, Fructose, Organic Cacoa Powder (in chocolate flavour only), Organic Wheat Grass Powder, Organic Barley Grass, Organic Spirulina Powder.
ALLERGEN INFORMATION
No Known Allergens
Recommended products to use with this item
Directions
• Add one level scoop (30g) to approximately 250ml of water and shake in a shaker cup or blender for 20 seconds until powder is dissolved.
• Consume one serving 2-3 times per day or as required.
Customer Reviews
So far the best I've tried

Review by CDG2399

(30 August 2020)

I've been trying all the vegan protein shakes on the market and so far this is the best so far. Some that I've tried are the usn, nutritech, phyto pro, fully dosed and vivolife.

10/10 great website, great product!

Review by Dewald

(31 July 2020)

Decided to give the creamy chai flavor a try. Was not disappointed! It's so good!! Also, I received my order the day after ordering, even though I don't live in a major city, which is super uncommon for me.

Really good!

Review by Josh

(6 July 2019)

Great product! The chocolate flavour is tasty.

Honestly Impressed

Review by Jay

(29 May 2019)

First vegan protein supplement that has honestly impressed me in all aspects. Mixes well into smoothies. Does not leave a bitter after-taste in my mouth. Keeps me satiated and full until lunch. Best of all; the price is affordable for such a quality product. I'd be happy to recommend this to anyone!

Great shake

Review by Chris

(29 January 2019)

I love this shake it is affordable, taste great and is effective. I also love that they don't add any vitamin, minerals or creatine etc. Which I supplement separately.

Good

Review by Ahmed

(10 July 2018)

Super service from Supplement World, ordered at 11am - delivered the next day at 8am.

Good product, easy digesting, works.

Awesome

Review by Hardcore Hein

(3 June 2018)

Feel good every time I have a serving! Well done Muscle Wellness this is my new favourite protein replacement!

Amazing

Review by Caryn

(22 May 2018)

Was so sceptical about ordering a vegan shake because of reviews. Thought they all tasted disgusting, but I am so impressed with this. Tastes amazing, I actually really enjoy it and I can see changes in my body already.

Great

Review by Veshal

(6 December 2017)

Switched from whey to vegan ... no bloating and clearer skin. Chocolate flavour is amazing. It's a thick shake too

Great ingredients, effective, good taste

Review by Mumu

(16 November 2017)

An awesome protein for vegans and those looking to cut back on the additives. Also not too sweet. You can taste the pea protein but that's not a problem if you like chana flour :-)

Vegan gains!

Review by Kat

(27 July 2017)

Awesome stuff.. so good so healthy

Fitness Freak

Review by Mr Wes

(24 July 2017)

Overall, this is a good product when switching to a more natural/vegan protein source.

Amazed

Review by Chane

(22 December 2015)

I found out i was allergic to soy and milk so i tried this shake and i'm In love. The taste (unflavored) is amazing. It tastes clean and makes you feel amazing. No bloating and no artificial flavors. I have stocked up this product at home:-D

Good

Review by Vego

(23 August 2015)

Give it a try, you may just find (like I did) that whey and all the artificial flavours and sweeteners in it has been messing up your stomach and bloating you. Tastes like pees but not bad. Also, no more protein farts!