Product Info
Nutritech Endurade Recovery MLK combines a 2:1 carbohydrate to protein ratio designed to be the modern endurance athlete's recovery product of choice.
Optimal Recovery
Studies have shown that immediate replenishment of protein and carbohydrates after prolonged physical activity benefit muscles which have been catabolised or 'broken down' during exercise.
Added to the formulation is a blend of amino acids and electrolytes which get depleted through perspiration. Research has shown electrolytes to balance pH levels in the body and regulate energy.
Muscle Repair
During times of prolonged exercise the body may start to digest muscle tissue to be used for energy if adequate carbohydrate and protein stores are not available.
Consuming protein together with carbohydrates during prolonged exercise will combat the muscle 'break-down' and preserve lean tissue.
The protein found in Nutritech Endurade Recovery MLK comes from premium quality whey which digest easier and reaches muscles faster than other types of protein.
Whey has the highest biological value of all proteins found in nature and has been shown to increase athletic performance.
Restore Glycogen
Glycogen is one of the primary fuels of the body. During prolonged exercise these levels get depleted.
Consuming carbohydrates immediately after extended exercise refills the body's depleted muscle glycogen stores. This ensures adequate recovery after and a steady supply of energy during the event.
Nutritech Endurade Recovery MLK is available in a smooth and refreshing chocolaty taste of chocolate milk.
Related Products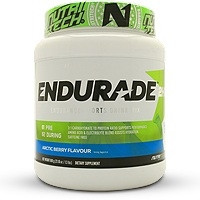 Nutrition Facts
Serving Size: 2 Scoops (60 grams)
Servings per Container: 20


Amount Per Serving
NRV*
Energy (kJ)
893.4
22
Protein (g)
19.8
Carbohydrates (g)
34.8
of which total sugar (g)
7.2
Total Fat (g)
0
of which saturated fat (g)
0
Dietary Fibre (g)
0
Total Sodium (mg)
207.6
Di Potassium Phosphate (mg)
105
Calcium Ascorbate (mg)
600
Potassium Chloride (mg)
300
Magnesium Oxide (mg)
300
Chromium Citrate (mg)
7.5
L-Glutamine (mg)
2220
L-Taurine (mg)
600
L-Glycine (mg)
600
* Nutrient reference values (NRVs) for individuals from the beginning of 37 months and older expressed per single serving.
Dietary Fibre method of analysis - AOAC - 991.43
Ingredients
Maltodextrin, Dextrose, Whey Protein Concentrate, L-Glutamine, L-Taurine, L-Glycine, Di Potassium Phosphate, Sodium Chloride, Calcium Ascorbate, Potassium Chloride, Magnesium Oxide, Chromium Citrate, Silicon Dioxide, Vegetable oil (Sunflower seed), Xanthan Gum, Vegetable oil (rape seed), Flavouring, Cocoa, Non-nutritive sweeteners; Sodium Cyclamate (E952), Sodium Saccharin (E954) and Acesulfame Potassium (E950).
ALLERGEN INFORMATION
Cow's Milk (Whey)
Manufactured in a facility that uses eggs, dairy and soy.
Recommended products to use with this item
Directions
• As a dietary supplement, mix 1 scoop with 200ml of cold water.
• Shake thoroughly and drink directly after exercise.
Notice
Regular training and proper nutrition are essential for achieving your goals. This product is not intended to diagnose, treat, cure, or prevent any disease. Consult your doctor prior to using this product especially if you have any suspected or known medical condition.