Nutritech GABA HGH improves workout recovery and may support natural HGH production.
Workout Recovery
Intense gym training and optimal recovery are both needed to reach your fitness goals.
A good night's sleep is an athlete's most powerful tool to consistently performing at their best.
GABA may support a deeper and increased sleep cycle.
GABA
Gamma-Aminobutyric Acid (GABA) is a powerful amino acid produced in the hypothalamus region of the brain which regulates instinctive functions such as sleep.
It is classified as a neurotransmitter which has a calming effect and betters the communication between nerves.
Stimulate Growth Hormone
Studies have shown GABA to stimulate the production of natural growth hormone. HGH levels tend to decrease with age.
Lean Body
Human growth hormone is responsible for maintaining and building lean muscle and reducing body fat.
Weight Training
Resistance training seems to increase the effectiveness of GABAs influence on GH secretion.
Following a weight training program 3 – 5 times a week would possibly maximize the potential of GABA.
Best Before Bed
Nutritech GABA HGH is best taken before bed to support optimal sleep and recovery for hard-training athletes.
Be The First To Add A Review
We're Here To Help
Give Us A Call
Phone us on 011 524 0345 for any help you need.
Send An Email
We really do reply to emails we receive.
Come And Visit
You are welcome to visit our warehouse.
Nutritional Information
Serving Size: 5 grams (1 flat scoop)
Servings per Container: 30


Amount Per Serving
NRV*
Energy (kJ)
0
Protein (g)
0
Carbohydrates (g)
0
of which total sugar (g)
0
Total Fat (g)
0
of which saturated fat (g)
0
Dietary Fibre (g)
0
Total Sodium (mg)
0
Gamma Aminobutyric Acid (GABA) (g)
3
* Nutrient reference values (NRVs) for individuals from the beginning of 37 months and older expressed per single serving.
Dietary Fibre method of analysis - AOAC - 991.43
** Branched chain amino acids (BCAAs)
Ingredients
Gamma Aminobutyric Acid (GABA)
ALLERGEN INFORMATION
Contains no common allergens.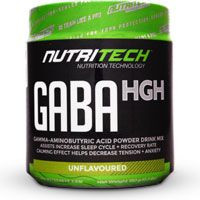 Take your fitness goal to the next level.
How To Use It
Serving
Mix 1 flat scoop with water or beverage of choice in a shaker.
Time
Take 1 serving before bed, or 45 minutes after your last meal.
Notice
Regular training and proper nutrition are essential for achieving your goals. This product is not intended to diagnose, treat, cure, or prevent any disease. Consult your doctor prior to using this product especially if you have any suspected or known medical condition. Do not exceed recommended daily intake. Dietary supplements should not replace a proper diet.