Nutritech Testo Combo Pack gives you two products to support natural testosterone and saves you money.
Testosterone Support
This is the ultimate product to support natural testosterone in hard-training male athletes and lifters.
Testosterone has an impact on muscle mass, body fat, strength and energy.
Save Money
The combo pack contains ZMA® + Trib and DAA Alpha which can be purchased individually.
At the time of this review buying the two products separately will cost you R404.
Buying the combo pack will save you R65.
Most Recent of 2 Reviews
Great test booster

Review by Tony

(15 September 2018)

Woks well. Can feel my test has increase. My wife is not complaining

Good stuff

Review by Samson

(26 October 2017)

Test without DAA its just a waste
We're Here To Help
Give Us A Call
Phone us on 011 524 0345 for any help you need.
Send An Email
We really do reply to emails we receive.
Come And Visit
You are welcome to visit our warehouse.
Nutritional Information
For Nutrition Values, Ingredients and Notice please have a look at each product's page.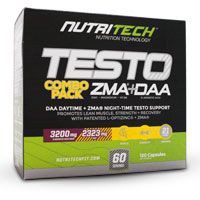 Take your fitness goal to the next level.
How To Use It
Serving
Nutritech DAA Alpha
Take 4 capsules.
Nutritech ZMA® + Trib
MEN
Take 4 capsules.
WOMEN
Take 3 capsules
Time
Nutritech DAA Alpha
A serving before breakfast or the first meal of the day.
Nutritech ZMA® + Trib
Have a serving 30 to 60 minutes before bed.
Duration
Nutritech DAA Alpha
After 4 weeks of continued use take 4 weeks off and start cycle again.