Product Info
Titan Nutrition Amino Mass is fast acting free form essential amino acids (EAAs) to support recovery and lean gains.
How is amino mass different than other EAA's?
Well, to some extent its not different.
What is different is that these are high quality aminos [Free Form] which are also in the specific dosage and the proportions recommended by the National Academy of Sciences to optimize protein synthesis and tissue repair.
How long does it take to work?
Titan Nutrition Amino Mass offers a free-form formulation of EAA's, meaning that it is a fast acting formulation that has got an impact almost instantly.
This is the reason why it can be used in pre, intra and post workout supplements.
Formulated with Amino9™ which is a unique and powerful blend of EAA's that is better at building muscle than protein – just 1.5g of Amino9™ was found to be more effective than as much as 40g whey protein!
Related Products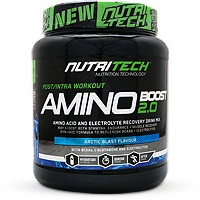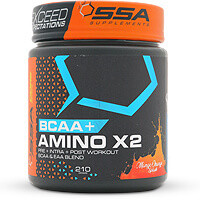 Nutrition Facts
Serving Size: 1 Scoop (6 grams)
Servings per Container: 50


Amount Per Serving
** Daily Value (DV)
AMINO ACID BLEND (As Amino 9™]
4633.5mg
L- Leucine+
1911mg
**
L-Iso Leucine +
420.5mg
**
L-Valine +
397.5mg
**
L-Lysine
732mg
**
L-Threonine
514.5mg
**
L-Phenylalanine
272.5mg
**
L-Methionine
194.5mg
**
L-Histidine
163.5mg
**
L-Tryptophan
27.5mg
**
Coconut Water Powder
250mg
Himalayan Rock Salt
250mg
**Daily Value (DV) Not Established
+Branched Chain Amino Acids
Ingredients
OTHER INGREDIENTS: Natural and nature indentical flavour, malic acid, sucralose, permitted colourant [E127].
Directions
• Mix 1 to 2 level scoops with 400-600ml water.
• This product is a versatile powder that can be used pre-intra-post or even sipped over the course of the day to support muscle growth and recovery. [scoop is for guidance only- please weigh your serving for exact dosage]
Notice
Always consult a medical doctor before starting any diet or exercise program. Refer Directions for optimal use. Titan Amino Mass may be safely combined with other supplements or nutritional products. Nutritional products should be used in conjunction with a balanced diet. Only purchase sealed containers, STORE IN A COOL DRY PLACE. KEEP OUT OF REACH OF CHILDREN. REPLACE THE LID AFTER USE.