Product Info
Beauty Gen Collagen Hot Chocolate is a dairy-free, collagen-infused hot chocolate drink.
Build radiance from the inside out with this rich and creamy hot cocoa treat.
Every sip offers you anti-ageing benefits, smoothing away wrinkles while enhancing the beauty and strength of your skin, hair, and nails.
This blend will increase collagen density, plumping, firming, and hydrating the skin as well as improving joint and bone health.
Potent antioxidants boost your mood and keep you looking and feeling younger for longer.
The supporting ingredients in Beauty Gen Collagen Hot Chocolate complete this beauty-boosting blend with sweetness, dairy-free creaminess, and added fibre.
Related Products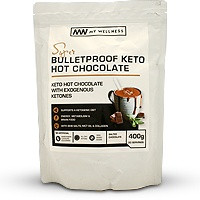 Nutrition Facts
Serving Size: 2 Level Scoops (19 grams)
Servings per Container: 20


Amount Per Serving
NRV*
Energy (kJ)
300
Energy (kCal)
71
Protein (g)
6
11%
Total Carbohydrate (g)
4
of which Total Sugar (g)
2,6
Total Fat (g)
3,1
of which Saturated Fat (g)
2,6
Dietery Fiber (g)
2,6
Sodium (g)
83
Iron (mg)
2,1
12%
Potassium (mg)
301,7
Beauty Collagen Hydrolysed Collagen (mg)
5000
*Nutrient Reference Values (NRVs) for individuals 4 years and older expressed per single serving.
Ingredients
Beauty Collagen® Hydrolysed Collagen (Type I, bovine), Cocoa Powder, Coconut Milk Powder. Dehydrated Coconut Nectar, Fibregum™. Flavouring, Salt, Xanthan Gum, Stevia.
ALLERGEN INFORMATION
None
This product has been manufactured in a facility that uses eggs, dairy, nuts, and wheat (gluten).
Recommended products to use with this item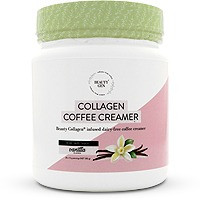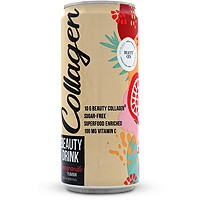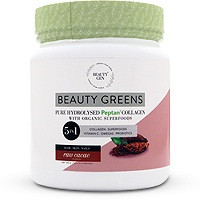 Directions
• Add 2 level scoops to 250ml hot water.
• Top with milk (of choice) if desired.
• For a more decadent hot drink, add 2 level scoops (19 g) to 250ml warmed milk of choice.