Product Info
Beauty Gen Collagen Coffee Creamer is a dairy-free coffee creamer adding delicious nourishment to your morning brew.
Collagen offers you anti-ageing benefits, smoothing away wrinkles while enhancing the beauty and strength of your skin, hair and nails.
Every serving will increase collagen density, plumping, firming and hydration of the skin as well as improving joint and bone health.
The ingredients offer you dairy-free creaminess together with added fibre.
Adding to the quality of this supplement, Beauty Gen Collagen Coffee Creamer is naturally sweetened with Stevia.
Related Products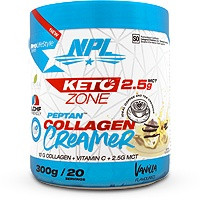 Nutrition Facts
Serving Size: 2 Scoops (15 grams)
Servings per Container: 20


Per 100 grams
Amount Per Serving
Energy (kJ)
1661
249
Energy (kCal)
393
59
Protein (g)
62
9
Total Carbohydrate (g)
7
1
of which Total Sugar (g)
2,1
0,3
Total Fat (g)
13,3
2
of which Saturated Fat
12,31
1,8
Dietary Fiber (g)
5,7
0,9
Sodium (g)
453
68
Beauty Collagen® Hydrolysed Collagen (mg)
66667
10000
Ingredients
Beauty Collagen® Hydrolysed Collagen (Type 1 bovine), Coconut Milk Powder, Fibregum™, Flavouring, Stevia.
ALLERGEN INFORMATION
None
This product has been manufactured in a facility that uses eggs, dairy, soy, nuts and wheat (gluten).
Directions
• Stir 2 level scoops (15grams) into your coffee, tea, smoothie and drink.