Product Info
MuscleTech Mass Tech Performance Series has been scientifically formulated to add mass to hard gainers.
Mega Calories
To start increasing weight and size athletes need to consume more calories than they burn. Most of the calories would come from eating more food at regular intervals. A mass gaining shake like Mass Tech helps to supplement their calorie and proteins needs with a delicious, great tasting nutritional shake which is easy to drink.
Typically hard gainers would need to consume between 4000 – 6000 calories per day. An average cheese burger with medium chips is about 700 – 800 calories. Eating 5 – 6 of these meals a day is obviously not the solution as they contain excessive amounts of saturated and trans-fats which wreak havoc with your health.
MuscleTech Mass Tech gives 800 calories per serving with only 4 grams of saturated fat and zero trans-fats.
High Protein Dose
In addition to the 800 calories per serving there is 63 grams of protein from 5 different protein sources.
Getting protein from different sources gives you a full amino acid profile and the benefits of each source.
Quality Carbs
Cheap mass gainers are loaded with sugar, with a typical serving have 20 – 30 grams of sugar! Each serving of Mass Tech only has 9 grams of sugar and considering the amount of calories you get that is simply astonishing.
The low sugar amount is a result of real food carbohydrates being used such as Oat Bran, Quinoa, Buckwheat and Millet. This means that excessive abdominal fat will be kept to a minimum.
Workout Strength
Each serving has 10 grams of creatine monohydrate which has been shown to increase strength and power during weight training.
MuscleTech Mass Tech Performance Series is a high quality mass gaining shake designed for hard gainers who struggle to increase weight and size.
Related Products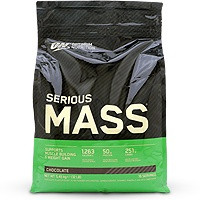 Nutrition Facts
Serving Size: Serving Size : 5 Scoops (230 grams)
Servings per Container: Approx. 14

Amount Per Serving
%Daily Value
Calories
840
Calories from Fat
60
Total Fat
7g
10%
Saturated Fat
4g
20%
Cholesterol
200 mg
63%
Total Carbohydrate
132g
44%
Sugars
9g
†
Protein
63g
126%
Calcium
750mg
75%
Iron
0.8mg
4%
Sodium
400mg
17%
MASS-TECH® CO-FACTORS
L-glutamine (as whey protein, calcium caseinate, egg albumin, L-glutamine)
10.4g
†
Creatine monohydrate
10g
†
L-leucine (as whey protein calcium caseinate, egg albumin, L-leucine)
6.5g
†
L-Isoleucine (as whey protein calcium caseinate, egg albumin, L-isoleucine)
4.1g
†
L-valine (as whey protein calcium caseinate egg albumin, L-valine)
3.4g
†
*Percent Daily Values are based on a 2,000-calorie diet.
† Daily Value not established.
Ingredients
Multi- Phase Carb Complex (Glucose polymers, ModCarb™[Oat Bran, Quinoa, Buckwheat, Millet], I somaltulose), Multi-Phase Protein System (Whey Protein Concentrate, Calcium Caseinate, Egg Albumin, Whey Protein Isolate 97%
Hydrolized Whey Protein, Whey Protein Isolate), Natural and Artificial Flavors, Calcium Carbonate, Chocolate Cookie Crumbs (Rice Flour, Sugar, Tapioca Starch, Palm Oil, Cocoa [Processed with Alkali], Corn Starch, Salt, Chocolate Liquor, Natural Flavor, Sodium Bicarbonate, Soy Lecithin), Soy or Sunflower Lecithin, Acesulfame-Potassium, Gum Blend (Cellulose Gum, Xanthan Gum, Carrageenan) Enzyplex (Papain, Amylase), Sucralose, Medium Chain Triglycerides.
ALLERGEN INFORMATION
Contains milk, soy egg and coconut ingredients.
Processed in a facility that also processes peanut, tree nut, fish/crustacean/shellfish oil and wheat ingredients.
Recommended products to use with this item
Directions
• Mix 1 serving (5 scoops) with 470 ml Of water or skim milk and consume 2 times daily.
• Use a blender for best results.
• Take in the morning, between meals or post workout.
• Read the entire label before use and follow directions provided.
• Drink 8 to 10 glasses of water daily for general good health.
Notice
Not intended for use by persons under 18. Do not use if pregnant or nursing. Consult a medical doctor if you have a medical condition or before starting any diet or exercise program. KEEP OUT OF REACH OF CHILDREN.
Customer Reviews
Hoque

Review by Md ziaul

(14 March 2021)

weight gain

A wonderful products out there

Review by Qabanga

(23 November 2020)

I tried these product in a couple of months ago and it does a great work. I have increased my weight and my performance is so prodigious.