Product Info
Muscle Wellness Nature's Whey is a Non GMO pure whey protein shake.
No Artificial Sweeteners
If you are looking for a "clean" whey shake in South Africa which does not contain any artificial sweeteners or colourants then this is a great choice.
It doesn't come in any flavours like Chocolate or Vanilla, so it is unflavoured. To our staff who tried it they say similar to a glass of milk with a hint of 'nuttiness'.
Add Your Own Flavour
If you need some flavouring then options would be to used Stevia or Xylitol to make it sweet and add Cocoa, Cinnamon powder or Vanilla Extract.
Alternatively you can use it in smoothies to increase the protein content with the fruit or vegetables providing the flavour.
Grass-Fed Cows
The whey is sourced from grass-fed cows instead of grain-fed, adding to the quality of the product. To our knowledge it might be one of the few locally produced products to state that on the label.
Gluten-Free
Containing nothing else expect the raw whey concentrate, the product is naturally gluten-free with each 25 gram serving providing 20 grams of wholesome grass-fed protein.
Try The Small Tub First
Available in a 908 gram tub which will give you approximately 35 servings or a 2kg providing 80.
We recommend you buy the small tub first to see if you like the product. The 2kg size does offer better value for money.
A Clean Protein Shake
Muscle Wellness Nature's Whey offers a 'clean' source of protein at an affordable price compared to the more expensive international brands with the same features.
Related Products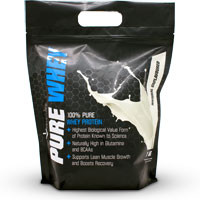 Nutrition Facts
Serving Size: 1 Heaped Scoop (25g)
Servings per Container: approx 35 (900 grams) / 80 (2kg) / 120 (3kg)
Flavour: Unflavoured

Amount Per Serving
Per 100 grams
Energy
495 kJ
1649 kJ
Protein
20 g
80 g
Carbohydrate
1.5 g
6 g
of which total sugars
1 g
4 g
Total Fat
1.5 g
6 g
of which saturated fats
1 g
4 g
Cholesterol
29 mg
116 mg
Dietary Fibre
0.05 g
0.2 g
Total Sodium
70 mg
280 mg
TYPICAL AMINO ACID PROFILE
ESSENTIAL
Isoleucine
6200 mg

Leucine

11800 mg
Lysine
10100 mg
Methionine
2100 mg
Phenylalanine
3900 mg
Threonine
7500 mg
Triptophan
2100 mg
Valine
6400 mg
NON-ESSENTIAL
Histidine
2000 mg
Alanine
5800 mg
Arginine
2900 mg
Aspartic Acid
11000 mg
Cysteine
2500 mg
Glutamic Acid
19000 mg
Glycine
23000 mg
Proline
6500 mg
Ingredients
Whey Protein Concentrate from Grass Fed Cows, Organic Raw Cacao Powder (in chocolate flavour only), Ceremonial Grade Matcha Tea Powder (in Matcha Flavour Only), Creamy Chai Mix: Nutmeg, Cinnamon, Cloves Powder, MCT oil Powder, Black Pepper (in creamy chai flavour only), Low-GI Natural Sweetener Blend (Erythritol, Fructose, Stevia Leaf) (in flavoured versions only), Maca, Baobab.
ALLERGEN INFORMATION
Cow's Milk
Made in a facility that handles nuts, fish and soy.
Recommended products to use with this item
Directions
• Take two scoops daily or directly after training with 400ml water.
• To support lean muscle take a serving directly after your workout.
• An additional serving may be taken first thing in the morning before breakfast.
• Great to use with smoothies and to bake with.
Customer Reviews
Great Whey Option

Review by J

(27 August 2020)

So great to get an unflavoured, no BS whey. Mixes easily, tastes great (even though it's unflavoured). Can't believe it's taken so long to get a product like this on the market

My Wellness Nature's Whey

Review by Tia

(31 January 2020)

LOVE this product. Bought the unflavored and altered it to my taste....blueberries/cocao/flaxseed/half almond milk/half coconut milk/cinnamon...to die for...THIS IS FOR SURE THE BEST WHEY PRODUCT THAT I HAVE EVER USED....NO AFTER TASTE OR FUNNY TASTE...it is divine. My first day of use and I have already joined to become a regular client. Blends in well with anything. Clean, grass-fed and sugar free. Quick delivery, awesome service!

still raw whey from Germany?or manufacture in SA?

Review by BIGFIVE

(12 September 2019)

Very good whey.love this product.
I want purchase new package
still raw whey from Germany?or manufacture in SA?
cholesterol in per serving?

SW: Hi BIGFIVE, the manufacturer replied that the whey comes from New Zealand which is one of the premium whey suppliers in the world due to its exceptionally highly regulated dairy industry. We are still awaiting feedback regarding cholesterol levels.




Where is the 2kg version?

Review by Luckylu

(11 September 2019)

Where is the 2kg version ?

SW: Hi Luckylu, we are waiting for stock from the manufacturer. The company restructured at the beginning of the year and are expanding their sizes as cash-flow improves.

The taste is great my first tub of 2kg choc whey

Review by Jay

(24 June 2019)

i am impressed

Finally, no sweeteners

Review by Alex

(18 April 2019)

So glad I found this product here, I've previously bought it at a different store that no longer stocks it.

I find most shake blends are extremely sweet, so I use this to mix with the flavoured ones to cut down on the sweetness. I haven't tried it alone, so I can't comment on its taste by itself, but its neutral enough that I don't notice it when mixed with other flavoured ingredients.

Excellent Product

Review by Harry

(16 May 2018)

Clean and raw whey ,With no Sweeteners and GMO Free !Love this Product

Awesome product

Review by Keto dieter

(4 April 2018)

Love this product. Flavour as you wish, mix as an iced coffee the one day, and in a fruit smoothie the next, and blends in well with everything. Clean, grass-fed and sugar free. Quick delivery, awesome service!

excellent product

Review by dallas

(13 March 2018)

the best ever whey protein

Excellent - Good clean whey, your body will let you know.

Review by AntPhoenix

(17 January 2018)

If you have a sensitive stomach such as myself and need a healthy, clean, reliable whey, this is it, no probs. Other than the fact that its getting expensive.
Mixes easily in blender to make smoothies or fruit shakes as its unflavoured. Or have it with double cream yogurt, grapes and some honey for a post workout.
I have been using this product for over a year and a half. It is my staple in the morn for a breakfast shake with seed mix, oats, banana, apple and water.
Growth factor is steady with a good diet and regular weight training (atleast 2-3 times) a week.
Also, SW, delivery is fast and reliable with good client support.

Excellent

Review by Chris

(27 November 2017)

Hard to beat this Whey.

Love it

Review by Ruby

(21 November 2017)

In all honesty, this protein shake tastes great - especially blended with a banana and a small amount of coffee! So well priced too.

One of the best on the market!

Review by Mumu

(16 November 2017)

I've been through so many different whey proteins over the years but now that I've mostly given up processed sugar it's hard to find one that doesn't make me nauseous or hurt my teeth (because of the sugar). This one is super clean and blends perfectly into any kind of smoothie or shake. It's great not to be baffled by what's inside my shake :-)

Super

Review by Terry

(2 July 2017)

The other reviews say all the good things about this whey except the price. I paid R589 at a chain of stores in CT which was the cheapest after looking around. Then searched online and found SW, R30 cheaper with great service! Hope it stays.

Great "clean" protein

Review by Charl

(4 April 2017)

This stuff ticks all my boxes......taste is never more important than quality....you can add flavour but you can't change the quality. Grass fed cows, Non - GMO non other non nutritional substances....you need to get hold of this stuff if you're serious about quality.

Simple clean whey

Review by Casual Lifter

(18 February 2017)

A really refreshing product. I tried the unflavoured version and it was surprisingly good (with milk). A much cleaner taste than any other protein I've tried, and considering how pure it is, Its going at a really good price. I find adding a bit of cocoa also does wonders when you want some flavour. Overall great product

Stunning Product

Review by Sarah

(16 January 2017)

Been looking for something like this for a while. Went to all the major retailers, but nothing. Finally went online and found this. No other ingredients and the taste is actually quite nice. Super service. Was delivered the next day.

#1 on the market

Review by Yari

(3 January 2017)

IMHO the best whey you can get in S.A. at the moment. A bargain considering the quality. If the taste is an issue just add some coffee :-)

Wholesome and Effective

Review by Simon

(25 October 2016)

All the bang without the artificial additives at a respectable price.

Smooth and fresh taste make for easy drinking too, Great for smoothies or poured over your cereal ...

Excellent clean source of quality whey

Review by Charl

(19 September 2016)

This is fantastic whey without the dangerous ingredients that add zero value.

Fabulous product

Review by Nikko

(20 July 2016)

I've been searching for an affordable whey protein that does not contain sweeteners, colours, flavours etc. and is from grass fed cows. This product ticks all the boxes and is fabulous. I like to add cinnamon to mine and it's great to add to smoothies. If you're training hard in the gym and eating healthy why would you want to put rubbish into your body as you do with other whey proteins? Doesn't make sense to me! Love this product.

Problem Solved

Review by Renzo

(4 July 2016)

I've been looking for unflavoured whey for months, I was so happy to find this product. Good ingredients, nice and clean!

Excellent, cheap and great value for money

Review by Big gunz

(9 June 2016)

Being a student, getting a good protein tub is expensive. But this, this is a winner. Gives you so much protein in small ounces (25 g). I advise anyone to try it out.

Great

Review by MrMan

(16 April 2016)

Excellent product. Best whey I've ever used probably because it does not have the chemicals, sweeteners & flavourants like the other whey powders. I cannot handle the usual whey powders because it makes me feel bloated - this has no effect on me. A wonderful product.

Long search over

Review by Jackie

(5 April 2016)

My poor stomach can't tolerate sweeteners of any kind. So trying to find a shake without was an effort, until now. I drink it on its own, doesn't taste too bad. On the weekends I add it to my Nutribullet with other fruit and veggies.

Great Stuff

Review by Zaheer

(4 April 2016)

Milk and Cocoa. Just water. Doesn't matter. Love this stuff. If you looking for something with no flavouring or sweeteners then this is the one.

Brilliant Product

Review by supa_nova

(1 March 2016)

I have been using the more expensive imported products to get the same features like the protein coming from grass fed cows. Obviously a lot more expensive. The one I purchased was flavoured though, so I wasn't to sure about this. I actually like the fact that I can flavour it myself, one day cocoa (organic fair-trade of course) the other banana, etc. Have absolutely no complaints about this, winner all the way.

This is my protein shake

Review by Leigh

(18 February 2016)

Bought the 900g and absolutely love the product. Mixes without a problem in my smoothies. It doesn't have any flavour, so on its own it might be difficult to get down (you have been warned). But this is the best unflavoured, sweetened, coloured, preservative free whey shake in S.A!

Excellent

Review by Matt

(13 February 2016)

If you still consider whey to be a staple (vegan quickly matching whey) then this is a wonderful product, void of chemicals and artificial flavourants.

Fantastic

Review by Kyle

(12 February 2016)

This is probably the purest whey on the market at the moment. I stay away from artificial sweeteners and colourants. The whey is also from grass-fed cows. Seriously I haven't seen another retailer stock a better protein product. Price is brilliant to.