Product Info
My Wellness Stay Golden Collagen Protein is Type 1 Hydrolyzed Collagen and it stimulates the production of Type 2 in the body.
Collagen enhances beauty from within. What is good on the inside reflects how the outside appears to the world. Skin is the primary visual indicator of everyday health and also presents external aging symptoms. Collagen is a 100% natural and safe ingredient derived from proteins.
Used worldwide, it has been scientifically found to improve overall joint mobility, bone structure and the natural beauty of skin.
With the addition of key ingredients, all known for their benefits in aiding hair, skin and joint health namely MSM, Glucosamine and Biotin, long term benefits may include:
• Skin toning and thickening
• Thickening hair and nails
• Lean muscle gain, muscled tone
• Joint rebuilding, anti aging, arterial strengthening
• Increased energy from musculoskeletal surcharge
As a protein source, collagen is very easily absorbed by the body and great for muscle repair post workout.
Related Products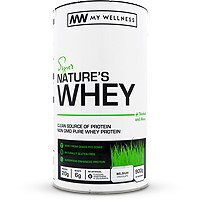 Nutrition Facts
Serving Size: 1 Level Scoop (20 g)
Servings per Container: 20


Amount Per Serving
Energy
293.6 kJ
Protein
16 g
Carbohydrate
1.6 g
of which total sugars
0.8 g
Total Fat
0.12 g
Total Sodium
10 mg
Ingredients
Peptan® Hydrolyzed Collagen, Fructose, Cocoa Powder (in chocolate variant only), Stevia Powder, Glucosamine, MSM, Biotin.
ALLERGEN INFORMATION
No Known Allergens
Recommended products to use with this item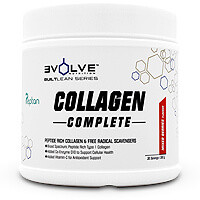 Directions
• Add one scoop (20 g) to approximately 200 ml of water and shake or blend until powder is dissolved.
• Consume one serving at any time during the day or post training.
Notice
My Wellness Stay Golden Collagen Protein is not a medicine, has not been tested and evaluated by the MCC and in no way is meant to cure, treat or prevent any disease or disorder. Supplements are best utilized in conjunction with a healthy diet and goal orientated exercise routine. Always consult your healthcare professional before making changes to your diet or exercise routine.
Customer Reviews
ABSOLUTELY AMAZING

Review by Ruby

(9 September 2020)

Firstly, supplement world has excellent customer service. Secondly, this COLLAGEN had given me a boost of energy!! I literally had taken it today and wow, this beats B12 tablets, Redbull and Bioplus! Such great results on day 1! Cannot wait to see the difference on day 30!