Product Info
NPL Hyper Gain is a mega calorie mass gainer for hard gainers wanting to increase size and weight.
Made for Hard Gainers
Fitness athletes who struggle to increase weight need to eat a lot of food to get enough calories so that they can start growing.
Hard gainers have fast metabolisms and generally have difficulty eating the amount of food needed.
This mass gainer helps to supplement your food intake by giving you a massive 1272 calories per serving in an easy-to-drink delicious shake.
Over 1000 Calories
To get the same calories from each serving of Hyper Gain you would have to eat 2 beef burgers and a side order of medium chips!
Optimal Digestion
To help your stomach digest the huge amount of nutrients you get from each shake the manufacturers have added a patented digestive enzyme called Tolerase®.
Saves You Money
The 2 burgers and medium chips you would have to eat to get the same amount of calories would cost you approximately R85.
At the time of this review each shake serving costs R28. A saving of R57!
Ingredients for Muscle Mass
With every 1272 calories you will also get 30 grams of protein which is the recommended amount for athletes wanting to increase muscle mass.
This product is also formulated with Tribulus, Creatine and L-Glutamine which help boost training performance and improve workout recovery.
Cheap Mass Gaining Bomb
NPL Hyper Gain is a cost effective nutrient shake for the hard gaining athlete wanting to increase size. Currently one of the cheapest mass gainers on the market.
Nutrition Facts
Serving Size: 5 Rounded Scoops
Servings per Container: 11
Flavour: Chocolate


Amount Per Serving
% NRV*
Energy
5325.0 kJ
-
Protein (including AA's)
30,3 g
54 %
Glycaemic Carbohydrate
296.2 g
-
of which total sugar
39.9 g
-
Total Fat
2.2 g
-
of which saturated fat
0.4 g
-
Dietary Fibre
2.0 g
-
Total Sodium
490.0 mg
-
Potassium
240.0 mg
-
Calcium
226.0 mg
17 %
Magnesium
32.0 mg
8 %
Phosphorous
339.0.0 mg
27 %
ANABOLIC STACK
Creatine Monohydrate
2000.0 mg
-
Taurine
1000.0 mg
-
* % Nutrient Reference Values (NRV's) for individuals 4 years and older.
- Not established
** AOAC 985.29
Ingredients
MASS BLEND: Maltodextrin, Dextrose Monohydrate. HEPTA PROTEIN SYSTEM: Whey Protein Concentrate, Soy Protein Isolate, Milk Powder, Whey Protein Isolate, Whey Protein Hydrolysate, Calcium Caseinate, Egg Albumin, Cocoa Powder (in Chocolate only), Glycine. ANABOLIC STACK: Creatine Monohydrate, Taurine, Lecithin, Flavouring, Salt, Stabilisers, Lactose Hydrolyzing Enzyme – Tolerase®, Colourants (Strawberry: Ponceau; Banana: Quinolene).
ALLERGEN INFORMATION
This product is manufactured in a facility that uses materials containing milk, wheat, eggs, fish, peanuts, shellfish and tree nuts.
Allergen control in place.
Recommended products to use with this item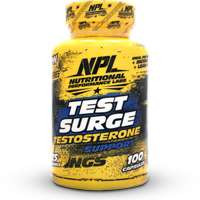 Directions
• Add 2 – 5 rounded scoops (140 - 350 grams) to 240 – 600 ml of cold water or full cream milk.
• Drink 1 – 3 times daily.
• Use as a recovery shake after your workouts.
• Can be used to supplement your nutrition requirements by drinking between or with meals.
• Serving size and mixing ratios may be adjusted to meet individual requirements and taste preferences.
Notice
Consult your doctor prior to use. Not intended for use by persons under the age of 18. Do not use if you are pregnant or nursing unless prescribed by a sports physician/dietitian. Maintain and adequate state of hydration while using this product.
Customer Reviews
it didn't work for me.

Review by WASTED

(28 October 2018)

I used it for for a full month,it didn't work out for me.and it was 4kg.still on the same mass.

npl best mass, "quality driven " true

Review by phele

(27 October 2018)

Mass gained muscle, and m growing with my my good shape +it stays much longer in my system.

NPL's my fitness weapon

Review by phele

(23 October 2018)

I don't just use it, i love it and it works. Since i started i never regret it. strength, muscle. Energy ⚡.. No 1

It's bad

Review by Liz

(11 October 2018)

This product does not work. Don't waste your money on it

Not good

Review by Toksik

(11 October 2018)

Used it last year and I gained exceptionally well, but now it's giving me stomach issues

No pain No gain

Review by Poohding

(3 October 2018)

Works well taste good too go & get it now

Toooo sweet makes me sick

Review by Olive

(18 September 2018)

Tastes like a mixture of water and tones of sugar with small chunks of powder! Terrible shake!

Brilliant

Review by Philip

(15 August 2018)

I haven't been gymming in over a year just started now again and going to buy my supply this weekend. Previously when I used it I gained about 4.5kg per month so the results are superb and I trained my butt off so if you gonna play around don't expect results train hard and the results will show no matter what product you buy. The taste is the best I only buy the chocolate. This is the best product I've used to date. well done NPL!!!!!!!

good

Review by arnex arnold

(13 August 2018)

those who say it doesn't work do not actually workout...

timm

Review by alicia

(29 July 2018)

tried all other brands. this is the only shake that makes me gain consistently

barnard

Review by tiaan

(7 July 2018)

it is good


Not good

Review by Narvin

(14 June 2018)

Not sure if its my immune system but this supplement didn't work for me, Gave me a running stomach

so far so good

Review by rup

(6 June 2018)

full review after a month

It's good

Review by Nick

(26 May 2018)

I use it and it works.

Good

Review by Kiddo

(17 April 2018)

Very good product

it doesn't work

Review by sam

(13 April 2018)

I tried it . It taste horrible too much sugar. No results at all

No supplement for hard work.

Review by Katt

(11 April 2018)

I see many reviews of people complaining. Im very sure it's the same people that text and chit chat during workouts. You put in the hard work and use the supplement well , you'll see great results

Good

Review by Paulkie

(11 March 2018)

I've tried and its good.Price is worth it and I gained 5kgs

Very good

Review by Isabel

(27 February 2018)

Its very good just gave me a runny tummy for the first three days I suppose that's detox
But good no complaints just shake it well

Just took my first

Review by Bo ma joseph

(24 February 2018)

Just took my first drink. It was ok. Didn't mix well but i too full afterwards and felt sleepy lol.. hope to put on 10kg in a month or less. Lego!!!