Product Info
Glutamine is the most abundant amino acid in the body and plays an important role in muscle protein development. During prolonged periods of intense exercise, glutamine levels may be depleted faster than the body can replenish them, which limits protein synthesis and can even encourage muscle breakdown.
Supplemental L-Glutamine may help reduce muscle soreness and rebuild muscle tissue, and ON's Glutamine Powder is a simple way to do so. Just one teaspoon of Glutamine Powder provides more glutamine than 5 jumbo eggs, 110g of lean beef, 3/4 cup of soybeans, or a chicken breast. Better yet, Optimum Nutrition Glutamine Powder is unflavoured and it mixes easily, so that it can be added right into your protein, meal replacement and weight gainer shakes.
Nutrition Facts
Serving Size: 1 Rounded Teaspoon (5g)
Servings per Container: 120

Per Serving

L-Glutamine
5g*
* Daily Value not established.
Recommended products to use with this item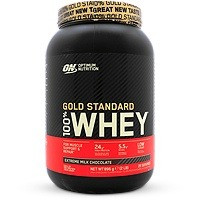 Directions
• Mix one rounded teaspoon of Glutamine Powder with 200ml of water or your favourite beverage.
Notice
This product is not intended to diagnose, treat, cure or prevent any disease. Check with a qualified healthcare professional before using this product if you are under 18 years of age, pregnant or nursing a baby or if you have any known or suspected medical condition(s) and/or are taking any prescription or over the counter medication(s).
Customer Reviews
A must for heavy training

Review by gareth

(3 December 2013)

i take this with my post training shake. Helps with incredible recovery times. Does not matter how hard i push myself i am always feeling strong the next day.

Must have

Review by Dominic

(12 February 2012)

I trust O.N with my life. This product works like a charm. tasteless so I mix it with juice. Pricey due to it high quality as is the case with all O.N products. I take it before my workouts as its not bulky so you do not utilize energy on digestion whilst training. If BCAA'S and Glutamine are part of your supplementation I personally recommend only O.N as others I have tried used fillers (i.e starch powder) to make it look like youre getting more protein whilst actually cheating you.

Optimum is always a good choice

Review by Ari

(31 December 2011)

There's a reason Optimum is ranked within the top 3 every year. They have amazing products, pity though about the price tag.

ON - the Best !

Review by Fatimah

(5 March 2011)

If one of your friends have this, take a trial dose prior to your workout, see how you feel, then do the same workout few days later and compare - works for me !!

Worth every cent

Review by RJ

(20 January 2011)

This is awesomeness in powder form. No matter how hard i train keeps me going at full speed

recover

Review by Jake

(6 November 2010)

Good product im able to train the same muscle 2ce a week with this product helps recovery very well

Pure Quality

Review by Allan

(3 November 2010)

This is bye far one of the Best Glutamine Supplements on the market. It lacks nothing and it is what it is. This Glutamine is highly rated in the Body Building Community and rightly so.

I take it pre workout and before bed. It definitely makes a difference for the better.

Quality 10/10
Taste 8/10
Value 7/10 - A little pricey!!

Get what you pay for

Review by Jay

(3 September 2010)

This product shows you you get what you pay for it's amazing take after gym session

Glutamine

Review by Dd

(3 June 2010)

Very nice product, very easy to mix.
Tastes very plain so add it to a drink..
dont use too much of this if you are using nitric oxide products.

8/10

Review by Johan

(24 April 2010)

This is a great product. Although a bit pricey but you get what you pay for!