Product Info
Titan Nutrition Extreme Pre Wreck boosts workout performance by increasing pumps, energy and mental focus.
Multi-Scoop Pre
This pre-workout supplement offers 44 servings which makes it perfect for a variety of lifters and athletes.
A single scoop contains 125 mg caffeine which will give most users a great workout boost.
For those who need a little more, a second scoop will increase the intensity.
No Proprietary Blend
Each ingredient and dosage is clearly made visible on the label.
Testament to the quality and transparency of Titan Nutrition and they products they make.
They have used industry tried-and-tested ingredients to give you the maximum from your time in the gym.
Excellent Value
Having a look at the nutritional information and the amount of servings Titan Nutrition Extreme Pre Wreck gives, this product offers phenomenal value for lifters looking to take their training to the next level.
Related Products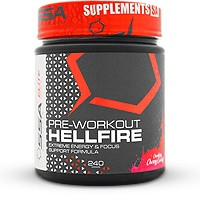 Nutrition Facts
Serving Size: 1 Scoop (5 grams)
Servings per Container: 44


Amount Per Serving
DV
L-Citrulline Malate 2:1
3000 mg
**
GlycerSize™ [65% Glycerol Powder]
1000 mg
**
Agmatine Sulphate
300 mg
**
L-Tyrosine
250 mg
**
Caffeine Anhydrous
125 mg
**
L-Theanine
50 mg
**
Sea Salt
75 mg
**
Black Pepper Extract
2.5 mg
**
** Daily Value (DV) not established
Ingredients
Other Ingredients: Natural and Nature identical flavour, Malic Acid, Silicon Dioxide, Sucralose, Permitted Colourant [E127 & E102]
CONTAINS NO BANNED SUBSTANCES
All ingredients conform to the WADA/IOC Anti-Doping Codes.
Recommended products to use with this item
Directions
• Mix 1-3 level scoops with 200-300ml cold water 15-20 min prior to workout.
IMPORTANT:
• Due to the extreme potency of TITAN WRECK, it is advised to start with 1 level scoop and work your way up to 3 level scoops.
• Do not exceed more than 3 level scoops at any given time.
• Scoop is for guidance only- please weigh your serving for exact dosage.
Notice
Use only as directed. Keep pout of reach of children. Not intended for persons under 18 years of age. Do not exceed recommended serving. Do not use if pregnant or nursing. Consult a physician prior to using this product, especially if you have any pre-existing medical conditions, including high blood pressure, heart or thyroid problems, nervous disorders, diabetes or are taking any medication. This product should not be used in conjunction with any prescription medication, including mao inhibitors, stimulants or anti-depressants. Do not use if you sensitive to caffeine containing products. Limit the use of caffeine-containing medication, food or beverages while using this product as too much caffeine may cause nervousness, sleepless and occasionally rapid heartbeat. Improper use of this product will not improve results and is not advised. Do not use if packaging is not sealed or shows signs of tampering. These statements have not been evaluated by regulatory agencies. This product is not intended to diagnose, treat, cure or prevent any disease.
Customer Reviews
Excellent

Review by Wikus

(4 October 2021)

Truly one of my new favorites. No weird crash afterwards, awesome pump, I can take it after 4pm and the Peach flavor is awesome.

The only reason I am giving it a 4/5 is because I feel 3.2g of Beta-alinine would have completed this product.