Product Info
SSA Supplements Hell Fire is an extreme energy and focus preworkout support formula.
Each serving provides 300 mg Caffeine to give you enough energy to power the most grueling workout session. Caffeine also enhances mental focus which together with Nicotinic Acid will strengthen you 'mind-muscle' connection to maximise your gains.
Get stronger with the Strength & Endurance Matrix which contains a blend of Creatine Monohydrate and Beta Alanine for increased power output plus shorter recovery times.
SSA Supplements Hell Fire offers excellent value at 40 servings per tub. As each serving has 300 mg Caffeine, most athletes could get a performance boost with just 1 scoop, giving a product which lasts approximately 2 months.
• Potential Benefits
• Increased Energy
• Sharper Mental Focus
• Stronger Lifts
Nutrition Facts
Serving Size: 2 level Scoops (6 grams)
Servings per Container: 40

Amount Per Serving
%NRV*
STRENGTH & ENDURANCE MATRIX
†
Beta Alanine
2 200 mg
†
Creatine Monohydrate
1 000 mg
†
Glycine
300 mg
†
Alpha Lipoic Acid
50 mg
†
NEUROSTIM ENERGY COMPLEX
†
Caffeine Anhyndrous
300 mg
†
N Acetyl L-Tyrosine
250 mg
†
Advantra-Z® Bitter Orange Extract (Citrus Aurantium) (fruit) (Standardised to 6% P-Synephrine)
20 mg
†
Nicotinic Acid
50 mg
†
NRV-Nutrients Reference Values for individuals older than 4 years.
† - NRV not established
Ingredients
Other ingredients: Flavour, Fruitic Acid, Sucralose & Acesulfame K,Colourant, Anti-caking Agent.
ALLERGEN INFORMATION
Contains no common allergens but is produced in a facility that processes Whey, Casein and Egg.
Recommended products to use with this item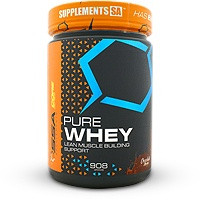 Directions
ON TRAINING DAYS ONLY
• Mix 2 level scoops (6g) in 250 ml of water 15 – 30 minutes before training.
• All users are advised to take 1 level scoop first to assess tolerance.
Notice
ATTENTION:
CONTAINS A WADA PROHIBITED SUBSTANCE NOT RECOMMENDED FOR PROFESSIONAL ATHLETES.
Seek advice from a health care professional before use if you have any pre-existing medical condition. Do not use if you are pregnant or nursing, or if you are being treated for heart disease or high blood pressure. Should not be used in conjunction with any prescription medication, including MAO inhibitors, stimulants or anti—depressants. Discontinue use and consult your Doctor if any adverse reactions occur. KEEP OUT OF REACH OF CHILDREN.
DO NOT EXCEED RECOMMENDED DAILY INTAKE, DIETARY SUPPLEMENETS SHOULD NOT REPLACE A PROPER DIET.
Customer Reviews
not for me

Review by sixty

(21 August 2021)

it sucks.

Budget, Entry Pre-Workout

Review by Cunnch

(13 May 2021)

I would give this 1 star, however to be fair to SSA they honestly list all ingredients and dosages on the label, which earns them a 2nd star.

Realistically the product falls very short. Looking at the ingredients and dosages. 1g of Creatine, while the Effective Daily dose is a minimum of 3g, with 5g being the recommended amount.

1-2g of Beta Alaine where the recommended dose (daily dose) is 3.2g. The product doesn't include typical Pre-workout products such as L-Arginine or Citruline Malate.

On Caffine, the dosage is strong, with around 200-300mg.

Overall the price is very affordable. I use this product on Cardio days, as I do not need any strength or pump enhancements for cardio but some caffeine to wake me up first thing is great!

Thanks again to SSA for publishing the ingredient profile as most brands don't.

Good initial boost, quick crash

Review by Gareth

(23 November 2020)

First off I took the berry flavor - tastes great, easy to down. In terms of effectiveness this pre workout is sort of mild, I have a low tolerance towards caffeine pre-workouts, so I require less scoops, with this one I required about 3 scoops to feel anything - 15 minutes in and you get that good pre-workout feeling, body temperature rises, intense mental focus, big energy, tingly pins in your hands and you're ready to lift, then boom, 30 minutes later all that goodness is gone - left me feeling slightly nauseous and light headed so I couldn't really finish my workout - question is, does it give me a bigger boost than a banana? Nope, getting hyped naturally works best for me, this pre did not enhance my workout and actually affected it negatively. On a side note, I took this pre at 6pm, it's now 2am and I still can't fall asleep, so the caffeine is strong in this one, there is however a stimulus-free option available on the website, I wish I saw that earlier.