Product Info
Titan Nutrition Live Large Gainer is a premium mass gaining supplement made exclusively from Titan's famous Native whey.
Premium Quality
Native whey is whey protein that has been extracted directly from milk and not as a by-product from the cheese manufacturing process.
Contains no soy or any other vegetable proteins which have a lower protein bio-availability score than whey.
Added Creatine
Each serving has 5 grams of creatine monohydrate to increase training performance and strength.
Creatine is one of the most researched sport supplement ingredients.
Titan Nutrition Live Large Gainer is a no-nonsense gainer made with high-quality ingredients to support your muscle and mass gaining goals.
Related Products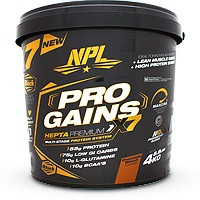 Nutrition Facts
Serving Size: 1 Scoop (100 grams)
Servings per Container: 40


Amount Per Serving
NRV*
Energy
1547 kJ
369.74 cal
Protein
23 g
41%
Carbohydrate
62 g
of which total sugar
2 g
Total fat
3.4 mg
of which saturated
0.2 mg
Total Sodium
260 mg
37%
Glutamine
3 g
Creatine Monohydrate
5 g
% Nutrient Reference Value [NRV] for individuals 4 years & older (2010)
Ingredients
Fast and slower releasing Maltodextrin, Titan native grass fed whey protein concentrate, Micronized creatine monohydrate [300mesh], Phospholipids as omega 3 and 6 essential fatty acids, Fructose, Guar Gum, Sodium Chloride, Acesulfame Potassium, Sodium Cyclamate, Natural and nature identical flavour, Lecithin [Sunflower] Permitted Colourant [E102].
Recommended products to use with this item
Directions
• Mix 2-4 level scoops with 300 - 500ml water or milk post workout.
• A serving can also be consumed between meals to increase your calorie intake.