Product Info
My Wellness Keto-Bolic Muscle Meal is a meal replacement shake for individuals and athletes following a ketogenic lifestyle.
Based on current scientific research Keto-Bolic Muscle Meal is on the cutting edge when it comes to achieving desirable muscle to body fat ratios and caters to both the ketogenic lifestyle as well as the hard gainers looking for quality calories.
Those on ketogenic diets or fasting intermittently will appreciate the lower glycaemic load and the perfect composition of fats, protein and carbohydrates in this product to maintain ketosis and provide quality calories.
A convenient, tasty and nutrient dense meal providing the right macronutrients to stay in ketosis.
For those not on a ketogenic diet but looking to pack on lean muscle, less is more. Gram for gram Keto-bolic Muscle Meal has 2x as many calories as regular muscle builders therefore the serving sizes are considerably smaller but considerably more intelligent in helping to build lean muscle.
Men need to eat plenty of dietary fat in order for testosterone levels to thrive because testosterone is a fat-based hormone, meaning that quality dietary fats need to be present in your body in order for your hormones to perform optimally.
My Wellness Keto-Bolic Muscle Meal ensures that enough fat is present to help sustain optimal testosterone production.
Related Products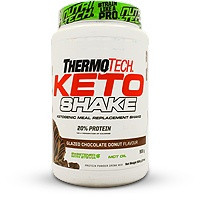 Nutrition Facts
Serving Size: 2 Level Scoops (80 grams)
Servings per Container: 15


Per 100 grams
Amount Per Serving
Energy
762.5 Cal
610 Cal
3190 kJ
2552 kJ
Protein
25g
20g
Carbohydrates
12.5g
10g
Of which sugars
0g
0g
Total Fat
62.5g
50g
Of which saturated (from MCT oil)
31.25g
25g
Of which mono-unsaturated
31.25g
25g
Of which trans fats
0g
0g
Cholesterol
0g
0g
Fibre
2.5g
2g
Sodium
431.25
345mg
Potassium
305mg
244mg
Calcium
221mg
177mg
Magnesium
17mg
14mg
Phosphorous
242mg
194mg
Creatine Monohydrate
2500mg
2000mg
Taurine
3750mg
3000mg
Ingredients
Keto-Bolic Fat Blend (Vegetable Fat Powder, MCT oil Powder), Keto-Bolic Protein Blend (Pea Protein Isolate, Whey Protein Isolate), Cocoa Powder (in Chocolate Flavour only) , Taurine, Creatine HCL, Natural Spices (in Creamy Chai Flavour Only), Xanthan Gum, Baobab powder, Sea Salt, BHB Salts, Stevia Leaf Powder, Vitamin C (as ascorbic acid).
Recommended products to use with this item
Directions
• Use by adding 2 level scoop (80g) with 300ml of water.
• If necessary have 2 servings at split intervals depending on your dietary requirements.