Product Info
Nutritech Vegan Protein is a pea protein shake for dairy-free or vegan athletes.
Build Muscle
Protein increases lean muscle and is found in high concentrations in meat, eggs and dairy.
Vegetables do contain protein but in much lesser quantities which makes it challenging for vegan fitness athletes to get enough protein to meet their daily requirements.
This shake is a perfect solution for the vegan athlete, providing 25 grams of protein per serving.
Pea Power
The protein comes from peas which have an excellent amino acid profile and are easily digestible, lactose and gluten free.
Made using low heat isolation the result is a pea isolate powder which is 78% protein and has high bioavailability properties.
Non-GMO
Well suited to a vegan lifestyle the peas are made from GMO free golden peas grown in the USA with the Cocoa in the Chocolate flavour being GMO free to.
Great for Smoothies
The manufacturers have created a versatile product by offering a Chocolate flavour for athletes on the go and a natural, unflavoured version for smoothies.
Prevent Muscle Loss
Each serving will give you 4 grams of BCAAs which have been shown to prevent muscle loss during weight training and help build muscle.
The BCAA profile of pea protein is similar to whey, making it an excellent choice for a plant-based diet.
Workout Recovery
BCAAs and protein also help improve workout recovery by repairing trained muscles. Nutritech Vegan Protein is a quality nutritional shake to support a vegan fitness lifestyle.
Related Products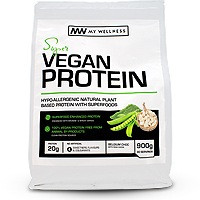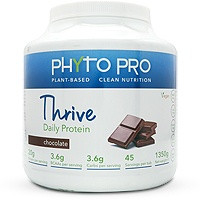 Nutrition Facts
Serving Size: 32 grams (2 rounded scoops)
Servings per Container: 28 (908 grams)


Amount Per Serving
NRV*
Energy (kJ)
488
Energy (kcal)
115
Protein (g)
25
Carbohydrates (g)
0.9
of which total sugar (g)
0
Total Fat (g)
1.2
of which saturated fat (g)
0.3
Dietary Fibre (g)
0
Total Sodium (mg)
144
TYPICAL AMINO ACID PROFILE
Alanine (mg)
989
Arginine (mg)
2720
Aspartic acid (mg)
2746
Cystine (mg)
58
Glutamic acid (mg)
4672
Glycine (mg)
1002
Histidine (mg)
752
Isoleucine** (mg)
1165
Leucine** (mg)
2310
Lysine (mg)
1968
Methionine (mg)
211
Phenylalanine (mg)
1357
Proline (mg)
1152
Serine (mg)
1450
Threonine (mg)
1021
Tryptophan (mg)
192
Tyrosine (mg)
1011
Valine** (mg)
1123
* Nutrient reference values (NRVs) for individuals from the beginning of 37 months and older expressed per single serving.
Dietary Fibre method of analysis - AOAC - 991.43
** Branched chain amino acids (BCAAs)
Ingredients
Non-GMO Pea Protein Isolate, Non-GMO Fat-Reduced Cocoa (Chocolate only), Sodium Chloride, Stevia
ALLERGEN INFORMATION
Contains no common allergens
Manufactured in a facility that uses eggs, dairy, soy, wheat (gluten) and nuts.
Recommended products to use with this item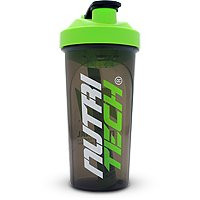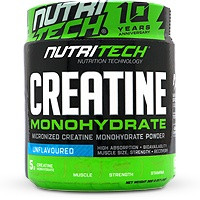 Directions
• Mix 2 rounded scoops (approx 32 grams) with 200-250 ml of water or almond milk in a shaker or add to a smoothie.
• Take 1 to 3 servings per day.
• Drink a serving within 20 minutes after finishing your workout.
• To add more protein to your diet, take 2 rounded scoops before exercise and between major meals.
Notice
Regular training and proper nutrition are essential for achieving your goals. This product is not intended to diagnose, treat, cure, or prevent any disease. Consult your doctor prior to using this product especially if you have any suspected or known medical condition. Do not exceed recommended daily intake. Dietary supplements should not replace a proper diet.