Product Info
Supplements SA Testoblast (ZMA Tribulus) is a potent combination of ZMA and Tribulus formulated for the unshakable athlete.
Support Natural Testosterone
Known to be an unsurpassed ZMA/Tribulus supplement this supports healthy natural testosterone levels in men.
Tribulus is known to encourage testosterone production in the body by stimulating the luteinizing hormone.
Increased Strength
An improvement in natural testosterone levels promotes muscle strength (250% more in comparison to a placebo grouping), which increases your performance when working out.
As zinc is also present the production of testosterone also greatly and naturally increases.
Sex Drive
This product is also known to increase an individual's sex drive as it contains tribulus terrestris.
Makes it a versatile supplement that will keep you healthy and optimise your performance both in and out of the gym.
Anti-estrogenic
Maintaining healthy estrogen levels in men is just as important as testosterone. Excessive amounts of estrogen can lead to increased body fat and becoming weaker during your workouts.
Magnesium Benefits
In addition to testosterone and libido support each 5 capsule serving gives you 225 mg of high-quality magnesium aspartate.
Magnesium plays a role in over 300 metabolic and enzymatic reactions in your body, working within your cells to maintain optimal health.
Cost Effective
Supplements SA Testoblast (ZMA Tribulus) assists by maximising your natural testosterone levels to give you better workout performance for lean muscle at an affordable price.
Related Products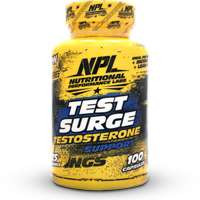 Nutrition Facts
Serving Size: 5 capsules
Servings per Container: 20

Amount Per Serving

Magnesium Aspartate
225mg
Zinc Monomethionine Aspartate
30 mg
Vitamin B6
5.25 mg
Tribulus Terrestris
750mg
Ingredients
Allergen Information
Contains no common allergens, but is produced in a facility that processes Whey, Casein and Egg.
Recommended products to use with this item
Directions
• Maintenance Use: Take 3 capsules in the morning.
• Sport Use: Take 3 capsules in the morning and 2 before training.
• Muscle Growth Use: Take 3 capsules in the morning, 3 capsules before training, 4 capsules before bed.
• Best taken at bedtime and before training.
• Depending on intensity of training, dosage can vary between 3 and 10 tabs a day, either taken all at bedtime or split between before training and bedtime.
Notice
Keep out of reach of children.
Customer Reviews
Very good stuff

Review by The hybrid

(18 May 2019)

Good gains, good sleep, good sex, follow a healthy eating diet this stuff requires you to eat a lot of protein to see the results

Great Results

Review by Juniior SA

(6 May 2019)

Since I wanted to Gain More Muscle, I have tried using Testo Blast and ooh lord I worked for me if you using it with Massive Muscle shake or Hyperbolic Mass Protein Shake.. id recommend more people to use it, and trust me it will work out if you dedicated at the Gym and you know what you want

Is good booster

Review by 748

(4 October 2018)

Is a must get product for men who need to up their game at gym or bed. I'm using it and improved my stamina drastically.

Ideal for maintenance

Review by Joe

(26 July 2018)

Took a 3 week break after other testosterone products, using Testo Blast as a maintenance supplement. Quite good, would recommend it.
Going to experiment with it on the new (5 days on 2 off) supplement by using it over weekends.

good product

Review by lagi

(17 December 2017)

great strength increase and quality sleep... not soo much for the libido

GOOD RESULT

Review by CYRIL

(30 September 2017)

Good supplement , gives you learn muscle , through good work out you will see great result , NO PAIN NO GAIN , PUSH HARDER to meet your goal

good stuff

Review by bratubu

(29 June 2017)

very cheap with expensive results

don't like

Review by byson

(5 April 2017)

Using it right now my I feel nothing even my sex drive decreased don't get erect in the morning I've asked around in gym and found 5 people with the similar situation I won't recommend this to anyone

Thrilled! A New Staple!

Review by Monkey

(15 March 2017)

Used it while training and eating smart. Leaned out considerably and moderate increase in energy & strength, only 6 servings (5 caps) later! Libido increase not too intense which I like because I'm already sufficiently endowed in that area. Never tried illegal alternatives, but with this, cant see why anyone who doesn't compete needs it.

Not bad

Review by liftWeiGHt

(14 January 2017)

Considering the price not a bad product. Gave me a better sleep.

Awesome product!!!! Wow

Review by The goos

(16 December 2016)

What a awesome product from supplement SA. Great power gains. Even the wife is happy "wink wink". Will highly recommend this product.

good

Review by tyson

(13 October 2016)

The best

Good gains. Feel powerful

Review by Brandon jf blade

(27 September 2016)

Used it for 2 months. Gained a lot of strength. Also assisted outside the gym. U know. Feel pumped at the gym. Made me a bit aggressive. Channelled it towards earth moving dumbbells. Powerful supplement.

Good

Review by KAYGEE

(4 September 2016)

I USED THIS PRODUCT FOR A MONTH...THE RESULTS ARE SO AMAZING...IT REALLY WORKS...IVE GAINED LOT OF MUSCLES....THE STRENGTH,LIBIDO..IM DEFINITELY GOING BACK TO THE SHOP......

2 weeks and not much results

Review by Harry

(21 August 2016)

I'm only doing 3 tabs in the morning for maintenance. I always sleep well before and with testoblast no difference. small libido result.........

worked for me

Review by Tikidy

(25 May 2016)

worked well for me,it did exactly what i expected from a supplement ....Price is fair,,definately getting my second bottle

I believe in Supplements SA

Review by Brandon

(2 March 2016)

haven't used it yet but i believe in supplements SA. i recommend you Creatine Overdrive if you don't see any changes ..... but i am looking forward to blast!!!

It's worth a try

Review by Mo The Trainer

(26 February 2016)

A good product when used with a high protein meal plan; anabolic exercise; good pre-workout pump and bed time Casein.
I feel the effect from week two onwards.
Good gains, great fat loss, crazy high libido
Too many caps per serving, it feels excessive.

not bad

Review by jake

(7 February 2016)

Finished my first 50 caps now using the 100 but still I get this Nausea feeling and headaches I don't see gains in size waste of money like all the other products it has some positive effects but no size gains I mean nothing

the best

Review by Beast

(6 February 2016)

I've been using it for months now and gained a lot of strength because of over training in the gym and healthy food now everybody is using it