Product Info
Supplements SA Testoblast (ZMA Tribulus) is a potent combination of ZMA and Tribulus formulated for the unshakable athlete.
Support Natural Testosterone
Known to be an unsurpassed ZMA/Tribulus supplement this supports healthy natural testosterone levels in men.
Tribulus is known to encourage testosterone production in the body by stimulating the luteinizing hormone.
Increased Strength
An improvement in natural testosterone levels promotes muscle strength (250% more in comparison to a placebo grouping), which increases your performance when working out.
As zinc is also present the production of testosterone also greatly and naturally increases.
Sex Drive
This product is also known to increase an individual's sex drive as it contains tribulus terrestris.
Makes it a versatile supplement that will keep you healthy and optimise your performance both in and out of the gym.
Anti-estrogenic
Maintaining healthy estrogen levels in men is just as important as testosterone. Excessive amounts of estrogen can lead to increased body fat and becoming weaker during your workouts.
Magnesium Benefits
In addition to testosterone and libido support each 5 capsule serving gives you 225 mg of high-quality magnesium aspartate.
Magnesium plays a role in over 300 metabolic and enzymatic reactions in your body, working within your cells to maintain optimal health.
Cost Effective
Supplements SA Testoblast (ZMA Tribulus) assists by maximising your natural testosterone levels to give you better workout performance for lean muscle at an affordable price.
Related Products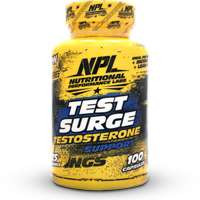 Nutrition Facts
Serving Size: 5 capsules
Servings per Container: 20

Amount Per Serving

Magnesium Aspartate
225mg
Zinc Monomethionine Aspartate
30 mg
Vitamin B6
5.25 mg
Tribulus Terrestris
750mg
Ingredients
Allergen Information
Contains no common allergens, but is produced in a facility that processes Whey, Casein and Egg.
Recommended products to use with this item
Directions
• Maintenance Use: Take 3 capsules in the morning.
• Sport Use: Take 3 capsules in the morning and 2 before training.
• Muscle Growth Use: Take 3 capsules in the morning, 3 capsules before training, 4 capsules before bed.
• Best taken at bedtime and before training.
• Depending on intensity of training, dosage can vary between 3 and 10 tabs a day, either taken all at bedtime or split between before training and bedtime.
Notice
Keep out of reach of children.
Customer Reviews
Very good stuff

Review by The hybrid

(18 May 2019)

Good gains, good sleep, good sex, follow a healthy eating diet this stuff requires you to eat a lot of protein to see the results

Great Results

Review by Juniior SA

(6 May 2019)

Since I wanted to Gain More Muscle, I have tried using Testo Blast and ooh lord I worked for me if you using it with Massive Muscle shake or Hyperbolic Mass Protein Shake.. id recommend more people to use it, and trust me it will work out if you dedicated at the Gym and you know what you want

Is good booster

Review by 748

(4 October 2018)

Is a must get product for men who need to up their game at gym or bed. I'm using it and improved my stamina drastically.

Ideal for maintenance

Review by Joe

(26 July 2018)

Took a 3 week break after other testosterone products, using Testo Blast as a maintenance supplement. Quite good, would recommend it.
Going to experiment with it on the new (5 days on 2 off) supplement by using it over weekends.

good product

Review by lagi

(17 December 2017)

great strength increase and quality sleep... not soo much for the libido

GOOD RESULT

Review by CYRIL

(30 September 2017)

Good supplement , gives you learn muscle , through good work out you will see great result , NO PAIN NO GAIN , PUSH HARDER to meet your goal

good stuff

Review by bratubu

(29 June 2017)

very cheap with expensive results

don't like

Review by byson

(5 April 2017)

Using it right now my I feel nothing even my sex drive decreased don't get erect in the morning I've asked around in gym and found 5 people with the similar situation I won't recommend this to anyone

Thrilled! A New Staple!

Review by Monkey

(15 March 2017)

Used it while training and eating smart. Leaned out considerably and moderate increase in energy & strength, only 6 servings (5 caps) later! Libido increase not too intense which I like because I'm already sufficiently endowed in that area. Never tried illegal alternatives, but with this, cant see why anyone who doesn't compete needs it.

Not bad

Review by liftWeiGHt

(14 January 2017)

Considering the price not a bad product. Gave me a better sleep.

Awesome product!!!! Wow

Review by The goos

(16 December 2016)

What a awesome product from supplement SA. Great power gains. Even the wife is happy "wink wink". Will highly recommend this product.

good

Review by tyson

(13 October 2016)

The best

Good gains. Feel powerful

Review by Brandon jf blade

(27 September 2016)

Used it for 2 months. Gained a lot of strength. Also assisted outside the gym. U know. Feel pumped at the gym. Made me a bit aggressive. Channelled it towards earth moving dumbbells. Powerful supplement.

Good

Review by KAYGEE

(4 September 2016)

I USED THIS PRODUCT FOR A MONTH...THE RESULTS ARE SO AMAZING...IT REALLY WORKS...IVE GAINED LOT OF MUSCLES....THE STRENGTH,LIBIDO..IM DEFINITELY GOING BACK TO THE SHOP......

2 weeks and not much results

Review by Harry

(21 August 2016)

I'm only doing 3 tabs in the morning for maintenance. I always sleep well before and with testoblast no difference. small libido result.........

worked for me

Review by Tikidy

(25 May 2016)

worked well for me,it did exactly what i expected from a supplement ....Price is fair,,definately getting my second bottle

I believe in Supplements SA

Review by Brandon

(2 March 2016)

haven't used it yet but i believe in supplements SA. i recommend you Creatine Overdrive if you don't see any changes ..... but i am looking forward to blast!!!

It's worth a try

Review by Mo The Trainer

(26 February 2016)

A good product when used with a high protein meal plan; anabolic exercise; good pre-workout pump and bed time Casein.
I feel the effect from week two onwards.
Good gains, great fat loss, crazy high libido
Too many caps per serving, it feels excessive.

not bad

Review by jake

(7 February 2016)

Finished my first 50 caps now using the 100 but still I get this Nausea feeling and headaches I don't see gains in size waste of money like all the other products it has some positive effects but no size gains I mean nothing

the best

Review by Beast

(6 February 2016)

I've been using it for months now and gained a lot of strength because of over training in the gym and healthy food now everybody is using it


Happy Customer.

Review by Half_Decent

(5 January 2016)

I believe,
Strength, Size and overall impact.
It's the one, but that's just my opinion.

excellent

Review by Part

(23 October 2015)

Great stuff

waste

Review by junkie

(5 October 2015)

what a waste...these caps are too big n they smell wierd.
as for result no rise in libido, no strength gain no nothing but it may be just my body

The name says it all...... it's a blast!

Review by Simca

(21 September 2015)

I feel "animalistic" already! I had two before work, I work at retail warehouse and I lift "EVERYTHING" pallet jacks are suddenly of no use to me at all! Roaarrrr! woof woof! B-)

Tons of strength

Review by Brad

(6 September 2015)

This helped a lot in my matches and ultimately strength and physicality.

good

Review by ray

(6 September 2015)

Its good but expensive

ok

Review by average

(21 July 2015)

Not bad

great product

Review by emanuel

(21 July 2015)

Great product

Decent gains

Review by Sibonga H

(23 June 2015)

This product does enhance testosterone, made decent gains and dropped body fat plus increases in performance.

Super helper

Review by Chris

(20 April 2015)

For just my first day ,It help me a lot i felt my testo level boosting and I workout like a Crazy man

Testoblast

Review by Blondi

(11 April 2015)

I used this product for a while now and I noticed a few changes . It helps me build strength easier and sex drive increased but I'm not just using testoblast. I can recommend this to anyone to try an use Beta Ecdysterone and Testoblast together , it has a greater anabolic function

great product

Review by jd

(7 April 2015)

Great product, helped with gains a bit,lots of strength and a fresh mind to keep you on your feet during the day

Brilliant

Review by Greenbean

(14 March 2015)

This stuff is doing wonders for me great gains and stamina, used to take dollars but the online site closed down this is the next alternative.

average

Review by robbie

(23 February 2015)

no substantial muscle gains. gave me a good pump and fair strength gains but iv definitely used better products

Helped me with recovery

Review by Burke

(25 November 2014)

I really noticed an improvement with recovery. Maybe because of the good night's sleep I was getting. Strength slightly up, nothing mind-blowing. If you are on a budget this product is definitely worth a try.

Helped a lot

Review by cheez0

(16 July 2014)

Increase my testo levels and I'm having crazy workouts at the gym

gains

Review by zee man

(23 June 2014)

i noticed some changes when using this tablets, gains and improves moods, i hope its a safe product

Bad

Review by JLo

(3 June 2014)

Never worked for me

good

Review by gustav

(28 May 2014)

Been using this for a week and strangely I've seen a big difference in my strength and my T levels been pumping.

great blaze

Review by satisfied

(28 May 2014)

highly recommended, please do follow the instruction. For more intense workout use combination that is recommended.

Average

Review by Reezy

(11 December 2013)

Tried this twice, didn't see any amazing gains. It was actually quite sad considering the recommended dosage and how many pills you have to pop. Doubled the dosage and still found no added benefits really. Personally, I'd stick with Tributrone Z from Evox. About the same price but insanely massive difference in effectiveness.

Works!

Review by Matthew

(9 November 2013)

I struggled with my T level and i can say this product helped a lot! Definitely noticed a difference and happy to keep using it!

Good

Review by King Ivan

(2 October 2013)

I experienced significant gains, increased mood swings (esp in Jhb traffic). Sleep well but have weird dreams. Recommend it to anyone.

OKish product

Review by Erik

(6 August 2013)

Did notice small gains in strength but not size. Also no side effects but it did mess with my sleep pattern a lot. Instead to improve, it actually made it worse for me. Either I could not fall asleep or I kept waking up during the night. I used 3 tabs before training (morning) and 2 at night.

Good product

Review by Kyall

(3 August 2013)

Pretty good strength and muscle mass gain. Really good sleep too. An overall good product and great price. Definitely recommended.

No results after 1 week

Review by Matt

(1 August 2013)

Been taking it every day as directed. No change to energy, strength or libido. Hopefully I will see results within a few days as this product was highly recommended.

not great

Review by VDN

(9 July 2013)

If Im honest I havent seen any gains or extra strength since using it. I have another week or so of stock left and at 10 tablets a day its quite a disappointment.

My sleep pattern is epic. I sleep so well on this stuff.

great

Review by ferg

(30 May 2013)

this stuff makes me want to gym till my arms pop!!you feel like you can lift whole day long and it makes your muscle super tight..i take 5tabs a day and 3before workouts, no side effect just sometimes its hard to fall asleep but its worth it!!

Good...But

Review by altie

(28 May 2013)

The Tribulus content in this product is high but considering the amount of pills to take daily i do not rate this product all that good. When taken for muscle building use 10 pills a day seem a bit much and only last ten days. Rather opt for Test booster from Evox

Works!

Review by Chris

(7 May 2013)

Saw some good gains in both size and strength,. definitely recommend this product.

Powerfull Stuff

Review by Dantheman

(29 April 2013)

This product is great! Increase in strength and good gains all round.

No muscle gain

Review by Wsm

(2 April 2013)

I used this product once and wont use it again. Its a waste of money , capsule are not easy to swallow.

Same story

Review by Ismaeel

(5 March 2013)

went through 2 bottles of this (200 tabs) all i got was a bloated belly. Cheap products give you cheap results i guess..

Big Belly

Review by Ismaeel

(5 March 2013)

nothing but a big belly after the first bottle, will try again to see if there's any changes.

Average

Review by Duncan

(26 February 2013)

Didn't really see or feel any differences.

awesome product

Review by Elton

(12 February 2013)

It has become a regular with me... love this product.

not accurate

Review by Jaco

(6 February 2013)

This product does work, however does not work as a estrogen blocker as stated on the label.

Aggression

Review by Monard

(28 January 2013)

Good product, also a little more aggressive

Good Product

Review by Brian

(11 January 2013)

This product works. But be careful, after taking it for two weeks I tended to get a bit irritable. But if you psyche yourself up before gym you get to channel that anger and gives a good increase in additional weight lifting. All in all, worth it!

good

Review by James

(9 January 2013)

When using testoblast I definitely have an increase in power and energy. It's a steal at R145 for 100 caps.

Awesome Product

Review by Mo

(8 January 2013)

Helps with improving sleep, muscles are somehow much harder and tighter. Also helps a bit with burning off some fat.

When compared to Optimum Nutrition ZMA, ON has double the nutritional value, and half the number of capsules you need to swallow. Something Supplement SA should look into ...

Impressed

Review by Jaco

(23 November 2012)

Was really impressed, gained a lot off strength, and its very affordable.

Definitely worth the price

Review by Marc

(24 September 2012)

So I bought this and tried it - definitely some better rest, though I still battle to sleep sometimes however libido has hit the roof! Pity they out of stock now...

only my second test product.

Review by johan

(17 September 2012)

Bought this product yesterday. i took 5 pills before bedtime and couldn't fall a sleep until 2 am. after that i slept like a baby but had some weird dreams. will update again when my cycle is finished.

nice product

Review by Chris

(15 August 2012)

I sleep much better and I feel stronger

Value For Money.

Review by Ryan

(12 August 2012)

This product is excellent value for money as its very effective. You feel so solid and indestructible. But three things happen... You become easily irritated and irrational in your reactions. The second thing is that your libido goes waaaay up. Third thing is that you sleep deeply and have some very very strange dreams

good testo booster

Review by Lucas

(24 June 2012)

i got a tub of this from a friend a while back. used it only on training days at 8 pills per day (anabolic dose empties the tub pretty quick). saw some ok gains in size, but good gains in strength and energy. found i was a little more irritable than usual, but no real aggression increase

Not bad

Review by Elton

(11 May 2012)

Well read through the reviews before ordering this, 2 things stuck: aggression, sleep...
Started of on 5tabs a day. 3 before workout and 2 before bed, haven't seen the aggression, but damn it makes my sleep pattern funny! Its like I can't get enough sleep!!! And tired in morning!
In gym its awesome though! Wasn't tired once through workout, could easily increase weight on all my workouts! Def ordering again!

Review #2

Review by nonky

(18 April 2012)

40y/o male. 188cm. 86kg.

On second course. Take in the evenings - 5tabs.

Good product for increasing strength, breaking through plateaus in gym.

Helps me sleep a lot better, too, as I am usual a very poor/restless sleeper.

HOWEVER, THE INCREASED AGGRESSION LEVELS ARE BAD! BEWARE!

I don't think I will take this product again, as the aggro is affecting my work and personal life.




Great price and great product

Review by mgdotcom

(10 April 2012)

It really comes at a great price and the results have been very good. I put on around 5 kgs of lean mass with increase in strength of around 10-20% and that's with only one bottle. I'll be ordering again. I have been stacking with usn mass builder and ssn whey protein but I use it really only once a day as a pre and post workout supps. Testo does make you a bit agro though so just make sure you don't have a stressful week ahead before you start dosing. All in all I have no complaints, beats spending R400-R500.

Great product

Review by John

(27 February 2012)

Works from day 1 - been using it for about 3 months now and have increased my max bench from 100kg - 150kg. Definitely worth it.

good product

Review by waldi

(9 February 2012)

i will keep using this , its cheap and im seeing results so no complaints from me :)

Good but watch side effects

Review by nonky

(8 December 2011)

40 y/o male, 188cm, 88kg.

Been taking product for a week or two - feel great.

Appear to be sleeping a little better.
Feel stronger in gym.
Perhaps, a little weightloss (have been taking in conjunction with fatburner, so hard to say/quantify).

WARNING: i have been receiving complaints about increased aggression levels while using this product.

I will provide more feedback in a week or two

Great stuff!

Review by Sunshine

(21 November 2011)

was really happy with the lean gains in muscle, and the fat loss! great give it a shot

PIMPLES

Review by Mahdi

(9 November 2011)

Unfortunately, this product gave me a lot of pimples, i mean huge ones.
when i stopped the pimples stopped. Bad product

Great Value Product

Review by Dale

(1 November 2011)

The cheapest around for what it does! I have noticed gains all round and really happy with the rest cycles it gives, the only problem is it can make me feel half asleep for the first few hours after waking up.

TOO GOOD

Review by TOP DOG

(16 August 2011)

I recommend this product to anyone who want to value for money with good results, this product make you sleep like a little Restful baby.TD

Great for beginners

Review by Jacques

(12 August 2011)

This is a good product for beginners. Supplements SA products are well priced and really good.

Under rated

Review by andrew

(11 August 2011)

this Testoblast is amazing, feel good with the extra test and sleep like a baby at night. Good value for money

Work well

Review by Enrico

(19 July 2011)

Work well but i did use other products to help increase my testo levels

good

Review by Saanesh

(27 June 2011)

Improved TEST levels, some lead in your gun, affordable price – why not.
Good overall product and affordable as well.
Only improvement area is probably the number of pills to consume per serving & the capsule coating as this tends to cling to your throat.
TestoBlast, Beta-ecdysterone & Gaba - this combination is what the company recommends as a growth stack.


value for money product

Review by Wayne

(13 June 2011)

Taking the price of the product into consideration, it's one of the best products out there when it comes to effectiveness to price ratio. I would definitely recommend this product to anyone seeking good testosterone increase on a budget.

very good results

Review by sunshine

(3 June 2011)

for the price i would say that this is one of the best value for money testo boosters on the market! i got decent quality gains from the three months that i was on it, bearing in mind that i was taking the anabolic dose for the three months (10 caps a day)

Awesome !!!!!

Review by Yaseen

(22 May 2011)

Awesome product. I noticed more power after using this product for a week. I take one capsule 3 time daily.

Impressed

Review by SpiceInc

(6 May 2011)

Officially my first order from the website and even before the product I have to say I am impressed with the turnaround time. Between my order and delivery it took less than 24 hours,that's impressive.

Over the next couple of weeks I will be working hard at the gym and I will give feedback on the product but so far based on the reviews I am optimistic.One thing for sure, if this delivers what it claims then its a definite 'bang for a buck'.

test

Review by james

(28 April 2011)

have tried evox tributrone musclewrks testrx and purus recycle. this is serious value for money

Timothy

Review by Timothy

(11 March 2011)

kept me awake first night of use. thereafter no problems. nice deep sleeps.

khan

Review by Moaej khan

(20 November 2010)

i feel good ............its brilliant..............i cant believe it

natural anabolic gains

Review by miko

(12 November 2010)

definitely promotes muscle gains when taken correctly and consistently!

Good combination

Review by Johan

(10 November 2010)

Good natural test booster and excellent value for money.
ZMA and Tribulus in one product, all u need.

so far so good

Review by Darin

(22 October 2010)

Been on it for a week now and can def feel my testosterone has increased. Im getting thicker muscles slowly but surely and able to maintain strength through workouts.

Yip

Review by Keagan

(21 October 2010)

A sure product, quality and seriously worked with me, ZMA maintained my natural levels and assisted me in nearly everything gym orientated, i felt amazing with this, I'll always keep a bottle, when gyming serious.