Product Info
USN TESTO TRIBULUS is a dietary supplement containing a potent blend of non-hormonal testosterone boosters. Tribulus Terrestris and specially the active protodioscin, has the ability to stimulate a response associated with an increase in the body's natural endogenous testosterone and Luteinizing Hormone (LH) levels.
With an increase in the body's natural endogenous testerone level, it can help to alleviate some symptoms associated to male menopause, promote muscle growth and support a healthy libido level. Deficiencies in Zinc and Magnesium are common in athletes, resulting in reduced testosterone levels, lack of performance, reduced recovery, cramps and fatigue. Studies have shown that ZMA may increase the production of anabolic hormone levels, and therefore result in an increase in muscle strength and endurance.
TESTO TRIBULUS also promotes quality sleep at night, and increases energy availability during the day.
Related Products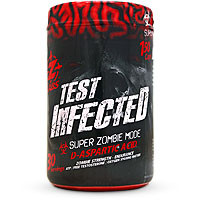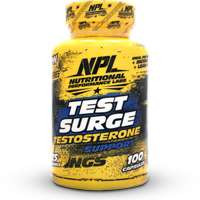 Nutrition Facts
Serving size :2 Capsules
Servings Per Container : 50


Amount per Serving
ZMA (Zinc Magnesium Aspartate)
300mg
Tribulus Terrestris (40%)
300mg
Glucuronolactone
40mg
Recommended products to use with this item
Directions
• Best taken at bedtime.
• During high intensity training and additional serving can be taken before training.
• Depending on intensity of training, dosage can vary between 2 and 7 capsules per day, either taken all at bedtime or divided between before training and bedtime.
• Adhere to a five-days-on/two-days-off regimen for eight weeks followed by a two-week break.
Notice
Consult your physician before use if you suffer from a medical condition. Not recommended for a female and individuals under the age of 18.
Customer Reviews
It's good but am concerned about something.

Review by Hansa

(8 July 2019)

I've been taking capsules for three months, I saw great improvements. But on the fourth month something changed. My libido level went down, I lost weight and even when i worked out it looked am doing nothing. Is that normal?????

Amazing

Review by Rob

(17 May 2019)

To me I can give a big Yes.i have been using it for two years and I used to weigh 81 kg and now I'm 99kg but i drink milk shakes too and Im train like only 20 min a day.

The product is great.

Review by Dj

(28 October 2018)

iv been using this product for three dayz but its like iv been using it for six months.

A must for testosterone boosting!

Review by Manu Dibango

(29 August 2018)

Fantastic. Very impressive in terms of boosting my libido. I will recommend it to the optimists!

there's a difference

Review by lungstar

(19 August 2018)

It does work and I've been using it combining it with evox.

Great with everything but price

Review by Michael Giannasca

(17 February 2018)

I love this product but it's too pricey! I used to get 60 capsules for $30 aud, now it's $175 and I don't even wanna find out if it's usd or aud because it's expensive either way! But 10/10 for taste and effect. Haven't taken it since it was $30-$60 for 30 servings.

Good product

Review by Phumza

(5 November 2017)

I've been using this product for quiet some time,my body is improving.For those that say it's not working, u can't use a product and expect it to produce on it's own u must push yourself ul see the difference,since I've started using it each and everyday I see result and maximum power.

good product

Review by Lulo

(10 October 2017)

eat clean, workout mean and get lean

HAAA Its a mad sup

Review by Mazwi

(27 September 2017)

it gives more power ,lean muscle and its good for shredding ..... power muscle!!!!!!!!!!!!!111

You can see good results in about a month

Review by Appel

(7 September 2017)

Not bad at all!

its fine for average results but its not award winning

Review by hector

(25 July 2017)

results are equal to the price

good

Review by bee

(5 April 2017)

its perfect

good allrounder if you train; do not go to the gim for chat.

Review by the old man

(5 April 2017)

started using 4 april 2017 , a good supplement to use, do not think you can sit around and watch the muscles grow nope you got to train to gain. take it from a 67 year old body builder that pumps iron every day.

Amazing results!!!

Review by Shawn

(30 March 2017)

I bought Testo Tribulus and within the first day I noticed a huge difference that it made.
I was able to pump iron longer than I usually can and now I'm looking forward to my next workout.
Testo Tribulus does not disappoint.

excellent

Review by muscle freak

(9 January 2017)

This product works perfect,good sleep,good nutrition and hard training. You cant expect any good results if you are drinking weekends and smoking cigarettes like a dont know what. But the product is great.

Kwena

Review by O

(2 December 2016)

It works believe me.

One of the best

Review by Sammy

(18 September 2016)

Bought this product 3 weeks ago,but i can tell u i have seen massive improvements in my body,great pumps in the gym,high endurance level and great muscle growth.

Great product

Review by Mnyamani

(5 September 2016)

I 've been using the product for two weeks, it seem to be working. I feel the pump, sex drive improved. Which I could get something to combine with for greater results.

Amazing

Review by G-man

(18 August 2016)

Helps sleep better gives one a great amount of self esteem, gives mean pumps lets you train loner and honestly it gives great gains, ain't going to gain any muscle if you dont train

Very good

Review by Mpydo

(7 April 2016)

Its working perfect for me...within a week,i saw the difference big time

Awesome

Review by Zee

(3 March 2016)

Been using this product for about a week, stacked with usn bcaa and creatine monohydrate. My results has been off the charts to the point where people think I'm using other stuff. Great product.

Great product

Review by Kevin

(17 January 2016)

I like this product. I take 2 every night. I have to admit since I have been using this product I have been much more confidence with the ladies. My recovery with my workout are quick. I could see a difference in my Bicep and Tricep on the 3rd day of using it. My workout schedule is on point so I am expecting this to work very well. I think I'm going to use this for a couple of months.

Good

Review by Shaun

(27 October 2015)

Excellent product

better than nothing

Review by GQ

(8 October 2015)

Guess it's one of those all in the mind type supps when it comes to results...

Not bad

Review by Ismaeel

(26 August 2015)

Good Overall product

works

Review by Iron_Man

(29 July 2015)

I have been stacking this with Evolve GABA at night and have been getting fairly good results.
Hormone levels went up, libido went up as well.
Taking DAA in the A.M helps as well.
over all, all 3 products work together FOR ME.
on its own, small difference

okay

Review by toney

(22 July 2015)

Helps with resting and sleep. But didnt like the fact that no muscle development even though it increases your testo by a small margin enough to build muscle

Results going up

Review by James

(16 June 2015)

This supplement works like a dream , the effectiveness is amazing

sleep better train longer and harder great product

Review by sultan

(2 June 2015)

Take off and on eat a good diet and train like a champ

average

Review by ninja

(4 May 2015)

im gonna lie if i say it doesn't work strength going up enjoying the pumps in gym but got to say if you don't eat right and train your butt off no supplement in the world would benefit enjoyed it going to try 17 methox soon will keep updated

Waste of money

Review by Jacques

(24 January 2015)

I have this product for 3 months thinking that I am gonna see a change unfortunately it was not.

Awesome

Review by LadyBird

(4 November 2014)

Slept better than I had in days.


Good Product

Review by kaBous

(3 November 2014)

I have been using the product for more than a month and am impressed with the results. I sleep better, feel better than I have in a long time. Combining with Creatine X4 does wonders for my endurance and energy as well as stamina on training days.

Good for the price

Review by West

(23 October 2014)

I used this product at bedtime, combined with USN 17 Methox before training. Saw power, endurance and pump increases in the 1st few dosages. Its all about the training. Don't expect miracles is your not eating and training well.

waste of money

Review by meshack

(10 December 2013)

Not that effective. Money not well spent

Not really impressed

Review by Izak

(2 October 2013)

Didn't notice any real difference, only that I did sleep better. Drank a lot of water during the same time and only started noticing a difference after I started taking HGH.


A waste

Review by Iron_Man

(12 December 2012)

I bought this to stack with 3200mg DAA. Didn't see any much difference after a week of use.
obtained better results from 3200mg DAA + ZINMAG SPORT which costs much less per bottle.

not the best

Review by Chris

(16 August 2012)

any effect on power or strength
but I felt relaxed

Not that good

Review by Adriaan

(10 March 2012)

This product did not show any results all that if experienced with this is much deeper sleep and that's all wont be buying again!!!

Not Happy!

Review by Victor

(23 February 2012)

To be honest wont recommend this product !! Didn't realise any results,all I can say is expect the results of its price!!