Product Info
My Wellness Super Hemp Seed Protein is perfect for vegan fitness athletes looking for a quality protein shake.
Excellent Protein Source
Muscle decreases with age so it's important to follow a weight training program regularly and consume adequate amounts of protein.
Hemp seed is an excellent protein source as it contains all the essential and non-essential amino acids.
100% Plant-based
This protein shake is 100% plant-based from hemp seeds which have not been subjected to genetic modification like soy beans.
High Fibre Content
A serving contains 2.2 grams of fibre or 22 grams per 100 grams. Broccoli has only 2.7 grams of fibre per 100 grams.
Sustained Energy
The high amount of fibre together with the protein slow down the digestion process which prevents blood sugar spikes giving you sustained energy.
Snacking should be reduced due to the slower digestion and high amounts of fibre which support the feeling of being full.
No Artificial Additives
My Wellness Super Hemp Seed Protein is a brilliant product both for vegans or athletes looking for nutritional complete protein shake which doesn't contain any artificial additives.
Related Products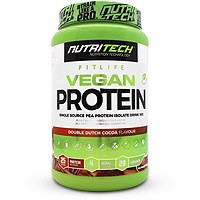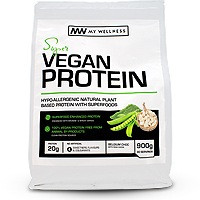 Nutrition Facts
Serving Size: 2 Tablespoons (10 grams)
Servings per Container: 30


Amount Per Serving
Per 100 grams
Energy
159KJ
1590KJ
Protein
5.1g
51g
Carbohydrate
1.0g
10g
of which total sugar
0g
0g
Total Fat
1.1g
11g
of which saturated FAT
0g
0g
Dietary Fibre
2.2g
22g
Total sodium
11mg
110mg
Calcium
14mg
140mg
Iron
1.8mg
18mg
Vitamin B1
10.2mg
102mg
Vitamin B2
0.026mg
0.26mg
Vitamin B3
3.46mg
34.6mg
Vitamin B6
0.354ug
3.54ug
Ingredients
Pure Hemp Seed Powder
ALLERGEN INFORMATION
No Known allergens.
Manufactured in a facility that uses cow's milk and nuts.
Directions
Mix two tablespoon in your salad, breakfast muesli or any other snacks.
My Wellness recommends 4 tablespoons daily.