Product Info
Muscle Wellness Organic Barley Grass contains large amounts of vitamins and minerals.
These include potassium, calcium, magnesium, iron, copper, phosphorus, manganese, zinc, beta carotene, B1, B2, B6, C, folic acid, and pantothenic acid.
Nutrient Dense
Barley grass is said to have 30 times more vitamin B1 and 11 times the amount of calcium than there is in cow's milk, 6.5 times as much carotene and nearly 5 times the iron content of spinach, close to seven times the vitamin C in oranges, four times the vitamin B1 in whole wheat flour, and 80 micrograms of vitamin B12 per 100 grams of dried barley plant juice.
Muscle Wellness Organic Barley Grass is also very high in organic sodium, which dissolves calcium deposited on the joints and also replenishes organic sodium in the lining of the stomach.
Related Products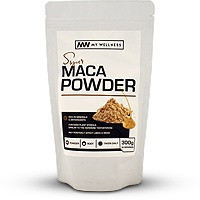 Nutrition Facts
Serving Size: 1 Tablespoon (10 grams)
Servings per Container: 30


Amount Per Serving
Per 100 Grams
Protein
113 kJ
1130 kJ
Fat
2.28 g
22.8 g
Carbohydrates
0.2 g
2 g
of which sugars
2.8 g
28 g
Calcium
0.7 g
7 g
Iron
87.6 mg
876 mg
Zinc
0.32 mg
32 mg
Potassium
0.27 mg
27 mg
Phosphorous
220 mg
2200 mg
Magnesium
.2.77 mg
27.7 mg
Chlorophyll
15.5 mg
155 mg
Beta-carotene
0.121 mg
1.21 mg
Vitamin B1
0.054 mg
0.54 mg
Vitamin B2
0.27 mg
2.7 mg
Vitamin B3
40 mg
400 mg
Folate
12 mcg
120 mcg
Vitamin C
32.8 mg
328 mg
Roughage
2.6 g
26 g
Sodium
0.01 g
0.1 g
Ingredients
Barley Grass Powder
ALLERGEN INFORMATION
No know allergens.
Manufactured in a facility that uses cow's milk and nuts.
Recommended products to use with this item
Directions
• Mix one tablespoon in your salad, breakfast muesli or any other snacks.
• We recommend 2 tablespoons daily.
Notice
This product does not replace a balanced diet and intake should be accompanied by a nutritionist or physician.