Product Info
My Wellness Super Baobab is a superfood considered to be one of the very best food sources of vitamin C in the world.
Each 100 gram serving of baobab fruit pulp has been reported to contain up to 250 milligrams of Vitamin C. That is nearly 5 times the amount of Vitamin C found in an equivalent serving of fresh oranges.
Sourced from Africa, the baobab fruit has been used by indigenous people for centuries to treat everything from fevers, malaria and gastrointestinal problems to vitamin C deficiency.
Most of the potential health benefits of baobab fruit powder and its fresh counterpart have been largely attributed to the unusually high levels of vitamin C.
Related Products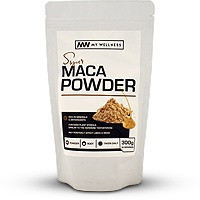 Nutrition Facts
Serving Size: 1 Tablespoon (10 grams)
Servings per Container: 20


Amount Per Serving
Amount Per 100g
Energy
100 kJ
1000 kJ
Protein
0.24 g
2.4 g
Carbohydrate
8.5 g
85 g
of which total sugar
0.25 g
2.5 g
Total Fat
0.11 g
1.1 g
of which saturated fat
0 g
0 g
Dietary Fibre
4.5 g
45 g
Total Sodium
0.55 mg
55 mg
Calcium
24 mg
240 mg
Magnesium
17.4 mg
174 mg
Phosphorous
3.9 mg
39 mg
Iron
15 mg
150 mg
Vitamin A
1.07 mg
10.7 mg
Vitamin C
24 mg
240 mg
Ingredients
Ground Baobab Powder
ALLERGEN INFORMATION
No known allergens.
Manufactured in a facility that uses cow's milk and nuts.
Recommended products to use with this item
Directions
• Mix one tablespoon in your salad, breakfast muesli or any other snacks.
• Muscle Wellness recommends 2 tablespoons daily.
• After use seal the bag and store it in a cool dry place.
Customer Reviews
Halo

Review by Suzy

(2 January 2019)

Good price