Product Info
Muscle Wellness Superior Whey is a protein shake designed for fitness athletes who demand quality.
Increasing Lean Muscle
Athletes who are on a lean muscle building program need protein to support their goals.
Mostly consumed from food they also supplement their protein intake by using a whey shake which is rapidly absorbed.
This shake gives you the full 25 gram dose of protein recommended for athletes with each serving!
Workout Recovery
To consistently train at your best you need to recover from your gym sessions. Each serving of this shake has 4 grams of glutamine. Studies have shown that glutamine levels decrease during intense exercise which may affect recovery.
Quality
The whey used in this product is sourced from pasture raised cows and is free from GMO and BSE.
Their ingredients meet the requirements of the International Food Standard which includes HACCP, BRC and GMP.
Cost Effective
We can recommend that you give the Muscle Wellness Superior Whey a try if you are looking for an affordable, locally produced protein shake that uses quality imported ingredients!
Nutrition Facts
Serving Size: 2 Level Scoops (approx. 33 grams)
Servings per Container: 100
Flavour: Vanilla
Amount Per Serving
Per 100 grams
Energy
555.9 kJ
1635 kJ
Protein
25 g
72.5 g
Total Carbohydrates
3.5 g
10.3 g
Of which total sugars
2.2 g
6.6 g
Total Fats
2.2 g
6.45 g
Of which Saturated Fats
1.3 g
3.92 g
Dietary Fibre
0.99 g
2.9 g
Total Sodium
78.9 mg
232 mg
TYPICAL AMINO ACID PROFILE
ESSENTIAL
Isoleucine
6200 mg

Leucine

11800 mg
Lysine
10100 mg
Methionine
2100 mg
Phenylalanine
3900 mg
Threonine
7500 mg
Triptophan
2100 mg
Valine
6400 mg
NON-ESSENTIAL
Histidine
2000 mg
Alanine
5800 mg
Arginine
2900 mg
Aspartic Acid
11000 mg
Cysteine
2500 mg
Glutamic Acid
19000 mg
Glycine
2300 mg
Proline
6500 mg
Seranine
5300 mg
Tyrosine
3400 mg
Ingredients
Whey Protein Blend (Micro-Filtrated Whey Concentrate, Isolate and Hydrolysate), Organic Cacao Powder (in chocolate variant only), Natural and Artificial Flavour Blend (Whey powder, Skim Milk powder, RSPO Certified Palm Fruit Oil, Anticaking Agent, Artificial Colourant, Non-nutritive sweetener, Artificial Flavouring, Salt, Vitamin C), Bovine Colostrum, Madagascan Vanilla Bean (in vanilla variant only), Maca Root Powder and Acai berry powder (in wildberry flavour only).
Recommended products to use with this item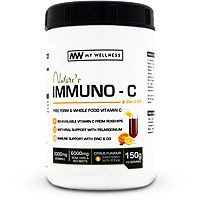 Directions
• Add 150- 200ml of water or low fat milk to every heaped scoop.
• Do not exceed 2 scoops per serving, but rather consume multiple servings daily.
• Is best used within 30 minutes after a training session.
• Another serving can be used first thing in the morning.
• For a creamy shake add 3 ice cubes to a blender with 200ml water.
Customer Reviews
Excellent whey

Review by Kapil

(27 January 2021)

Greats gains and recovery.