Product Info
TNT Crea-Max ATP delivers a next generation workout recovery surge for hard gainers.
Better Recovery
The insulin reaction unlocks the muscle to allow fast, effective recovery and performance. Especially trainers who work in the 6-12 rep range will experience the benefits of the Creatine component. Along with this is the cell volumising matrix which creates a bigger, stronger and more pumped muscle reaction.
By utilizing TNT Crea-Max ATP as part of your daily supplement regimen in conjunction with a protein rich calorie specific diet plan, you will gain the results from your workouts. During heavy low rep range resistance training, Creatine is critical for muscle performance, strength and recovery.
The efficiency by which the Creatine enters the muscle is accelerated with the other active ingredients and specific carbohydrate blend designed to act as a transport mechanism.
Increase Training Performance
Improves a muscles ability to generate energy for more power and recovery during intense training and ensures this vital nutrient is delivered to the working muscle efficiently. Over time the muscle will experience a significant increase in output and recovery, translating to more reps, poundage and gains.
Use Crea-Max ATP during periods of muscle gain when you are driven to push more poundage and increase lean muscle mass. For steady gains ensure your diet is sufficient in muscle building calories and has the correct split of Macro Nutrients (carbohydrates, proteins and fats).
By supplementing your mass building diet regimen with Crea-Max ATP before, during or after training, the much needed muscle glycogen reserves will not be diminished. By applying these tried and tested principles for a period of 8-12 weeks with the intense training required, even the hardest gainers will yield impressive results.
Related Products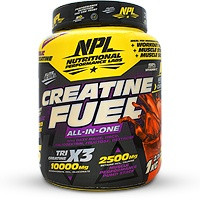 Nutrition Facts
Serving Size: 1 Scoop (55 g)
Servings per Container: 36


Amount Per Serving
% NRV*
Energy
816 kJ
Protein
0.0 g
0%
Total Carbohydrates
39.1 g
Of Which Sugars
16.2 g
Total Fats
0.0 g
Of Which Saturated
0.0 g
Total Fibre
0.0 g
Sodium
72 mg
Potassium
24 mg
Calcium
0 mg
0%
Magnesium
33 mg
8%
Phosphorous
10 mg
1%
Vitamin C
125 mg
125%
Vitamin B6
0.7 mg
41%
Vitamin B12
2 mcg
83%
MUSCLE PERFORMANCE AND STRENGTH MATRIX
7900 mg
Creatine Monohydrate, Creatine Nitrate, Creatine Ethyl Ester, Creatine HCL, Creatine Gluconate, BCAA 2:1:1 (L-Leucine, L-Isoleucine, Valine)
CELL VOLUMISING MATRIX
3000 mg
Taurine, L-Alanine, Arganine AKG
INSULIN POTENTIATER
100 mg
Alpha Lipoic Acid, Vanadium AAC

* Nutrient Reference Values (NRVs) for individuals 4 years and older.
NA - No set NRV
Ingredients
Lower GI Maltodextrin; Dextrose Monohydrate; Creatine Blend (Creatine Monohydrate; Creatine Ethyl Ester; Creatine HCL; Creatine Gluconate; Creatine Nitrate); Waxy Maize Starch; Taurine; Anticaking Agent; BCAA Blend 2:1:1 (L-Leucine; L-Isoleucine; L-Valine); Frutarcic Acid; Flavouring; L-Alanine; Arginine AKG; Salt; Ascorbic Acid; Alpha Lipoic Acid; Vanadium AAC; Magnesium Oxide; Dipotassium Phosphate; Non-Nutritive Sweetener (Sucralose); Colourant; Vitamin B12; Vitamin B6.
Recommended products to use with this item
Directions
• Take 1 scoop with 300ml of water immediately following your workout.
• If you're not training that day, have your serving in the morning when you wake up.
For Better Results
• Take 1 scoop with 300ml of water prior to training and sip during your workout.
• Then take an additional 1 scoop serving post workout followed by a serving of TNT 100% Prime Whey.
Notice
This product is a dietary supplement and is not designed to treat or cure any ailments and no claims have been substantiated by the medical control council. Should you suffer from any ailments such as, but not limited to, high blood pressure, high cholesterol, thyroid disorder, depression etc. Consult with a physician or dietary expert before embarking on a supplement regiment. This product is manufactured in a WADA compliant facility that is ISO2200 certified and follow GMP standard and Q.C. guidelines.