Product Info
TNT Supa Mass is a mega-calorie mass gainer to increase weight and muscle.
Increase Body Weight
To support their fitness goals lifter and athletes eat more food than the average person.
A mass gainer helps to supplement their food intake with a delicious tasting and convenient nutrition shake.
Each serving will give you a massive 1151 calories which is similar to a 200 gram fillet steak with chips and onion rings.
Pack On Muscle
Protein increases muscle which is the reason athletes pay close attention to the amounts they eat.
You get 50 grams of high quality protein from four different sources with each shake.
Lift Heavier Weights
A blend of 4 creatines has been added to increase workout strength. Creatine has been well researched and shown to increase power output in athletes.
Excellent Digestibility
This shake includes a patented enzyme called Tolerase® which helps the body to digest lactose and reduce any discomfort that users sensitive to dairy products may have.
Added Vitamins & Minerals
A meal replacement shake would not be complete without added vitamins and minerals to prevent any nutritional deficiencies that hard-training lifters may have.
TNT Supa Mass gives athletes one of the highest amounts of calories per serving of any mass gaining shake currently on the market.
Related Products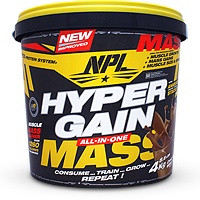 Nutrition Facts
Serving Size: Serving Size : 4 Heaped Scoops (320 grams)
Servings per Container: 13

Amount Per Serving
%NRV*
Energy
4975 kJ
†
Energy
1194 cal
†
Protein **
50 g
86%
Total Carbohydrates
243 g
†
of which Sugars
52.9 g
†
Total Fats
1.3 g
†
of which Saturated
0.5 g
†
Dietary Fibre #
4.2 g
†
Total Sodium
594 mg
†
Potassium
301.3 mg
†
Vitamin A
128 mcg (426.7 IU)
16%
Vitamin B1 (Thiamine)
0.2 mg
16%
Vitamin B2 (Riboflavin)
0.2 mg
16%
Vitamin B3 (Nicotinamide)
2.6 mg
16%
Vitamin B5 (Pantothenic Acid)
0.8 mg
16%
Vitamin B6 (Pyridoxine)
0.3 mg
16%
Vitamin B7 (Biotin)
4.8 mcg
16%
Vitamin B9 (Folic Acid)
64 mcg (106.7 mcg DFE)
16%
Vitamin B12
0.4 mcg
16%
Vitamin C
16.0 mg
16%
Vitamin D
2.4 mcg (96 IU)
16%
Vitamin E
2.4 mg TE (3.6 IU)
16%
Calcium
337.3 mg
26%
Magnesium
310.4 mg
74%
Phosphorous
683.7 mg
55%
VOLU-MASS ATP-STACK
9 504 mg
Fructose, Creatine Monohydrate, Taurine, L-Lysine HCI, Creatine HCI, Creatine Gluconate, Creatine Ethyl Ester
TEST PEAK MATRIX
16 040 mg
Glycine, Tribulus Terrestris, ZMA® (Zinc-L-Methionine Sulphate, Zinc / Magnesium Aspartate, Vitamin B6).
*% Nutritent Reference Value (NRVs) for individuals 4 years & older (2010).
† Nutrient Reference Value (NRV) not yet established.
# Dietary Fibre method of analysis AOAC 991.43
** Protein calculated from total N2 content>
Ingredients
Carb Blend: Maltodextrin, Low GI Maize Starch, Fructose, Protein Blend: (Soy Protein Isolate, Skim Milk Powder Protein, Whey Protein Concentrate, Calcium Caseinate), Cocoa Powder (only in Chocolate variants), Amino Stack: (L-Glycine, Taurine, L-Lysine), Creatine Stack: (Creatine Monohydrate, Creatine HCL, Creatine Gluconate, Creatine Ethyl Ester), Flavouring, Lecithin, Stabilizers, Tribulus Terrestris, ZMA, Salt, Colourant (only in Chocolate variants), Sucralose, Acesulphame K-Blend, Vitamin Premix, Tolerase®.
ALLERGEN INFORMATION
Dairy and Soy.
This product is produced in a facility that also processes ingredients containing egg, gluten and nuts.
Recommended products to use with this item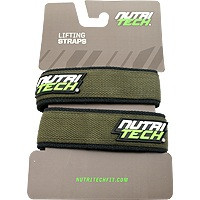 Directions
• Mix 6 level scoops (320 grams) into 600-800ml water.
• Ideal as a meal replacement formula taken once daily as a full serving.
• Can also be used as a post workout recovery drink taken directly after your gym session.
• First blend vigorously and then shake.
• Mix with milk for added calories.
Notice
This product is a dietary supplement and is not designed to treat or cure any ailments and no claims have been substantiated by the medical control council. Should you suffer from any ailments such as, but not limited to high blood pressure, high cholesterol, thyroid disorder, depression, etc, consult with a physician or dietary expert before embarking on a high calorie diet.
Customer Reviews
TNT supa mass

Review by Earl Bul

(20 April 2021)

Great company and great product. Absolute professionals. It's winter boys let's put on some size. Thank you TNT and supplement world for great service!!!!!

Great

Review by Danny

(15 April 2021)

Great stuff

Too much sugar thou

Review by Bhubesi

(5 April 2021)

I love it but any mass gainers that has over 10g of sugar per serving will most def make your belly big.....and belly fat is hard to get off, so be careful folks.

BTW this is my 2nd review.

Great mass builder

Review by Erik

(11 January 2021)

If you're a hard gainer don't look any further than this . Pack on quality kgs

1 off

Review by Mias

(1 November 2020)

Good product

Ez Gains

Review by FronkZ

(30 October 2020)

Does what it should.

Ps: You cant out train a Bad Diet...

Its for hard gainers. TNT super mass will jack you in a short time of use i noticed mass gain in 2weeks.

Review by Moorosi

(22 October 2020)

Its really a good product i started gaining noticeble weight in 2 weeks of use and it is cheap and has a good taste too. It comes in 2 flavours that you can choose on. I can recommend this product to any athlete who think gaining mass is hard. TNT super mass is a brand you can trust!

Tnt

Review by Jj

(13 March 2020)

I like this product.

One of the best

Review by Bhubesi

(24 June 2019)

Npl Elite gainer is good like very good but TNT mercury Supa mass is way better..... In one week of taking it with creatine I've gained so much, I gym from Monday to Saturday, my chest is showing(n my belly too lol), my arms are getting big....

Mos definitely I'm going to buy another bucket

Highly Effective

Review by Mshini

(10 June 2019)

This stuff really works!!!!!!

Great product

Review by Mass junkie

(13 May 2019)

This product is absolutely amazing, I have a fast metabolism but since using it I've gained so much, definitely going to buy a second bucket

Bad results besides poo

Review by Bob

(25 January 2019)

Small results. It was a waste of money for me

TNT MERCURY SUPA MASS

Review by #GymaholicBeast

(24 December 2018)

Great Taste, Awesome Results. Would recommend this Product to anyone !

Best protein shake made by far

Review by Xar

(29 November 2018)

Excellent taste excellent price and the best bulk shake by far.


Great blend

Review by Bush knife Bobby

(18 November 2018)

I'd recommend this because it is well balanced. It's much better than primal nutrition, the quality of this product proves itself.

Big on taste.. great on price... excellent results

Review by Boo

(30 September 2018)

Product has quick results no words ... try it and u will be here typing just like me.

Supa mass

Review by Physique

(12 August 2018)

Hi guys the supa mass is really a good product and I've seen great results I'm very happy with it please replace the soy protein with the same beef protein in the black mass too much soy is bad for men

Two weeks in

Review by Zaza

(18 May 2018)

Less effective for me for unknown reasons, whey protein is much better.

best for me try it out

Review by zulu

(17 May 2018)

i've use it for 2 months i can really see the hard work im putting at the gym

it's a trusted product

Review by Gontse chidi

(3 May 2018)

It provides top of the line quality

What are these green bits?

Review by Green bits

(20 April 2018)

Amazing shake, but what are these green bits in it?

I'm still trying it out and it's been a month

Review by DJ Wamy

(22 March 2018)

I'm still trying it out and it's been a month already i'm just impatient and i have 3 more months to surprise my friends and foes

good and effective during workouts

Review by choi

(16 February 2018)

i think increasing its creatine and anabolic stack mg will fulfill muscle freaks as to avoid increase in supplement use as some use more than 3 supplements to gain mass and strength during and after workout.


Really great men out of 10 I give it 8

Review by mercury

(19 October 2017)

i wont complain this stuff works for me i mean in just 2 weeks guys i people keep on asking me question on whats my secret wow men

new trainee

Review by nicholas lerato

(1 October 2017)

hi this product was recomended for me and it taste very nice and I cant wait to see the results, im new on this product, ill tell later after weeks how it treats me

thanks