Product Info
USN's Hyperbolic Mass has been scientifically formulated for individuals with a fast metabolism who demand a high level of energy from quality carbohydrates to prevent the breakdown of muscle tissue for energy. The 50g Anabolic Protein Matrix contains high levels of natural Branched Chain Amino Acids (BCAA's) and glutamine. Among the most beneficial and effective supplements in any sports nutrition program, are the BCAA's, leucine, isoleucine and valine. The combination of these three essential amino acids make up approximately 1/3 of skeletal muscle in the human body, and play an important role in protein synthesis, and thus muscle growth and repair. Glutamine again is the most abundant amino acid found in the human body and is solely responsible for over 35% of the nitrogen that enters the muscles.
Research has revealed glutamine's unique contribution to protein synthesis (muscle growth), anti-proteolytic functions (preventing muscle breakdown) and growth hormone elevating effects. Keeping a consistently high level of circulating growth hormone allows you to combat the catabolic effects of weight training even further. Glutamine also plays a part in maintaining proper blood glucose levels and the right pH range. The Hyperbolic hard-gainer stack provides a wide array of other power enhancing amino acids, beta-alanine, HMB, natural testosterone optimizers, as well as different creatine forms with absorption boosters. Hyperbolic Mass has been scientifically designed to help you achieve very high levels of muscle mass and stamina, it provides many positive attributes all fitted into a compact, tasty drink.
• 50g Anabolic Protein Matrix per serving. Advanced Amino Acid Delivery Formula.
• 15 000mg Hyperbolic Hard-Gainer Stack per serving to optimise muscle growth.
• GH release from 4500mg Glycine.
• 1500mg Taurine to maximise nutrient & amino acid uptake and energy production.
• 5000mg Creatine Stack for muscle growth, power and volumisation.
• High in BCAA's and Glutamine to assist in muscle growth and nitrogen retention.
• Lactazyme blend (Lactose enzymes) for optimal milk solid absorption.
Nutrition Facts
Serving Size: 300g
Serving Per Container: 13 (4kg) / 20 (6kg)


Per 100g
Amount Per Serving
% NRV

Energy

1559kJ
4677kJ
Protein
16.6g
50.0g
89%
Glycaemic Carbohydrate
73.0g
220.0g
Of which total sugar (Dextrose, Fructose, Maltose, Lactose, Maltotriose)
11.6g
35.0g
Total Fat
0.4g
1.2g
of which saturated fat
0.3g
0.9g
Dietary Fibre
0g
0g
Total Sodium
284mg
852mg
Potassium
16mg
48mg
Vitamin A
212ugRE
636ugRE
71%
Vitamin B1
0.3mg
0.9mg
75%
Vitamin B2
0.3mg
0.9mg
69%
Nicotinamide
3.8mg
11.4mg
71%
Vitamin B6
0.4mg
1.2mg
71%
Folic Acid
90ug
270ug
68%
Vitamin B12
0.6ug
1.8ug
43%
Biotin
8ug
21ug
70%
Panthothenic Acid
1.2mg
3.6mg
72%
Vitamin C
24mg
72mg
72%
Vitamin D
3.6ug
10.8ug
72%
Vitamin E
3.5mgTE
10.5mgTE
70%
Calcium
45mg
135mg
10%
Magnesium
11mg
33mg
8%
Phosphorous
138mg
414mg
33%
HYPERBOLIC HARD-GAINER (HHG) STACK
29.3g
CREABOLIC STACK
Creatine monohydrate, Di-Creatine malate & Dextrose monohydrate
Of which creatine
mTOR ACTIVATOR
BCAA's, HMB (Beta-hydroxy beta-methylbutyrate), Taurine
HYPER VOLUMAX
L-Glycine, Beta-Alanine
GLUTACELL TRI-STACK
Glutamine AKG, L-Glutamine
TEST-ELEVATOR
Avena Sativa
*% Nutrient Reference Values (NRVs) for individuals 4 years and older (2010)
Ingredients
5-Stage Glyco-matrix carb system (Fast- and slower releasing maltodextrin, dextrose monohydrate, waxy maize starch, fructose), 6-stage anabolic protein matrix [whey protein concentrate and isolate blend, soy protein isolate, calcium caseinate, milk protein isolate (92% Micellar casein], cocoa powder (only in chocolate variant), creatine monohydrate, l-glycine, flavouring, sodium chloride, taurine, thickeners, magnesium oxide, non-nutritive sweetener blend (sucralose, acesulfame-k), MCT oil [medium chain triglyceride], vegetable oil (from coconut fruit), vitamin premix, calcium-HMB, avena sativa (10:1 extract), colourant (only in strawberry variant), fish oil powder, beta-alanine, tolerase L (ph-stable lactase), l-glutamine, glutamine AKG, leucine, valine isoleucine, chromium picolinate.
Allergen Warning: Cow's milk, soy and fish.
May also contain traces of wheat (gluten), tree nuts and peanuts.

Recommended products to use with this item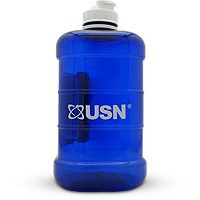 Directions
• As a dietary supplement, start off by adding 2 rounded scoops (150 g) to 375-400 ml of cold water or full cream milk
• Then move onto 4 rounded scoops (300g) with 750-900 ml water/milk (divided between 2 shakers) after a week.
Notice
Please consult your physician first (especially if you have a medical condition). Do not use if you are pregnant/lactating or under the age of 18. Remember that an adequate state of hydration must be maintained when using this product. Have at least 8 - 12 large glasses of water per day. Do not exceed the recommended daily intake. Taking more than the recommended dose will not improve results and may cause adverse reactions. For best results an appropriate weight gain eating plan and training programme should be followed. High intake of free-form amino acids may initially cause gastric discomfort in sensitive individuals - if this prolongs, reduce dosage or discontinue. Nutritional supplements should not replace a balanced, varied diet. Tolerance to lactose is variable - please seek advice as to the role of lactase in the diet.
This product has not been evaluated by the Medicines Control Council and is not intended to diagnose, treat, cure or prevent any disease.
Customer Reviews
It Does Work

Review by Anonymous

(5 July 2020)

It takes a while for one to actually notice proper gains. I would say about 3 months of solid training, a good diet and consistent intake of the product.

The "weight" may come fast - probably a 4kg gain in the first month.

So it is definitely up to you to ensure that the weight you put on is more muscle than it is fat.

Especially for a hard gainer, you would want to train muscle groups at least twice a week to actually notice a difference.

I Cannot Believe It

Review by Abe

(5 May 2020)

I was so underweight and I tried everything I could do to gain weight but nothing helped.... I was shy to wear short sleeve shirt at work because of my skinny arms :/

I weighed myself in December 2019 and I was exactly 59kg's, mind you I am a tall person so you can imagine how skinny that is.

I started taking the protein powder on January 1 2020.... I mix it with Milk and I must say today I am weighing a good 70kg's. From 59 to 70kg's in 4 months that is a big difference for someone who's a hard gainer.

I am loving it and this is the best product out here. No side effects at all. Just make sure you drink enough water and do regular exercises plus a good diet. so that it doesn't built that' ugly fat around your waist line hahah.

It's like magic and I cannot express this enough how good this product is especially for the skinny hard gainers out there.

My goal is to Reach at least 75kg's of good muscle. And I'll keep taking my protein shake and eating healthy and drinking my water and Doing regular exercises.

Don't expect this to work if you're not gonna have a healthy diet on top of your protein shake intake. You need to maintain a proper diet as well and drinking water.

Okay I think this is enough. I'll update when I reach my goal.

*Satisfied Customer

New beginner.

Review by Lampard 8.

(4 April 2020)

Already on a week process but I like it and see full thighs coming out. And just feeling good and glowing.

Starter

Review by Jules

(4 February 2020)

Already a hard trainer. Just started off with the hyperbolic mass builder and are eager to see what it can do. Will definitely visit this site again after a month and comment on my progress and what Usn Hyperbolic mass has been doing for me.

Product form mass gainers

Review by Ryan Fredericks

(19 January 2020)

Used this product in the past but, it has too much sugar dosage,would rather switch too usn fast grow anabolic.

Does its Job

Review by It's the one

(19 November 2019)

Being skinny is not my thing though i was so went and got the one and only Mr Mass gainer and hit the gym(56==>68) a month two weeks

Great product

Review by themoment

(15 September 2019)

Used it for 4 months. It taste good, not too sweet. It can be effective, remember that supplements should be used in addition to consistent exercise and good nutrition. Combine that with this supplement and it will be effective.

Bad

Review by Anonymous

(26 August 2019)

ruined body

muscle gainer

Review by jae

(26 July 2019)

i have used it and wow it works so good from skinny to beast

Its effective

Review by Cole

(10 July 2019)

Love the test..works if you train hard

Proper

Review by Maanda

(4 July 2019)

It does wonders if you train well and eat healthy

hyperbolic mass

Review by Wrong Turn

(10 June 2019)

It's perfect to us trainers, I have seen best results of it on my body after using it for 2 day wow it worth

SWEET TASTE

Review by Mathias Hughs

(3 June 2019)

It really works. I have used it for 3 weeks with proper diet and adequate hydration now am a monster lol

Best muscle recovery product ever

Review by Hlomani

(17 May 2019)

Train hard and then take this coupled with a smart diet you will see results coming

Number 1

Review by Kellimbus

(10 May 2019)

Pretty tasteful and does amazing work if you purt more effort in the Gym. This supplement really helped me for activating my beast look. No more skinny

FANTASTIC

Review by BOZZA

(6 May 2019)

I have three weeks using hyperbolic and I can confidently refer u to it.....it works for me n imagine what it can do for u...

Perfect

Review by Musa

(10 April 2019)

Gained muscle mass
Lost fat
Got ripped


Perfect for skinny guys

Review by Lucky

(26 March 2019)

I was tired of being called skinny everywhere, i took it and worked out as hell....now i am confident enough to stand in a crowd naked lool!!!

Awesome

Review by Calie

(25 March 2019)

Fantastic, useful powder for muscles

Made me fat and hyper

Review by Malevel

(28 February 2019)

Comments reserved , it's amazing to see the changes and gain's

Best Gainer Ever Had

Review by Rexthetics

(28 February 2019)

I've been using gainer for the third time, but this gainer is ultimately good. In last 1.3 week I gainer 3kg's. Its just a proper workout and proper DIET (Main thing you need to maintain).

Nyc stuff

Review by Dog. Q

(23 February 2019)

I really like this product. I almost used it for 2 week and I see a huge improvement.

Realy works!

Review by Nkosi

(9 February 2019)

Used it for the past 6 months and results are great.ive gained a lot of muscles and it's even a year

Perfect choice

Review by Bandile

(8 February 2019)

From skinny to bulking in 6 weeks of taking every day

Not bad

Review by Brock lesnar

(31 January 2019)

It's just not bad

Awsum

Review by Hillbilly

(26 January 2019)

I used it for 2 months and gained 6 kg , and I didn't even train very hard . Hyperbolic mass really works.

KP

Review by Kopano

(18 December 2018)

Great muscle gainer

3kgs in 3 weeks

Review by Slippery

(19 November 2018)

The Old Faithful. Arguably the best mass gainer on the market in terms of bang for buck. Been on this stuff for 3 weeks in conjunction with a great diet and have already steadily picked up 3kgs. Would recommend this to anyone looking to gain some serious mass without overspending.

One of the best

Review by Avishka

(4 November 2018)

One of the best supplements for off season bulking! Tastes wonderful with milk and also cheap in price!

Good

Review by Chabz

(16 September 2018)

Can see a difference

Inspiring

Review by Pinga Da Q

(11 September 2018)

This product inspires me to keep pushing, i've moved from 55kg to 57kg in 3 weeks i train 3 times a week. My problem is eating I should have gained more than this if i was eating too much

Great

Review by 21 Savage

(1 September 2018)

Fantastic

Good

Review by 1em1

(30 August 2018)

I like. After 3 years using again

I used it from May to July and i moved from 58kg to 71kg. Wow is the best

Review by Bronzy

(14 August 2018)

Is the best you can find in the market

Nice powder

Review by Madaniza

(9 August 2018)

I like it

Good

Review by Andreas Amewu

(31 July 2018)

I think is Good I used just a month and I'm seeing improvements and people are asking what I'm I using for gym

Put to the test

Review by Simmy

(30 July 2018)

I am using it for the second week now I feel good and it tastes nice I haven't seen results yet however I think because I have not really exercised and hit the gym. This product works with strength exercises and hitting it in the gym I could be wrong but im about to try it out and see where I get my results faster from

not bad

Review by Rado

(12 July 2018)

i'm a hard gainer, i've bought 1kg of this one weeks ago, gained 1,5~2kg. bought another one today, expecting for result.

I really like it

Review by paps

(10 July 2018)

its working for me very good I like the product

hyperbobolic

Review by aimable captain dasilva

(21 June 2018)

firstly is the best staff before I had 73 kg but now I have 82kg within 6 months I used 6kg of this protein .this staff I the best

Gud product if u r a hard gainer and u wonna bulk

Review by Gift

(17 June 2018)

I once bought 4kg of it, and I am proud to say that the product is the best, but what I have realised is that HYPERBOLIC MASS need too much exercise and you even loose some of muscles u already have

Excellent stuff

Review by Razor

(14 May 2018)

Have used it for almost a year now. Am happy with the results

Gained 5kg in one month!!!

Review by IronMan

(4 May 2018)

Been hitting the gym 6 days a week went from 85kg to 90kg in just 30 days. Makes u gain some fat as well due to the high carbs. Took the supplement 2 times a day (bought the 6kg) and it will make you poop :)!! I would say it is worth it

Its really good. Does the work

Review by Kay

(12 April 2018)

Im a hard gainer with fast metabolism so I'm that skinny guy. Someone recommended me Hyperbolic all mass and I started with just 1kg taking two scoops with milk everyday afta lifting some weights and in just 2 weeks I could see a huge difference and people are saying I'm bulking up. The product is good and i love chocolate flavour
I recommend it for beginners especially skinny people.

Its good

Review by Tynoe

(2 April 2018)

I bought a 2 Kg with its HCL creatine I cnt go off the mirror cause my body is shining definitely am am going for another hyper

10+ star

Review by supreme

(28 March 2018)

Really does work.. Consumed 6 kg and I think if I buy it again ima be a beast... For you to see if it works you need to workout hard and drink a lot of water... Don't look at you body everyday once a week will do..

Went from 77kg to 83kg in a month and a half

Review by Kruger

(26 March 2018)

One serving a day (except on weekends), two scoops with water, and within one and a half months I had gained 6kgs. Great for people with a super fast metabolism. Whether it works for you depends on your body, how often you gym and how hard you go in the gym. How much you enjoy the taste of the product is down to personal preference. Would recommend to everybody.

The best of them all....

Review by GIGI

(21 March 2018)

This is the best product I've ever used in all supplements, tastes great especially in whole milk it helps gain more muscle in just a few weeks, would recommend every one to use.

it not that bad

Review by Austin

(1 March 2018)

IT is good n i use it with creatine and testblast

Nice

Review by Gboy

(24 February 2018)

Gained 7 kg in 43 days

good allround

Review by WilBee

(1 February 2018)

was weighing 54kg before I started it and now I am weighing 74,5kg. I am happy with the gains after a year of taking it. I was consuming 2scoops per day.
A good product for skinny people.

Great

Review by Dexter

(28 January 2018)

There's no better mass gainer out there

Its alright

Review by Bob

(25 January 2018)

Not bad

good value for money

Review by keegzo

(25 January 2018)

i used this product by pure chance and never used USN before but tried many other products and for me this particular product stacked with the Amino's by USN works wonders i take one scoop 3 times a day and i saw great results in my first 3 weeks. awesome product

Not good enough

Review by Beast

(17 January 2018)

I saw zero results on me

I've use up to 12kg of the product

Review by Ryan

(15 January 2018)

and I still look the same.. my weight is still 55kg

Good over every supplements

Review by Adolf

(21 December 2017)

I highly recommend it to skinny People,I've been using this just just for 2 weeks but I see the results already and it bulks up so so nice.. I'm no longer. Skinny...but when I'm at the gym I make sure I push for sure

Good for students.

Review by Flexinatory

(12 October 2017)

This is a good shake if you want to save money. It gets the job done, but that being said there are better shakes out there if you have the cash. Good for students looking for a started mass gainer.

Great for Muscle Growth

Review by DurbanGainer

(12 October 2017)

I have been using this product for 2 weeks but I can proudly say the results are a+mazing. It is effective in bulking up some muscles accompanied by good diet of couse.

Taste good

Review by Caterpillar

(13 September 2017)

Its good indeed

cramps after drinking it and running tummy

Review by PK

(23 August 2017)

I get very miserable after an hour of consuming it

Within a year bulked up with 15kg's of mass.

Review by Bradwin

(22 August 2017)

Effective product, tastes good and fills you up leaving you satisfied. :)

awesome shake

Review by nicky duce

(21 August 2017)

I bought this shake three weeks ago(I chose strawberry flavour) and it tastes so good I've gained 5kgs in those 3 weeks am definitely gonna buy it again trust me it works wonders

Excellent

Review by Skinny

(20 August 2017)

Very good for hardgainers, taste is good and easy to digest.

Good

Review by Prince

(11 August 2017)

Awesome

It works very good!!!!

Review by Montsho

(10 August 2017)

I first tried this product two weeks ago and i see good results.It works very best for hard gainers.

It's all good

Review by Smasher

(3 August 2017)

It works for me

Not very effective

Review by Jack

(31 July 2017)

Used this product for 2weeks and I gained 3kg of fat even though I ran every morning and hit the gym room in the evening..I even watch my diet but still I gained fat especially around the waist

Great Product

Review by Shaun49995

(28 July 2017)

This is a great product for getting those extra calories in when bulking! make sure your in a caloric surplus 300-500 above maintenance. I made solid gains with this product and only used a half a serving per day since i got my other calories by food, prolonging the servings. would recommend!

its nice

Review by nyama

(27 March 2017)

i realy like it

awesome

Review by Rambo

(27 March 2017)

This product works really good for its really should try it

bad taste but too effective though...

Review by fresh

(15 February 2017)

The best product ever...u gain lean muscles in no time.

Good weight gainer ever

Review by Matshidi

(21 January 2017)

Stack it with creatine and testoblast to see better results in just a short period of time

it is good

Review by mikey

(26 October 2016)

It is dope and it is worth every cent

My all time favorite

Review by Super Squirel

(24 August 2016)

This is one product I cannot gym without. Since it hit the shelves a few years it has been the ultimate "fast metabolism defeater" for me. Still haven't changed. Recommend it for hard gainers.

its to die for

Review by lebo

(23 June 2016)

This product is the best i wud reccomend it to anyone battling to gain....it worked wonders for me

the best

Review by sub zero

(8 June 2016)

with hard core workouts only comes with the best results. this stuff is the greatest

it works just too sweet

Review by bulldog

(7 May 2016)

I used this product three years straight and it worked very well for me I gained 10 kgs and maintained it .

This mass is very good especially if you have a fast metabolism it worked great for me but it's too sweet which flavours can I try besides chocolate?

Review by Travis

(25 April 2016)

I started taking this mass gainer on February on May I was very big and I'm also bulking it has great results


Changed my life

Review by Mo

(18 April 2016)

Life changer right here, Went from average to hulk smash in no time.

4kg in 5 weeks, minimal fat

Review by jesse

(10 February 2016)

put on 4kg in 5 weeks of hard training. took the 4 scoops in 2 doses every day. worked out hard and heavy once a day plus ran everyday for lean quality. good source of muscle fuel.


I always be usn products loyal customer

Review by tebz

(4 February 2016)

I have been using hyperbolic mass it really works indeed, there's no complication it does what it does best trust me.

Hyper is a very good

Review by ANDY

(31 January 2016)

Wow I've used this supplement only for 2 months.but now I'm looking great...or maybe its because of I hit the gym harder oooh yes

not bad

Review by priya

(17 January 2016)

i have seen a bit of weight gain, i expected more though.

its good to go for it!

Review by jowi boy

(5 December 2015)

I've been using it almost two weeks now and the results are extreme I guess the main reason may be that I train so damn very hard like Cena my role Model...heheheh!

its fun not perfect

Review by nev

(16 November 2015)

i think the thing works a bit . i trained my chest a lot know its big and i have to train my arms so that they too become big.





works very well

Review by head

(22 October 2015)

It's great supp I love it

Something that actually works

Review by Matt

(5 October 2015)

I am a hard-gainer and have been my whole life, stuck to whey protein and saw some results but when I tried Hyperbolic Mass about a month ago I saw immediate results. I picked up 0.5kgs by only taking one scoop every morning with my breakfast shake which is only a quarter of the recommended dosage.

The vitamin matrix in this is awesome and works great for ectomorphs with long limbs like myself. I bought my second bag this morning.

I currently take it only in the mornings, 1 scoop serving. With a MSM joint supplement, a USN Mens Ultra multivitamin and 1 scoop of titan labs berserker pre workout about 20min before an hour session.

Big results, even on low dosages. Highly recommended. Super affordable too.

Not bad

Review by kelvin

(6 September 2015)

Bought this product and used it for 5 weeks and all I can say is not bad.But I was disappointed to be exact because I workout like crazy hard and I expected like really massive gains but I gained only a few pounds but not the worst supplement out there.Totally switching to creatine now.

Top stuff

Review by Bubble biceps

(3 September 2015)

This is a great product, nothing like the previous protein shakes I've used. I imminently began to see results within the first month of calisthenics. Now I'm on aesthetics and the gains are even more insane.

Not so good

Review by Will

(26 August 2015)

Makes you poop! Really tastes funny, and it never really mixes. Won't recommend it.

Hardcore exercises will give u best results wit this products.

Review by kidwell

(29 July 2015)

Depending on how you use it and your expected result . If u wanna gain mass and you really abuse the iron I promise you you will gain gr8 results but, if you go to gym to massage the machines and try to be a gym fan to the ladies then come home to drink this,hoping that it will miraculously give you a body of Arnold Schwazneger...or The Rock...sorry dude you'll soon be doubting whether r u not a descendant of Budd Spencer or Sumo wrester very soon.

So ppl hav to stop thinking that this will carve your muscle. Your a sculptor with a chisel. ..this is like a lite to help u see what you're carving.

for this price.... excelent

Review by Francois

(27 July 2015)

This is a great product for its price,
I would have liked more protein per serving, but other than that, its pretty good, great for mass gain, just watch out for the calories as its got a pretty high carbohydrate content

good product

Review by chico

(17 July 2015)

This is a very good product it helps too gain weight and muscle

Great supplement

Review by Gains

(14 July 2015)

I used a 2kg pack to start off with and used it in about 3 weeks , I gained 5kg in those three weeks ! Definitely buying it again .

good product

Review by wilken

(5 July 2015)

It is one of the best shakes out there in this price range it makes it worth it and it definitely worked for me

Useless product

Review by Tman

(25 June 2015)

What a waste of money. I will never buy this product ever again. Firstly it tastes horrible with water and even when you mix it with milk it doesn't mix well and its too sweet. Secondly High sugar content- can't stand that and excessive carbohydrates. Thirdly it requires a person to have 4 scoops per day but still don't get the results I wanted to see. This product made me gain unwanted fat. I wouldn't recommend it to anyone.

rubbish

Review by brad

(27 May 2015)

This rubbish product made me gain unnecessary weight,anabolic muscle is way better this is not worth it

ZERO results!

Review by BetterMe

(24 May 2015)

Hi folks,

My weight over the past year has been constantly 76.5kg every day. I have all the info down with regards to metabolism functions, calories and all the dietary requirements to either gain or lose weight.

My daily physical routine has not changed – thus no requirement for more calories, my food diet is exactly the same, yet after consuming the full 6kg bucket I have not gained one singe gram. This makes no sense whatsoever because the label proudly boasts a huge calorie overdose which surely with all else remaining the same should have at least added a kg or two over a period of 1 month.

Surely calorie overdose should equal weight gain?

Anyhow, for me it was a total waste of money and had absolutely ZERO effect on my weight.


hyperbolic

Review by Mass_O

(13 May 2015)

Hy guys..I just Want to give an advise to the Hardgainers..If Ever You are Considering to this Supplement just Save Your money...But to be Honest I've definitely saw good gains on my friend but maybe of a reason that he gains weight easily an Even on muscle Fuel


.......

Review by sam

(11 April 2015)

Maybe its my sensitive taste buds,but i find it too sweet,and it doesn't mix well when using a shaker,u need to blend it...don't know about the results,still waiting...

works

Review by sticks

(1 April 2015)

this stuff has worked for me greatly i have seen good changes, maybe its my hard workout routine huh whatever it is it works.

great

Review by thee sam smokez

(15 February 2015)

It works for me :)


Cheap junk

Review by Chad

(10 February 2015)

I bought this today, the 1KG for only R105. Usually I don't buy USN but thought I'd give a mass gainer a shot because I've been wanting a gainer with fast release carbs to check if I get a better pump, and I only use whey protein and creatine normally.

firstly, it doesn't mix well at all. I mixed it in a shaker with the steel mixer thingy like 50 times, it was STILL lumpy. Any shake that still has lumps after 10 shakes is bad quality, so no wonder it was so cheap. Secondly it's very sweet...don't even wane know the sugar content in this stuff.

I haven't been to they gym yet since I've only tried it now once after gym...but I still wouldn't recommend it. Rather buy SSN Anabolic Muscle Builder, tastes way better, good quality and mixes easy. This stuff is a rip off I'll never buy USN again. Lumpy shakes means bad quality and I can taste its cheap stuff.


good results so far

Review by deebwouy

(1 February 2015)

this is my first time using any supplement and this one is working great for me will stick with it ;-)

Heavy Mass

Review by Clinton

(30 January 2015)

This Product works, but the downside of it is that you'll gain more Fat than the actual Muscle.

best ever

Review by kb

(27 January 2015)

Been using other products and never experienced better results with an awesome feeling more than this one,definitely can't wait

Waste of time and money

Review by stretch

(1 December 2014)

I bought this product this year of January to gain weight and build muscle because of my fast metabolism, the advice I got from usn professionals said it would do me good.

11 months later after using mass gainer have not seen any change in my body even got eating plans from usn im very dissatisfied :((

Great shake!

Review by Mow

(9 November 2014)

I had this shake for 3 weeks now and I gained 4kg in that time. I can surely suggest this shake for all athletes and sports people , believe me - it works

Horrible

Review by Animal

(31 October 2014)

I got this mass gainer a few weeks ago... There has been no change in my mass and worst of all it tastes horrible

great results and taste but not sure about price

Review by mubi mandla collen

(6 August 2014)

I started using this product few weeks ago and it always gives me an eager to train more and the taste is great. got positive feedback from my girlfriend saying am getting sexy...lol

satisfied

Review by zane

(12 July 2014)

I've been using the product for a week now and felt changes in my body just two days after getting it. Picked up 1 kg in that period and now I've gained another kg. That's 2kgs in two weeks. For me,that's steady and healthy. I gain muscle mass without picking up bad fat by following a training program and eating lots of food during the day. It is also an effective supplement to drink between meals (certain activities during the day don't allow you to have snacks like work for example) because it helps the body from not using stored fat for energy.

great for weight gain

Review by awonke

(20 March 2014)

I used this during rugby season as a post workout shake after practises and gym and despite all the cardio i was doing(4h high intensity) weekly, i still managed to gain a solid 3kg.

very disappointed

Review by buffkid

(14 March 2014)

I tried this product 2 years back and I gained close to nothing!! This product is very decieving and a total waste of money!! I'd rather stick to Evox and Muscleworks

Solid gains for a skinny guy, taste gets old fast

Review by LaserLemon

(26 January 2014)

Hyperbolic Mass was the first mass gainer I ever tried. Only once did I take the suggested serving size and the bloat was too much for me.

After that I cut my serving sizes down to half a serving mid-morning and half a serving post-workout. Used this mass gainer for about six months and picked up 10kg, very impressed with it but I am sick of the taste now.

get heavy

Review by harry

(15 November 2013)

it works period

well worth the price and great tasting

Review by Mohamed Shahbaaz

(7 October 2013)

you want a shake to that taste great aswell give you the mass gains you looking for this is the product for you its just ultimate

Far from effective

Review by Sahil

(27 August 2013)

Personally I saw no gain from this product probably because of the high sugar content. I don't see how someone would want to gain mass from such high amounts of sugar, Is having that much of sugar on a daily basis even healthy?

epic fail

Review by bart

(7 August 2013)

Used a 6kg tub N0 GAINS! At all! Hard gainer 0nly gave me lean muscle and a lot of strength but gains were weak! Never buying again!

Good Results

Review by Leroy

(16 July 2013)

Jus started using da product got 2 6kg's it been 2weeks now I hv gained some mass garging on some exercises r couldnt do thx USN I love the product..


Very good weight gainer!

Review by Barney

(3 July 2013)

If you are willing to add a few extra pounds in fat, while packing on the muscle, this product is great! It contains all the protein, carbs and vitamins you need to build lots of muscle, as well as some creatine! It is relatively well priced at about R100 per kg, chocolate tastes great, but stay away from vanilla and strawberry.

great product

Review by Kelvin

(25 June 2013)

One of the few supplements out there that really worked for a hardgainer like myself. Really helped get in all my calories i needed and the chocolate flavour tastes great, definately one of the better supplements out there!

Ultimate great tasting shake

Review by ANDREW

(27 May 2013)

This is the ultimate mass gaining shake. Great taste, great gains.. Perfect serving

Some good gains

Review by Brett

(12 May 2013)

The taste is amazing for a mass gainer, by far the best taste out of all the supps I've taken. Gained 5kgs in a week but that was on my first 6KG tub. Now on my 3rd. Not seeing such great results on this tub. Rather upset. Won't use this supplement ever again.

great weight gainer

Review by storm

(27 March 2013)

I could never get enough calories to help me bulk up but with this supplement it helped me achieve my goals i gained 6kg in 2 weeks :D

Get Heavy

Review by Gabriel

(4 March 2013)

The product does force rapid weight gain. Not all of it good. Contains a very high amount of sugar so expect to gain fat during a bulk directly from this product. Taste is average, it makes a very thick shake. Good luck drinking all of it as the serving quantity recommended is very high. Price used to be cheap in comparison to other brands and is now mid-range.

Good start

Review by Schumacher JR

(1 February 2013)

Found it to be quite good, gained 2kg's in one week. Taste is pretty nice when mixed well with blender. Spent my money wisely

It is very effective

Review by Gys

(19 November 2012)

Shows quick muscle gains and quick strength gains, but the price had gone up to be a bit expensive, i can't order! It doesn't give me the option of flavours thats quite frustrating! Im a hard gainer, but its by far the best i've ever used

Good product, good price

Review by Jaco

(9 November 2012)

This is a good product and the price is good, but it does not mix well, they should make it more concentrated.

Will bulk up

Review by Arno

(15 October 2012)

Taste is not very good and considering you have to drink massive amounts of it, its quite a negative. I did make weight gains, definitely helped me bulk up. I did however get much better results in lean muscle gains with much less fat gains with Evox 5XL

Good mass gainer, loved it.

Review by Dark-Cloud

(10 October 2012)

USN Hyperbolic mass is a great mass gainer, helped me gain 5KG in 4 weeks, I switched to another mass gainer and I stopped making mass gains, won't switch back to USN Hyperbolic though because it has a small amount of protein.

It made me fart a lot, like really, a freaken lot.

Explosive weight gains

Review by Underground Monster

(9 October 2012)

I gained 2.3kgs in 5days from this product, I really recommend that people looking to up weight and mass to use this product though it isn't good enough for repetitive usage, don't try it out again after the first use...


good taste less price works effectively

Review by sbu

(17 September 2012)

I recommend hyperbolic mass as one of best usn weight gaining product...i have seen drastic changes in less than three weeks.i like it

great price, taste

Review by Roz

(13 September 2012)

Great price and taste but be warned. If you don't have a proper gym plan in place you will pick up the wrong sort of weight. Great for those with serious metabolisms.

Effective Development

Review by Supplement Guide

(11 September 2012)

Effective when used as a weight gainer or if used as a meal replacement:

- Packs on weight when used in combination with correct diet.
- Post shake or meal replacement.
- Value for money, perfect initial/beginner workout shake.

not good product compared to competitors

Review by chris

(8 September 2012)

The price is neutral, the taste was average, but i saw no gains from this product and the serving size is quite large.

good

Review by brOnnie

(15 July 2012)

great quality but way 2 many scoops required next time ill go with evox it twice the servings!

First time user

Review by Tom

(25 June 2012)

A very good product for starters, I've gone from 69kg to 75kg in about three-quarters of a month, however in conjunction with a good meal and gym plan. Do not just take it and expect gains.

Great STUFF Great gains

Review by Cornelius

(5 June 2012)

Used it allong side Evox 5 XL muscle meal before trainning and its stack is great

1 st week

Serious Weight Gainer!!!

Review by Kyle

(29 May 2012)

I weighed 60kg, 4months later i was 75 kg!! This stuff works like crazy, it bulks you up and gives you crazy weight. Just have a good diet plan as well with exercise or else all that extra weight will just be fat!! Great product to pick up weight!!!

O´K Product

Review by Joao

(23 May 2012)

I´ve used this product many times, gained about 5 kgs, used the product with a high calorie diet. The protein and carbs ratio is great, the number of servings although is too low, but otherwise great product

Very Good

Review by Ashton

(23 May 2012)

Ive used this product only once and i saw results, It really works, but its very expensive though I cant afford it, because I'm an Intern at Bitou Municipality. But I would use it again if I get the opportunity.

44

Review by tutz

(13 April 2012)

well usn hyperbolic mass has improved well in taste in effectiveness is partly good in order to see result you gotta work hard and eat right quality food carbs and have a protein shake afterwards its important to follow the required diet if you want to bulk up !!!!!

Works

Review by Yosho7

(24 March 2012)

Been using this for 3 weeks now. You don't have to use full serving. I used one scoop and mixed it with one scoop whey. Chocolate tastes great, even with water. My starting weight was 51kg, im now 55kg.

WASTE

Review by GAZZA

(2 March 2012)

This supp requires way too much scoops. Got a 6kg tub and bearly put on any quality muscle mass, the tub was finished in 2weeks.


Great for hard gainers

Review by Albert

(17 February 2012)

I use it for 2 weeks with one shake a week and gain 2kg. It gives you alot of energy and makes you feel stronger.

Great shake

Review by Paul

(7 February 2012)

Excellent shake....saw great results!But didn't pack on a lot of weight...

Exelent product

Review by Paul

(5 February 2012)

Great product ...saw some exelent results!!!

Best ive used

Review by Vincent

(12 January 2012)

Had great gains from this product. Strawberry cheesecake flavour is great but I got tired of the taste after a while and caused me to feel bloated. I would recommend to this product to anyone who wants to gain dramatic size, fast.

really good

Review by skinny to hunk

(21 December 2011)

this product is awesome used it for 3 days every morning when i stand on the scale i see a difference

its great,but...

Review by wally

(16 November 2011)

I would like to say that this product definitely do work if and only if you follow the instruction. You must use it twice a day! But i have a problem with that.why does the power of the product lies in the amount of scoops you take in per day? Shouldnt it be in the product itself(instead of the amount)? Its difficult for hardgainers to drink so much a day(4 scoops twice). This is a gimmick,because anyone other ordinary supplement you use, will let you gain weight if you take so many scoops a day. Thats my only problem i have with this product.

GREAT

Review by Ernst

(11 November 2011)

Have to say that this is one of the best products that USN brought into the market. Taste is great as it's not just strawberry but strawberry cheese cake, nice. Have to say that If you want to carbo load use this shake as it has 220g carbs per serving and last you very long.

Well done USN



Average

Review by Connor

(12 October 2011)

I Took hyperbolic Mass and finished about 2 weeks ago, honestly it was not impressive at all and apparently usn have some dodgy things in this product!!which is why i have stopped taking it! I would rather go with nutrex black infusion or if you dont have the money ssn mass addiction or anabolic muscle builder! which is what i am currently taking! and put on 3 kgs so far! Do not go for vanilla by the way!!!(For USN HYperbolic Mass)!

Gain Weight Fast!!!

Review by Richard

(10 October 2011)

I used Hyperbolic Mass twice daily and Fast grow Anabolic once daily directly after exercise.... also used BSN N.O Xplode and BSN Cellmass together wit the two USN products.... i gained fast like really fast as i am training off season for Rugby.. i need to put on weight fast i gained about 6kg of rock hard muscle and no fat.... in 2 months... which is great as my body fat is still 7% these are great products!!!!

Excellent Product

Review by Juan

(14 September 2011)

This a great product for the price that you get it at. Going onto my second bag and results has been more than I'd hoped for.

Hyperbolic Mass Effect

Review by Mafafu

(16 August 2011)

Been using Hyperbolic for two weeks & my advice:

1.eat properly
2.exercise hard
3.drink plenty water

Results may vary depending on your metabolism speed. So i added USN amino acids for much faster recovery and muscle growth. I'm a changed man...
...9kgs kinda changed.

keep it up USN.

not for me

Review by andrew

(11 August 2011)

First and and only bag, far too thick. Much preferred fast grow anabolic, you get the same amount of protein per a serving but with less carbs. Feel fatty from the gains from this and hard to keep gain as it was mostly from all the carbs

great product

Review by puma

(25 July 2011)

ive used 2 6kgs in 7 weeks, 2-3 times a day, ate like a horse, and gained an unbelievable 10kg.....great product

Worth trying, an impressive product.

Review by Conor

(13 July 2011)

Hyperbolic mass. Simply saying the name makes me feel heavier. A good product by USN, does what it says, my only complaint is that it is not great with milk. I highly recommend it to anyone who can overlook its taste.

IS GOOD BUT TAKES TIME

Review by JUNA

(13 July 2011)

IT TASTES REALLY GOOD BUT IT TAKES TIME TO START WORKING AND YOU PUT ON A LOT OF FAT

Servings are abit too much!

Review by Bashy

(12 July 2011)

I did notice a little increase after 3weeks but its a really slow gainer! The servings are way too much..the favour isnt so bad but you get sick of all the servings really fast!

Great product

Review by sharky

(1 July 2011)

This really is a great product for the hard gainers


not to good

Review by Rob g

(28 June 2011)

the servings are just way to huge 300g is to much...the taste is not that fantastic, i had the strawberry and it did get worse after every shake because 6kgs of it. results were not bad although i seemed to gain more with usn fast grow mass, although i only took half servings 100g. will not be buying usn again though, next shake will be evox mega grow.

USN Hyperbolic Mass = More MASS

Review by Vince

(15 June 2011)

USN Hyperbolic Mass is fantastic, I recommend this to any one, mostly beginners who cant seem to pick up some muscle mass. Side effects are not part of this package, it works, proven, i just depleted my 6kg pack last week and I have no regrets as far as its concerned. Great price too.

Before I started my gym workout on the first of February 2011 at 71kg body weight. by the end of February i had lost some body fat and weighed 68kg. During the months of March and April i only managed to gain 2kg of muscle mass (with no supplements). I started taking USN's Hyperbolic Mass on the first of may and visually i looked bigger after 31 days, i gained a massive 9.5kg in a month, i am now sitting on 80.5kg.

Not the best on the market

Review by T-Rex

(14 June 2011)

I didn't notice good gains after my bag. This shake proves the "quality is proportional to price" theory. The strawberry cheesecake is a nice flavor, but for 6kg it gets a bit much! The Evox 5XL is a much better product in the same price range. It tastes better, and works 3 times better. If you are considering this supp, rather go for the Evox 5XL.

Good gains

Review by Warren

(11 June 2011)

Picked up 3kg i took a serving before bed and didnt change my diet just had supper a bit earlier as to not feel bloated when taking the shake. Packed with protein, glutamine and creatine. Cant go wrong an all-in-one supplement. Would definitely recommend it for hardgainers

excellent

Review by great one

(2 June 2011)

Downed my first bag. gained 3.5kgs.

Great Product

Review by Rasheel

(14 April 2011)

Still working through my first bag but I have been taking it religiously for about 3 weeks now. Still using the beginners dose of 2 scoops but taking it 3 times a day. Fantastic gains so far, up 3.5 kg. Extremely easy to mix with no clumping as well. will continue my bulking cycle with this product.

hardly worked

Review by DONALD

(3 April 2011)

i drank 6kgs worth of this product and gained three kg's... a week later 2kgs had disappeared... its not worth it, and the flavours get tiring

Good stuff!!

Review by Victor

(29 March 2011)

Used this for 2 weeks now and have to say good gains but had to do a lot of cardio to keep my carbs in place, Otherwise I noticed quite a bit of fat gains.

Great Gainer !!!

Review by Muisa

(26 March 2011)

I have used USN Hyperbolic Mass for 1 month and have gained 3,2 kgs ,thats some good mass product ! will get my next bag soon

Amazing product

Review by Alastair

(17 February 2011)

Had amazing results with product, well worth the money. Very sweet taste and alot to drink at a time but gives good mass increase with very little fat.

10/10 recommend.

Great Stuff!

Review by JP

(14 February 2011)

Finished 2/3 of the 6kg bag and put on 2.8Kg as a serious hard gainer! Had to chow alot with it aswell and adding a teaspoon of USN Creatine really helps. Drink tons of water :)

Great Value for a product that does work!

Well done

Review by David

(4 January 2011)

Picked up 3kg with a bucket, kept 2.4 of it! even after going on holiday for a week and letting go a bit. I believe that if I hadn't gone on holiday I would have kept all 3kg of it!

Exceptional product

Review by Jp

(9 December 2010)

begun using the strawberry flavour a few weeks ago and It tastes delicious and works wonders. Good way to keep your calories at a high and a good additive to have you in your diet, if you are looking to gain. I gained around 4kgs in the time I was on it and will certainly go on it again.

good

Review by ramano

(30 November 2010)

Great product,iv seen incredible gains in the last few weeks. I advise you to take it right before you sleep for even better results and to hold your breath when you drink it!!

Great!

Review by Matt

(23 November 2010)

Im on my second bag now , been taking 3 scoops in the morning and 1.5 scoops after training and my strength has rocketed..also put on a good 5 kg in a month.

Budget Mass gainer

Review by Donovan

(21 November 2010)

Hi everyone, I bought a bag of USN Hyperbolic mass a couple of weeks ago, was not sure what to expect from USN, but this product definitely worked! I gained about 5kg's in 2 weeks.. Not bad..? Well a 6kg bag only lasted me 2weeks and I used 3 scoops instead of 6. I would recommend it to anyone who wants to jump start their bulking cycle and then use hyperbolic mass once a day and whey shakes throughout the day.

Converted

Review by Afzal

(19 October 2010)

i was never a fan of USN mass gainers, until now. No more thick sugar laden fat gainers with this. Hyperbolic Mass mixes easy, tastes good and delivers on results. hard to say how many kg's of the gains were directly because of it but, but definitely growing faster than before with little fat gain!!!

The best i've ever tried

Review by Fano

(4 October 2010)

I must say i've tried various mass builders but nothing worked like this.
I put on 7kg in just under a month. (Proper mass build diet)
Will definitely recommend this to anyone looking to Mass up.

Great taste...great gains

Review by Coopz

(27 September 2010)

I have used my first 6kg bag finished and must say that the vanilla flavour is great!I have gained 6kg's and i am very happy with the product!Will recomend it to anyone looking to gain muscle and get big!

tastes bad works well

Review by Jay

(3 September 2010)

this product defititely works and helped me alot but tastes horrible!!!

Good product

Review by Imran

(31 August 2010)

Have been using this product for the last month after finishing up my bag of Optimum Nutritions Serious Mass - this product is basically USN's go at a Serious Mass type of product - and to be honest its not that bad a product at all...mixes well - the chocolate tastes horrible though.

Hyperbolic mass-gainer

Review by *HULK*

(30 July 2010)

WOW. the best mass gainer i've ever tried & my recommendation to those looking to gain serious kg's (2-4) is to never train without it! i'll definitely continue to use this product. although it would be nice to have another flavour available such as strawberry?

10 out of 10 USN :)

Okay....

Review by genetic freak

(26 July 2010)

I purchased the chocolate flavoured hyperbolic and it tasted terrible, its an average protein powder in my opinion

Hyperbolic - Good product

Review by Viv

(20 July 2010)

I've used Hyperbolic for 2 months now and I must say, apart from tasting delicious, this product truly works for me. I've gained 3 kg. I must add that my training has been very good as well, so that assisted me quite a bit. Being an ex-powerlifter, strength is important to me and I could see a great improvement in terms of strength as well. This is truly a product I can recommend to all hardgainers.

Hyperbolic ROCKS!!!

Viv