Product Info
USN 17-Testo Methox has been developed to increase your testosterone levels to the maximum natural level.
Clinically Proven
The patented Fenugreek seed extract, Testofen, has been clinically proven to cause increases in free testosterone levels by up to 98%.
Lean Muscle
Improving free testosterone levels increases muscle mass and decreases BUN (Blood Urea Nitrogen) levels, which shows a reduction in protein catabolism.
This means your body can use more protein to build lean muscle.
Testosterone is what makes a man stronger, so maintaining healthy levels helps you perform at your best during your weight training sessions and out of the gym.
Better Workout Recovery
Methoxyisoflavone which is found in soybeans is a non-hormonal anabolic/catabolic ingredient which has been shown to decrease cortisol levels and improve overall recovery from exercise.
Recovering from your workouts means you can consistently train at your best to maximize your muscle building potential.
Anti-estrogenic properties are also shown in methoxyisoflavone and may elevate natural testosterone output even further. Excessive estrogen in men leads to body fat and a possible decrease in strength.
Turbo Charged
Another possible benefit of methoxyisoflavone is an increase in protein synthesis.
Protein synthesis is how your body uses the protein you get from food and whey shakes. The more efficient your body is at using protein the better your fitness gains will be.
Solid Formulation
USN 17-Testo Methox is a natural testosterone booster with impressive ingredients like the patented Testofen which has been proven to increase levels in men.
Related Products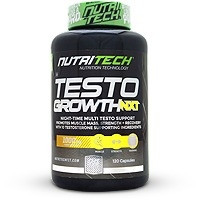 Nutrition Facts
Serving Size: 4 Capsules
Servings per Container: 20

Amount Per Serving

TESTOFEN
300mg
Patented Fenugreek Seed Extract standardised for 50% Fenuside Saponin glycosides
TESTO-X PROPRIETARY BLEND

1760mg
5-Methyl-7-Methoxy-Isoflavone, 20-Hydroxy Ecdysterone, Tribulus Terrestris (40% protodioscin), Avena Sativa (10:1 Extract), Eurycoma Longfolia (100:1 Extract), 7-Isopropoxyisoflavone, Chaste tree (Vitex agnus castus) extract (0.6% agusides)
ZMA (zinc magnesium aspartate)
600mg
of which Magnesium
110.4mg
of which Zinc
7.2mg
of which Vitamin B6
2.6mg
Glucuronolactone
50mg
Recommended products to use with this item
Directions
• Take 4 capsules 1-2 times a day.
• Use preferably 30-60 minutes before workout.
• Then again 30 minutes before bedtime.
• Adhere to a five-days-on/two-days-off regimen for eight weeks followed by a two-week break.
Notice
Not recommended for females (especially if pregnant / lactating) and individuals under the age of 18. Diabetics / hypoglycemic individuals should take note that this product may have a blood sugar lowering effect – medication may need to be adjusted accordingly.
Customer Reviews
Good.Does its job just like its suppose to.

Review by broly99

(5 April 2019)

After 1 week you can notice the difference

ROCK HARD

Review by PRINCE MAROLENI

(20 January 2019)

Love it. muscles, strength etc it has it all.

Is good product.....

Review by Tladi tladi

(3 January 2019)

Drink lots water when you gym and focus then you will see there results.

Testo methox 17

Review by Lucy

(20 November 2018)

Hi I've been using this product and no results for 6 months I know I'm a lady someone said I should use will help me loose weight but no results.

A pill can't taste bad... Haha

Review by Kuala

(3 November 2018)

It is what it is. Good test support. But like most others that are worth buying... It is pricey...

Worth it for me

Review by Mphela Kamoka

(10 October 2018)

Activates my beast mode. Makes me a totally brand new person. Sex drive is off the chains!!!!!

Most Potent Product in the Range

Review by MndPower

(20 June 2018)

Having had switched testos, this is by far the most potent testo I have yet to try. As a mesomorph, my gains were realised quickly - following a strict eating and training plan - in that my strength became jacked,I recovered faster (slept well), my body fat dropped and I became more defined. The libido effect is also good - but nothing like seeing the vascularity in your arms and legs!

nt bad

Review by butcher

(12 February 2018)

expensive have been using it 4 2wks hoping 2 see more result hv improve a little bit strength wise

ok

Review by manter muscle

(28 January 2018)

it improves strength but not in muscle. testo gh is a better product than this one?

Good product. Great work out.

Review by Pofmuis

(26 October 2017)

Gives me that edge i was looking for . Nice muscle gains .

I cant wait to buy it again

Review by Pietie

(23 February 2017)

It works great you guys, I have used a lot of other testo booster this one is one of the best if not the best out there, I am almost using it for 4 weeks now so I want to try it for 8 weeks and see...

Works wonders for my sex life

Review by G man

(19 October 2016)

Great stuff

Not bad

Review by VS 01

(21 August 2016)

Iv tried it for 3 weeks. Increased strength and minimal muscle mass. Too pricey and the price is going up. A waste of money for the benfits

very effective and quite expensive

Review by jakes

(12 August 2016)

USN must drop the price please.

Not dat bad

Review by Fun

(13 May 2016)

Sex life it does give it

it is very good

Review by Tristan

(26 April 2016)

It works ...sex life is great ....The best I have ever had

average

Review by goba

(3 April 2016)

It very good to turn yourself into a man

good

Review by mr . big

(24 December 2015)

Hi, there this was one of my best testo boosters ever .you can feel the change in your body . keep it up usn

gOod

Review by heiny

(27 November 2015)

Very gOod but very expensive

Wander kid

Review by WB

(11 November 2015)

It increases strength, great mental focus and helps improve down the line function of men