Product Info
NPL N.O. Charge X6is a pre-workout that pushes your workout with explosive power and pumps.
Boost Training Energy
To perform at their best athletes look to get as much energy as possible during their workout.
Giving you 350 mg of Caffeine per serving together with Citrus Aurantium, this product will take your gym session to the next level.
Improved mental focus from the stimulants will keep your mind zoned in on having the best workout possible.
Lift More Weights
The Performance Stack combines grape seed extract with beta-alanine to give more power during your lifts.
Pushing more weights increases lean muscle. Simple as that.
More Muscle Pumps
The manufacturers included most of the key ingredients to give you better 'pumps' during your training. This increases blood flow around your body which delivers more nutrients to start the muscle repair and building process.
Short Recovery Time
After your explosive session at the gym you need to recover. The blend of BCAA's not only helps preserve lean muscle during training but ignites new growth.
True Servings
This product gives you 20 true servings.
For athletes who regularly take a pre-workout and are accustomed to stimulants we suggest you stick to the recommended dosages.
Key Ingredients
NPL N.O. Charge X6 has all the right ingredients to give you a great workout. With a full month's supply at an attractive price it is slowly getting recognized by hard training athletes.
Related Products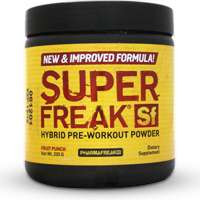 Nutrition Facts
Serving Size: 3 Heaped Scoops (21g)
Serving Per Container: 20


Amount Per Serving
% NRV
Energy
274.0 kJ
-
Protein
0.0 g
0%
Glycaemic Carbohydrate
0.5 g
-
Of which: Total sugar
0.1 g
-
Total Fat
0.0 g
-
Of which: Saturated Fat
0.0 g
-
Dietary Fibre **
0.0 g
-
Total Sodium
220.0 mg
-
Potassium
135 mg
-
Phosphorous
62.0 mg
5%
Vitamin B6 (Pyridoxine)
2.5 mg
147%
Nicotinic Acid
35.0 mg
219%
NO PUMP COMPLEX
9000 mg
GlycerPump™
1500 mg
-
L-citruline Malate
6000 mg
-
Betaine HCL
1000 mg
-
Beetroot Extract
500 mg
-
PERFORMANCE STACK
3050 mg
Beta-alanine
3000 mg
Grape Seed Extract
50 mg
RECOVERY COMPLEX
3000 mg
L-leucine
1000 mg
L-valine
500 mg
L-Isoleucine
500 mg
Taurine
1000 mg
ANABOLIC COMPLEX
1000 mg
D-aspartic Acid
1000 mg
ENERGY & FOCUS COMPLEX
1250 mg
L-tyrosine
750mg
Caffeine Anhydrous
350 mg
Avantra Z 6%
50 mg
L-theanine
100 mg
ELECTROLYTES & LACTIC ACID COMPLEX
800 mg
Sodium Bicarbonate
350 mg
Dipotassium Phosphate
300 mg
Trisodium Citrate
150 mg
*% NRV - Nutrient Reference Values for individuals older than 4 years.
- Not established
** AOAC 985.29 (Method of Analysis)
Ingredients
L-Citruline Malate, Beta Alanine, Dextrose, L-Leucine, L-Isoleucine, L-Valine, Betaine Anhydrous, Taurine, L-Arginine Alpha Keto Glutarate, D-Aspartic Acid, Beetroot Extract, Flavouring, Caffeine Anhydrous, Sodium Bicarbonate, Potassium Phosphate DI, L-Tyrosine, Salt, Tri Sodium Citrate, L-Theanine, Sucralose, Vitamin B3, Citrus Aurantium 6% (Advantra Z), Grape Seed Extract, Anti-Caking Agent, Colourant (E122), Vitamin B6 HCL.
ALLERGEN INFORMATION
None known.
This product is manufactured in a facility that uses materials containing milk, wheat, eggs, fish, peanuts, shellfish and tree nuts. (Allergen Control in place).
Recommended products to use with this item
Directions
• Mix 3 Heaped scoops with 300 ml of cold water.
• Never exceed more than 6 scoops within a 24-hour period.
• Drink 10 minutes before training.
• Due to its extreme strength, it is highly recommended that you assess your individual tolerance and start out by using only 1 scoop before increasing the dosage.
Notice
Any persons suffering from anxiety or depression, those with diabetes, or those using blood thinning medication (such as warfarin), should consult their healthcare practitioner before using this product. Discontinue use of this product at least 2 weeks prior to any scheduled surgical procedures. Always inform your healthcare practitioner when you are using other medication, if you are pregnant, or breastfeeding, please consult your doctor, pharmacist or other healthcare professional for advice before using this product. Discontinue use should you experience any adverse signs or symptoms when using this product.
INGREDIENT DISCLOSURE
This product may contain dietary ingredients that are prohibited by individual sports organizations. This product contains Citrus Aurantium 6% (Advantra Z) and may result in a positive test result for banned substances. Due to the unique restrictions of some amateur and professional sports organizations, obtain approval and / or authorization before beginning use of this product.
Use this product as directed, do not exceed the recommended dosage.
Customer Reviews
Doesn't mix well

Review by Gimmi

(29 October 2019)

Great energy, plus the feeling is awesome. Tastes horrible, especially the lumps that refuse to mix

Good pump

Review by Shane

(26 August 2019)

Tried it 10 minutes before work out and lifted some more heavy weight

It's really good for pumps

Review by KingK

(6 August 2019)

Amazing gym pumps but the energy stack is pretty weak, more of a vasodilator than a preworkout if anything

awok

Review by micky

(25 June 2019)

it really make workout harder and harder but never sleep at night at all, this is the worst side effects I have got.

Fantastic Product!

Review by Jack

(14 April 2019)

This product is absolutely amazing! I cannot fault it in any way! The pump,power,endurance,concentration and drive is great! Probably the best in the market!

Best Pre by Far

Review by Sam

(4 April 2019)

This is the best pre-workout I have tried.
Obviously one always wants it a bit cheaper so it's easier on our wallet, but definitely worth it.

Cramps and diarrhea with frequent use

Review by LO

(21 March 2019)

Performance insane, used it for 3 months and when I got to a fitness level, using it twice a day, severe cramps and diarrhoea started after 2 weeks of frequent use. I will keep on using it, but use discretion. Could be the 350 mg of caffeine per serving.

Its okay

Review by John

(14 March 2019)

Expected more

Great product, but my stomach doesn't like it.

Review by RSV

(12 March 2019)

The product is great, provides a good drive in the gym and the pump feels epic. I would have breakfast (100g future life, 220ml milk and a banana) and take the prework out around 20 min after, it kicks in within 20 min. But after 2 weeks of use I started having stomach cramps and diarrhoea, and some days it felt like I had a hangover midday at work.

Nice

Review by Tias man

(2 February 2019)

Nice

Product works great but will never take it again due to side effects

Review by Frist Timer using pre-workout

(27 November 2018)

I had this product yesterday morning 10 minutes before the workout (3 scoops in 300ml water as recommended). As I started my gym session I had an itchy face and arms but continued my gym session which was awesome. Problem is that about an hour after the session I started feeling disorientated and terrible "brain fog - battling to remember and concentrate" and nausea. Next day still have the same feeling so hope it passes soon. Great product but not worth the side effects for me personally.

Absolutely an insane product, best pre workout ever.

Review by JH

(10 October 2018)

Have combined it with NPL beta alanine, hope it wont be too much to handle.