Product Info
USN Fast Grow Anabol gH has been created for those looking to building lean muscle rapidly.
Muscle Growth
To help with lean muscle growth each serving has 50 grams of quality protein.
This nutrient is essential to help with the repair and rebuilding of muscles after your workouts.
Strength and Recovery
Lifting heavier weights in the gym helps increase lean muscle.
Five grams of Creatine Monohydrate and CEE give more strength during explosive exercises like weight training and shorten recovery down between sets.
Improved recovery creates more intense training with you performing constantly with each workout.
All-In-One
This mass gainer contains all you need to help you reach your fitness goal. No need to buy 2 or even 3 separate products, this has it all.
4-Stage Protein Blend
A precise blend of protein from Whey Protein Concentrate and Isolate, Calcium Caseinate and Soy Protein Isolate has been added to give you the benefits from different protein sources.
2-Stage Carb Matrix
To increase muscle you need a certain amount of carbohydrates to help deliver nutrients around your body.
A carb blend of maltodextrin and dextrose monohydrate help with the replenishment of this muscle gain nutrient which may have been emptied during training.
Great All-rounder
With the blend of proteins, added Creatine and Tribulus Terrestris for optimal natural testosterone levels USN Fast Grow Anabol gH is a complete mass gainer for lean muscle.
Related Products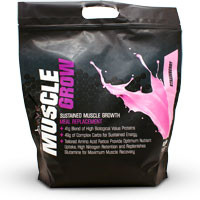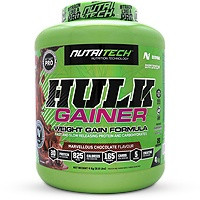 Nutrition Facts
Serving Size: 3 Scoops (150 g)
Servings Per Container: 27 (4kg)
Amount Per Serving
%NRV*
Energy
2144 kj
Protein
55.0 g
98%
Carbohydrate
80.0 g
of which Total Sugar ***
2.3 g
of which Added Sucrose
0 g
Total Fat
1.9 g
of which Saturated
1.0 g
Cholesterol
30 mg
Dietary Fibre**
5.5 g
Total Sodium
800 mg
Potassium
566 mg
Vitamin A
384 mcgRE
43 %
Vitamin B1
0.6 mg
49 %
Vitamin B2
0.5 mg
40 %
Nicotinamide
6.3 mg

39 %

Vitamin B6
0.7 mg
43 %
Folic Acid
193 mcg
48 %
Vitamin B12
1.0 mcg
41 %
Biotin
11.4 mcg
38 %
Pantothenic Acid
2.0 mg
40 %
Vitamin C
43 mg
43 %
Vitamin D
5.7 mcg
38 %
Vitamin E
6.2 mgTE
42 %
Calcium
465 mg
36 %
Chromium
24.4 mcg
70 %
Iron
5.7 mg
31 %
Magnesium
58 mg
14 %
Phosphorous
497 mg
40 %
Creatine Monohydrate
7500 mg
of which creatine
6594 mg
ANABOLIC STACK
7800 mg
Added free-form L-Glycine
5000 mg
Taurine
2500 mg
Tribul40™ (tested Tribulus terrestris 40% extract)
300 mg
* % Nutrient Reference Values (NRVs) for individuals 4 years and older (2010).
** AOAC 985.29 method of analysis
Ingredients
2-Stage Glyco-Matrix Carb System (Maltodextrin & Pea Starch (Carb10®), 4-Stage Anabolic Protein Matrix (Whey Protein Concentrate & Isolate, Calcium Caseinate, Soy Protein Isolate), Creatine Monohydrate, Cocoa Powder (Only in Choc variant), L-glycine, Flavouring, Taurine, Sodium Chloride, Stabilisers, Tricalcium Phosphate, Potassium Chloride, Tribul40™ (tested Tribulus terrestris 40% extract), Non-nutritive Sweetener Blend (Sucralose, Acesulfame-K), Vitamin Premix, MCT powder [Medium Chain Triglyceride vegetable oil (from Palm kernel)], Tolerase® L (pH-stable lactase), Chromium Picolinate.
Allergen Warning: Cow's milk and Soy. Manufactured in a facility that also processes barley (gluten). Contains lactose, but regarded as suitable for lactose intolerant individuals due to the addition of lactase enzymes. Ingredients may contain traces of tree nuts, peanuts and crustaceans.
Recommended products to use with this item
Directions
• As a nutritional supplement, add 3 scoops to 600-650ml of cold water.
• Use a blender or hand held shaker for about 30 seconds.
• Have 1 to 2 servings daily as snacks in-between meals.
• Ideally between breakfast and lunch, lunch and dinner.
• The servings may be halved.
• Due to the creatine in the product, use it for no more than 12 weeks.
• After 12 weeks take a break of 2 – 3 weeks before continuing if your fitness goal has not been reached.
Notice
As with all supplementation, consult your physician first (especially if you have a medical condition). Do not use if you are pregnant/lactating or under the age of 18. Remember that an adequate state of hydration must be maintained when using this product. Have at least 8-12 large glasses of water per day. Taking more than the recommended dose will not improve results and may cause adverse reactions. For best results an appropriate muscle gain eating plan and training programme should be followed. High intakes of free-form amino acids may cause gastric discomfort in sensitive individuals - if this prolongs, reduce dosage or discontinue. Do not exceed recommended daily intake. Nutritional supplements should not replace a varied diet. KEEP OUT OF REACH OF CHILDREN
This product has not been evaluated by the Medicines Control Council and is not intended to diagnose, treat, cure or prevent any disease.
Customer Reviews
This is the best

Review by Dinno

(25 August 2021)

I like this because now my body is shaped very well with this supplement

It's amazing trust ah you'll never go wrong.

Review by Ma-e

(16 May 2021)

Highly recommend for the beginner's

I love it

Review by Trendy

(1 March 2021)

I like your product but there's still thing that I don't understand

Product for lean gainers

Review by Ryan Fredericks

(15 January 2020)

I'm 18 years old, used this product for 2 weeks now, highly recommend it for gaining a few pounds(Kg) especially for skinny guys. The first day I used it with 2 scoops felt a little nausea after it with water,but the next day I used 1 1/2 scoops which allowed my body to get used to it, I gained 3kg for two weeks already.

its the best supplement for muscle growth

Review by Gym guy

(16 November 2019)

Best supplement hands down

The best supplement

Review by Terence

(18 September 2019)

I can see huge results in muscle growth on just 2 weeks, but it gives me stomach problems.

Great product if you just going for a summer bod

Review by KC

(26 July 2019)

Didn't think it was working until i stopped using it for 3 weeks and could see progress was slowing, started on it again n its not big changes but it definitely helps increase muscle growth, drink it twice a day between meals

Not bad

Review by Jili

(23 July 2019)

I tried it once
It works
It gives u size

Its goes hand in hand with how yu gym

Review by Lebo Bluh

(11 April 2019)

If yu put more effort yu'll probably see changes so do not waste your money,buy and gym harder

It's Great! For the price that is...

Review by Monster2512

(5 March 2019)

This product is a great if you are looking for the most affordable post workout and meal replacement supplement that delivers a high quality protein blend along with a few added extras to boost your growth. However, This is not the best product out there in the market. For the price, this product is an excellent choice for the intermediate level fitness athlete that is on a slight budget.

I started off using this product at 98Kgs and with a proper diet and hectic gym sessions for 5-6 days a week, I have dropped to 91Kgs at 16% body fat from 23% body fat in 9-10 months (my weight fluctuates between 88-92Kgs on a daily basis).

Diet clean, lift heavy, rep till failure and i would recommend combining this product with some BCAA's for an intra-Workout supplement and also I feel it works best when you train at night and take it after the workout but an hour before dinner.

Great brand

Review by Matt

(21 November 2018)

Quality

cool

Review by ikkus

(30 October 2018)

I have just use it for 5 days but hearing good news.

Loved It

Review by Benzo

(28 September 2018)

I've Used the product for a week and I have gained 8 kgs of lean muscle.. gym twice a day, avoid fatty foods.
The taste still needs a bit of working on, the price is too much for an average joe... But nevertheless the results are better than awesome. Would recommend this supplement to anybody who is struggling to pick up or put on some body mass.

Wow

Review by Peter

(9 September 2018)

Definitely fills you up and the results are slow but definitely there... started three weeks ago and people have noticed my gains

I just love id cos am getting bigger and bigger

Review by Wastuga

(26 June 2018)

I will recommend it for everyone to use

fair

Review by prince

(8 June 2018)

I have been using it for while but i don't see much of difference but there is some slight progress

Good product, good gains. Would recommend for skinnier people attempting to gain mass.

Review by MassAttack

(20 April 2018)

I started taking this product when I was 75 kg, am around 84 kg at the moment after about 2 months. I did not hulk up insanely quickly like others but I have been having good lean gains, my legs have responded well and now even my more challenging body parts like chest and arms are coming along. Definitely requires you to gym else you will pile on some weight. I recommend anything with chocolate in it. I have had the plain chocolate, strawberry and chocolate and peanut butter. The strawberry has been my least favourite despite my girlfriend saying its the best tasting of the 3. Price is a bit high, but there are almost no cheap high quality of protein sources so its a bit expected as this product definitely is better than the hyperbolic mass which is much cheaper. I have observed both mass and strength gains but that could also be attributed to me being able to commit harder in the gym. I have abs but they are not popping as my body has a propensity to store fat there, this makes it a bit more difficult to do that as its high in calorie and carbs, experimentation with breaking up servings may be required for optimal results.

The best

Review by Spider

(18 April 2018)

Works within a few weeks

All good

Review by Pablo

(15 March 2018)

It's does work wonders if support it with gym and proper diet

Its great

Review by Giggz/Beast

(8 February 2018)

In two weeks i've gained so much and people plz play hard,work hard and no excuse everything will be fine spirit people

Gained 5kg in two weeks

Review by Chest man

(6 January 2018)

Lift heavy i do crazy reps 21 on bench press 90-120 kgs

very good

Review by eazy-e

(3 January 2018)

it works very well for me. i like the chocolate flavor!
it is a bit pricey

Very Nice!!!

Review by Bhekik

(21 December 2017)

Gained a substantial amount of weight whilst on this supplement. I tried other mass gainers like Hyperbolic mass and found this one to be more effective. The price is the only downside for me. But would definitely recommend for those interested in gaining lean muscle.

Fast Grow Anabolic

Review by Hennie

(8 October 2017)

Could not get to like the Vanilla taste.

Awesome product

Review by LZA

(6 October 2017)

The taste is okay when you start drinking but towards finishing it, it's terrible .

It is super

Review by N.Kay

(3 October 2017)

I drink it in the morning after my gym session. I doesn't give me only the mass it also shred me... and hey it doesn't hurt in the bedroom. I'm very happy with the results. Best and cheapest.

Arno

Review by Arnold

(11 September 2017)

It has not worked for me

pretty good

Review by Tman

(6 September 2017)

too sweet but works pretty good and too expensive

IT WORKS

Review by WAYNE

(22 August 2017)

I LIKE IT THOUGH ITS EXPENSIVE

just good

Review by terrance

(15 July 2017)

It is working but shouldn't cost that much as if it is supper

very good and tasty

Review by Ano

(2 April 2017)

In just a week my friends said I was becoming bigger

Best shake for skinny guys

Review by Ares

(4 March 2017)

I've been using it for about a week now and I'm loving it...I can see the difference already and I can workout longer than before.

It's the best

Review by Diamond74

(26 February 2017)

I trained twice a day while using this product, after two weeks everyone's been telling me that I'm getting bigger. Best supplement in the market for me.

its good

Review by nevada

(1 February 2017)

its good but to much suger, n makes my <<stomach runnin.>>, but people are seeing result on me.

i like it

Review by monzo

(28 January 2017)

It's very great

So amaziiiiing wow

Review by Kaybee

(22 December 2016)

In a week already I look like a real hunk ,compared to the supplements I used this is the best. Mix it with powder milk you'll see great results . drink before gym. Energy, power,size,weight and muscles in less than 3 weeks #Note gym 5 days a week at least twice a day (Recommended)

excellent

Review by kay-gee

(17 November 2016)

Am now on third week using the supplement wow am going to look so very charming this festive season and the next coming month

I like it

Review by dada

(31 October 2016)

The product is good.

LEVELS

Review by Tyson

(30 October 2016)

Week 5 on fast grown. Progression 103 -115. In 5 weeks
Gym twice a day. Morning and evening session
Breakfast Eggs Oats
10:00 shake
Lunch
Shake
Snack
Gym
Super
Sleep
Next day Repeat. You will gain.

Simple. #ToIronaddicts..


It works!

Review by Lindsay

(14 October 2016)

Im really impressed with this product. On a whim i decided to give it a try after struggling to make much gains in the past. I have been using it for about a month and i have seen a considerable difference in mass and definition. Like others have said you have to be disciplined with your routine or it will naturally not work for u. Im excited to see what the results will be after 6 months. I would advise on paying attention to your macros This is very high in carbs and some sugars so bear that in mind when u implement this into your daily food intake.

not bad

Review by heavy allan

(1 July 2016)

Have justed using bat it doesn't seem to be bad bat its chocolate taste differs from other chocolate s

Good product for hard gainers!

Review by Gareth

(16 June 2016)

One of the only mass gainers that's actually worked for me. The taste is very average and the consistency is thick, which makes it very difficult to get a full serving down. It also leaves me feeling very full afterwards BUT, its worth it. This is one of the very few products thats actually worked for me.

If you're a hard gainer, I definitely recommend Fast Grow Anabolic. Not the easiest shake to get down, but in the end, the gains are worth it.

it is the best

Review by Ben

(6 June 2016)

Good


fantastic

Review by sufie

(18 May 2016)

I was always a hard gainer and believed in hard work. It seemed impossible to go above 60KG. About a month ago I started using Anabolic fast grow and now I am 67KG. If I keep on gaining like I am now. I will compete soon too.

It works if you gym man zipho

Review by nhlakanipho khumalo

(19 March 2016)

It tastes great xolani

bt expensive

Review by T.mshana

(17 March 2016)

wuww it workng now i can see the defferent in 1weej 5dayz

it works if you gym

Review by mae

(9 March 2016)

this things needs you to go to the gym don't just buy and sit at home

Good

Review by zak

(25 February 2016)

It taste good but to much sugar n can't eat after u drink it but it works baba


Great

Review by Ray

(8 February 2016)

Moved from Hyperbolic All in One Mass Gainer.
So far, Happy and Hard Gut and Core Strength is on the up. How about a sponsor USN ?

I LOVE IT!!!

Review by Tiger

(30 January 2016)

Geez!!!..you won't feel any changes if you don't lift weights DAILY..If you think this product is rubbish,use it with powder milk not just plain water..and if nothing is happening..Then clearly there's something wrong with your body..just stay skinny then

Give it a try

Review by Nigel

(20 January 2016)

I have gained 3kg in two weeks by taking 1 serving per day split in two, also I feel the extra strength boost in the gym.

I'm speechless

Review by dialogue

(5 January 2016)

No change after using it for 1month

rubbish

Review by brannas

(29 November 2015)

Its rubbish...I still look the same and the 4 kg is up

helps build, not tasty

Review by pops

(8 November 2015)

It does help an individual bulk up rapidly but it's taste along with all other usn product are utter rubbish

its good

Review by vava

(3 November 2015)

I.Love it.

Its magic to the muscles

Review by 2Lanny

(28 October 2015)

For great results mix with powder milk. And buy multi vitamins .... Took me from 65 - 72 kg in 4 weeks with 5 days of gym. Its a great product try it and tell me if you don't like what you see....(recommended)

it is a great stuff but expensive

Review by tiny muscels

(24 October 2015)

good stuff,tasty and quality but expensive

good stuff indeed

Review by LeighLough

(23 October 2015)

USN is very good,for both a start and when you are old in this industry

works well and helps buff up fast

Review by punisher

(15 October 2015)

Good results

Still working very effecient

Review by Jay

(9 October 2015)

I like it

I recommend 2any1

Review by Ricky

(16 September 2015)

I recommend this product to anyone that wants to look good and stacked within 12 months.

wow

Review by Tin-Tinashe

(10 September 2015)

Yhaaa good one lol

awsome stuff

Review by Titsi

(9 September 2015)

Awesome stuff, grr8 results.

GREAT

Review by NHLANHLA

(27 August 2015)

GOOD STUFF

awesome stuff

Review by klaas mankge

(28 July 2015)

price should be reduced, its expensive

giantaholic stuff

Review by neshly

(14 July 2015)

Great stuff if you want to become a giantaholic like me I recommend it strongly for muscle builders


good supplement

Review by jay "knox" cutler

(2 July 2015)

it is expensive but it doesn't matter because you see changes in the matter of weeks

Awesome

Review by Lloyd

(25 May 2015)

Great taste especially strawberry, if you want size it's gonna give you but can be expensive.

the right stuff

Review by kboy

(17 May 2015)

fast grow is good i've used it for 2months have gain a lot of muscle mass.you will not see results from any supplement within weeks.


its great

Review by vyra

(11 May 2015)

It seems to work but hyperbolic mass is better...I always feel down after taking it

Fast grown anabolic

Review by Swarrie

(4 May 2015)

Usn a good not great supplements. But for the price it is - - >10/10 gained 2kg in the month that I used it!

very effective definitely recommend

Review by Sabby

(13 April 2015)

I started using fast grow for past two now
i can see a big difference from the size i was

great stuff!!

Review by massive

(27 January 2015)

Felt a boost in strength and endurance within the first 3 weeks on fast grow,never noticed any gains in size,untill three months ago my bro looked at me and said "dude you becoming Massive"........was my nickname ever since........fast grow is the ultimate muscle builder!,HIGHLY RECOMENDED

Awesome!!!!

Review by BUFFalo

(24 January 2015)

The best ever,the greatest, mixed with Hyperbolic Mass

it works

Review by jamie

(4 December 2014)

take every morning before training.will see change after 2 weeks...

decent gains

Review by squat killer

(28 November 2014)

Happy with the end results of 2tubs will consider using it in the future cause I'm looking for a lower carb & higher protein shake !

perfect!!!

Review by tony

(27 November 2014)

great results!!! feel good but need more action on the taste...every thing else is 'GREAT'thank u....

Perfect!

Review by Neymar

(13 November 2014)

This is a great product, I gained huge mass within a month of using, as well as energy and massive strength. I play football and it gave me a boost to shine because I now cope against big players, it all boils down to only talent now, not power anymore and I come out tops always. I love the new look me, hahaha.. Thanks USN!

work great

Review by G.A.N

(7 November 2014)

If u take it before workout with creatine HCL and first thing in the morning. Worked great on me after 3 months I made explosive gains in my body especially my arms.

Fast grow the best way

Review by Tlhoks

(22 October 2014)

This product is good. In 1week my body it was starting to grow,the taste it is not bad.

eish

Review by yolo

(19 October 2014)

Worx but taste no smart

Nice all in one

Review by fit_guy

(6 October 2014)

I like it because it is a complete shake. Don't need to buy other products as this has everything. I don't mind the taste, Chocolate is the best. Got good results using this after 3 months.

Great

Review by cookie

(7 April 2014)

not bad- great results! but the taste is something else (aargh)

good product

Review by diddy ent

(1 April 2014)

All good (taste_ not good) strawberry.. using it with usn pure creatine + usn pure glutamine it realy builds muscle and size

works very well

Review by awonke

(20 March 2014)

I used this when i first started working out as a meal replacement shake and it took me from 60kg to 66kg in the first month(i went through two tubs)

gain

Review by Godie

(15 March 2014)

I like the taste of chocolate its thick and rich, it works great but regular gym sessions is advised to actually see the end results in 1 week

good gains.

Review by JBR

(13 February 2014)

Worked well for me after a month,got some good results .

Works well

Review by JJ

(21 January 2014)

I've been using this for about three months now and have seen superb improvement. Was on other protein shakes before and didn't see near the same amount of muscle gains.

Did its Job!

Review by Matthew

(9 November 2013)

I am a hard gainer and after taking this product twice a day i was happy to see results such growth, increased energy and strength! Taste not good at all but after seeing progress i didn't really mind!

Best weight gainer

Review by Troublemaker

(2 November 2013)

Vanilla flavor is horrible ....but works like a bomb ,drink plenty water and u will see results ,put on 3 1/2 kilos in 2 weeks and will continue using it but try strawberry flavor .

All about the gains

Review by Day-Day

(17 October 2013)

Great for hard gainers, really helped me out and continues to do so for me. Has a decent amount of protein to boot. Its very thick in texture with a average taste. Pricey but worth it.

Chocolate flavour - ??? - ABSOLUTELY HORRIBLE - won't continue with this

Review by johnny

(11 October 2013)

An ABSOLUTELY DISGUSTING TASTING "CHOCOLATE" flavour - chocolate? not sure what chocolate USN eat!

can't comment on effectiveness as given the HORRIBLE "chocolate" flavour, i wont be continuing this product. thats how bad it tastes! and it wasnt cheap. i would rather give my new 4kg tub away than force myself to drink this.

awesome

Review by waseem

(18 September 2013)

Great product works well

huge gains in strength nd size

Review by BEAST

(6 September 2013)

Recommended mix turns out to be like mousse mix 200ml water per scoop. Chocolate is really bad . Strawberry is ok

taste not so good results good

Review by keenzzzzzzzz

(4 May 2013)

it tastes horrible you have to force it down .i have been taken it for 2 days but the results are good.

Good lean gaining supplement but not the best for its price range

Review by klein Hulk

(20 December 2012)

With this supplement I managed to pack a staggering 3kilos, I used the 2kg package, the usage span thou is very short and the 2kg only lasts 6 days straight and the suggested way to mix it up isn't really advisable as it mixes up to be sludge and therefore unbearably disgusting to chunk down in that way...

Keen On Trying

Review by Damian

(20 November 2012)

Just got myself the shake, hoping for good results :) or i'm back to SSN

Not bad

Review by kwerty

(19 November 2012)

Has a lot of carbs so it's a great supplement for bulking. It didn't mix very well in my experience though

seems good but there was no result

Review by little v

(14 November 2012)

Good product , gave me extra strength but didn't see much result when it can to the rest.

Result bearing product!

Review by Zack

(26 September 2012)

Tried a similar product which didn't yield results, this however proved to be much more effective. Will definitely keep on buying this!
It gives more satisfying results in relation to the amount of work you put in.

Awesome

Review by Scott

(20 September 2012)

Strawberry tastes great and is well worth trying.

average product

Review by chris

(8 September 2012)

I think you are better off buying good quality whey protein and eating more carbs to gain mass

It works well

Review by It works

(27 July 2012)

drink more water and it works well
I like it and recommend


good product

Review by muscle junkie

(6 July 2012)

good product, picked up about 4kg's on my first tub and increased lots on strength, very thick and loading phase needs lots of water, not the greatest taste but I divide my shakes so its not so thick. great product overall

Awesome taste, awesome results.

Review by Kaavish

(5 July 2012)

A friend and i have been using this to put on a little mass. Massive weight gains in both of us after 3 months of usage but i would like to make something clear to the "Lazy gymers"... remember mass gainers give you size but not shape, you're going to have to work to see well shaped biceps, triceps etc...
don't take mass gainers if you not going to gym because then you just going to look like a bloated, off-balanced sumo wrestler:)

works well

Review by Jay

(13 June 2012)

I have used this a few times, works well, not the best product i have used, but for the price its well worth it

Still using it

Review by Kyle

(30 May 2012)

Ive been using this stuff for a good couple of months now. And its great, i use the USN WHEY after my workouts. And fast grow during the day to replenish my system with proteins!! This product is great and im off to buy my 4th tub next week.

works

Review by camron

(9 May 2012)

grow fast works very well i just started gyming and i pick up 3 kg in a week and a half very good

I want to gain weight

Review by the serge

(15 March 2012)

strawberry flavour is nice!
price is affordable!
I've used this product with milk and it was a + for me...
it really really works


Great product

Review by Paul

(9 February 2012)

Bought the 1 kg tub,and saw good results,will use again

Great Product!

Review by ...Shakes...

(5 February 2012)

It is a excelent product...used a 1kg tub and could see the difference...

great of sudents

Review by Albert

(3 February 2012)

this is a great mrp because it has 50g protein per shake and has creatine and testo booster in. I'll recommand this if you don't want to spent much money on all of the supplements.

Gain mass

Review by Arno

(25 November 2011)

When I started using fast grow in the beginning of my gym career I gained weight very quick.
It taste good but is very very thick if use make it as USN recommends.
So I used 1 scoop with 500ml water.
If you are look to gain mass this is for you


OK

Review by Ernst

(22 November 2011)

This is a good product but USN have a lot of other products thats better!! Taste good effectiveness is ok and price real good. For what you paying you get a lot out.

its gr8

Review by theodore

(19 October 2011)

i have been using it for 2 weeks and gain 3kg this is what my body needs


Gain Fast

Review by Richard

(10 October 2011)

I used Hyperbolic Mass twice daily and Fast grow Anabolic once daily directly after exercise.... also used BSN N.O Xplode and BSN Cellmass together wit the two USN products.... i gained fast like really fast as i am training off season for Rugby.. i need to put on weight fast i gained about 6kg of rock hard muscle and no fat.... in 2 months... which is great as my bodyfat is still 7% these are great products!!!!

impressive Gains

Review by Home gym

(5 October 2011)

great product !

1st week halfed servings Great gains will buy again.

Tub quantity should be made more !EG 8-10kg

entry level grade

Review by johan

(4 October 2011)

As a entry level all round supplement it is really good, however im not a big fan of USN, this price is good and as a first step of using all the basics of the supplement world, you wont be disappointing. VERY important to follow the correct Maximum dosage, dont under dose as it was my mistake as a rookie and it shows(lack of). be sure to move on to bigger and better brands!

not the best

Review by Brandon

(1 October 2011)

waste of time and money, better products out their.

good stack

Review by stephan

(11 August 2011)

nice all round shake, can get expensive as it doesn't last very long. the best shake for bulking by far

Live by it

Review by Captain Planet

(10 August 2011)

Fast Grow Anabolic is my favourite Mass Gainer. The best part would be the Stack you get in it. Many people don't realise this and compare it directly to a plain protein and Carb MRP. In the end you land up saving because if you take the recommended servings you get your creatine and your tribulus, which is great for bulking up. Two tubs a month and you will feel like the Hulk. Great product.

astonishing growth and recovery

Review by boere

(27 July 2011)

guys all i can say is that subjectively, this product worked! try a 4kg tub!


the best muscle gains

Review by Rin

(22 July 2011)

If you train consistently and hard enough( not overdoing it as to kill your immune system now) and take the supplement as prescribed...it works! I've tried a lot of products...and nothing works like this...you have to do a bit of cardio in between though to avoid any fat gain...especially on the belly

horrible

Review by brent applbe

(19 May 2011)

not a kg gained after a 6 kg bucket

Not Bad

Review by Thor

(18 May 2011)

Was quite impressed considering its USN and all the negativity that surrounds the brand, tastes good and had some nice gains. Scoops are large so you use almost a kg in three days, but worth a try.

Not Impressive

Review by Ross

(10 May 2011)

Not great,slow gains,maybe okay for beginners,overall not impressive.

Not that great!

Review by B.B

(10 May 2011)

For those of you that are looking for a high protein or mass gainer you should look at a different product.

That been said the taste is good, but it dosen't mix well unless you use a blender. It is very thick and goes down very hard especially if you mix 2-3 scoops with milk.You will also feel bloated.

It is a good meal replacement though and gives you your protein but you go through it a lot faster than other meal replacements.

You will gain a bit of weight but not a lot in contrast to how much of this stuff you must take to make it effective.

Overall I give it a 6/10

...

not that great, did have results, but will say it was more my diet i was following than the product helping, but thats only me

rubbish

Review by ryle

(8 May 2011)

Tasted terrible, made me gain alot of fat and is extremely expensive. Waste of my money and time.

is expensive

Review by Douglas

(19 April 2011)

i used a 1 kg and it lasted 5 days...that means i need six kgs per month...thats alot of money!!but must say while using it i was training like a beast.i rate its a great product, i gained 1 kg from it in 5 days!

IT WORKS!!

Review by Reezy

(30 March 2011)

Fast Grow Anabolic works... I've put on like three kgs in fifteen days... it tastes great... take it after meals though as it is very filling... i stopped taking it for two days... when i take it, i can go to the gym every day... if i stop taking it, i have to rest for a few days before i can go back to gym, so i know it really does help with muscle recovery and mass...

pointless

Review by Matthew

(17 March 2011)

drank 5kg of this stuff... it did nothing. also hard to drink because the texture is so thick.

no results

Review by Phillip

(8 March 2011)

this product really doenst give you any results, wont suggest it to any1 who is serious about gyming, i used it once, didnt do a thing

like it

Review by Karines

(22 November 2010)

I like this product ive gaind 3kg in 5 weeks the only bad thing is it makes me really full but i have already bought my second tub...and can;t wait to try out a new flavour


gain mass fast

Review by ruan

(1 November 2010)

When I first started to gym I used this product and gained 5kg in one month. This is a really nice product to use and it really doesn't taste that bad. Its also cost effective

wont use it again

Review by neau

(25 October 2010)

As a hard gainer this bag of sugar will make u gain... Fat. If u take a full serving twice a day which is hard coz it tastes seriously bad and thick even when mixed in a blender

Previous use of fast grow

Review by John

(5 October 2010)

I used this product before purchasing a different protein and it was a huge mistake this product is great to use on its own and is easy to use i know i will definitely be buying another tub of this after my other protein is finished. I gain 6kg in one month use! No other product comes close to this

No results

Review by K3mp

(25 September 2010)

Used this product for 2.5 months, gained 4.3kg. I was so excited as I actually bought something that work...well well, to my surprise, once I stopped using it, I lost 3.6kg even though I followed the same training routine and had a great nutritional plan.

taste wasnt as good

Review by Andro

(14 September 2010)

Taste worse than normal muscle fuel.. didnt really see much change or feel the testo effects

gained

Review by Jay

(3 September 2010)

gained 4kgs in 1 month with this and doesnt taste too bad just really thick so add a little more water.

Great Gains

Review by Gary

(25 June 2010)

I have had great gains from this product. I took the full 3 scoop serving (150g), mixed in 200ml extra water (thats all you have to do to stop it from being too thick).

I increased my cardio from 45 minutes to 60 minutes per day, and set out a proper 5 day split weight training regime with a well regulated diet.. After 1 month, I have cut my body fat by 3 % and I have gained a total of 4.2kgs.

Great product if you use it correctly. 10/10

not bad

Review by ruan

(24 June 2010)

if you want to try something new try this its not to bad. picked up 2 kg

terrible product

Review by Mahomed-Hanif Ebrahim

(9 June 2010)

If you are looking to give up gyming this is the product. It tastes terrible and does not mix easily, and, there are no such a thing as "results" with this product. . .I strongly recommend MUSCLE SCIENCE OPTIMUM ANABOLIC over this product.

Great Gains

Review by Simon

(5 June 2010)

I have always supported USN. I used this product and it gave me my first 10kg gain. Used correctly and train intensely and you won't gain too much fat. Great for beginners as it has all the stuff you basically would need to get you going. I rate this a 9/10

Crap

Review by Eddie

(31 May 2010)

I've gained like 4kg's with this, but most of it was fat..

not the best

Review by bob

(19 May 2010)

i used this product for 1 month...i was not so impressed.
it is really hard to mix and and its really thick, i would suggest a spoon bcuz it isn't really drinkable...the chocol8 flavor is horrific

It really works!!!!

Review by From zer to Hero

(10 May 2010)

Went from 54kg to 62kg in one month so it works, i'd recommend for any skinny person wanting to really gain muscle. Not to great on taste but it it surely gets the job done, 9 out of 10....

Horrible

Review by Richard

(6 May 2010)

Tastes terrible,doesn't work nearly as well as other mass gainers out there

great

Review by gti16v

(8 February 2010)

this stuff tastes great. good bang for buck. seen results in only one months use. people got different tastes so it wont suite alot of people.

EEEUW

Review by Jo

(6 February 2010)

Tastes really bad and doesn't mix easily.Thick and slimy.I enjoy Muscle Science Optimum Anabolic much more.As for results - nothing considerable.When reading the label on the product one gets really excited but don't be fooled.

Horrible Product

Review by Paul

(27 January 2010)

I really didn't enjoy this product. The consistency was way too thick!
It also made me feel ill, with a sore stomach, and bloatedness.
I moved to Biogen, which I felt was much better, and have seen better results

rrtt

Review by icechad

(5 January 2010)

this is a great product you see results in a months use try it but in order for it to work you need to gym!!! and try it with cold fusion

:(

Review by ruwa

(19 November 2009)

considering the competition out there I would not market this as one of the best if I were Usn(for the sake of the brand). NOT A QUALITY mass builder rather a source of carbs....thick carbs :( and all sorts of other non beneficial ingredients......4/10 does have an effect but not bang for your buck

Great

Review by busscat

(5 October 2009)

i on the other hand have been taking this product for 2 months now and it is amazing , for those people that actually know anything about supplementation they will know that you have to stay on a supplement for more than 1 month to see proper results

The strawberry cream tastes great!

Rubbish

Review by D

(4 September 2009)

Tastes like rubbish, thick and sickening! I definitely did not enjoy it and will never buy it again. Have been counting down the scoops until I am done.

As for muscle volume, I haven't seen anything wow about it!

P.S. If you want to try it liquidize a banana with it... masks the taste very well!