Evolve Nutrition Basix Micronized Leucine supports protein synthesis which enhances protein usage for lean muscle.
L-Leucine can be used by those looking to improve recovery and/or build lean muscle. L-Leucine also has anti-catabolic effects which helps users retain muscle while on a calorie restricted diet or during intense periods of weight training.
It is best suited for gym enthusiasts who incorporate regular weight training in their workout sessions.
Category: Vitamins & Supplements
How To Use It
• As a dietary supplement, consume 1 level scoop pre and post-workout.
•An additional scoop can also be consumed first thing in the morning upon waking and prior to bedtime.
•Can also be added to any other amino or protein drink to increase L-leucine content.
Most Recent of 2 Reviews
gona try

Review by

Iron_Man

(29 July 2015)

mTor it theory seems fantastic however gona give this a try to determine the quality & effectiveness.
might need seem some tweaking with glycine or gakick .
just add this to your regular BCAA (2:1:1) and you have 5:1:1 almost as good as modern BCAA from usp labs.

Like!

Review by

ironchild

(13 July 2015)

It get's the job done no doubt. Price is acceptable and the taste is horrific if consumed with water only, otherwise if it's consumed with a protein shake you might pick up a hint of aftertaste.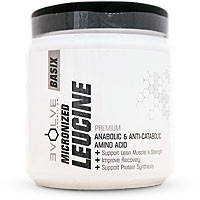 Take your fitness goal to the next level.
Free Delivery
for orders over R200.
All Major Centres
Orders over R200
Outlying Areas
Orders over R599
Expected Delivery
date for your parcel.
Johannesburg, Pretoria, Durban
Mon 26 June or Tue 27 June
Cape Town, Outlying Areas
Tue 27 June or Wed 28 June
Nutritional Information
Serving Size: 1 Level Scoop (3 g)
Serving Per Container: 60


Amount Per Serving
NRV
L-Leucine
3 g
†
† Nutrient Reference Value not established.
Notice
Not recommended for anyone under 18. Do not use if pregnant or nursing. Consult a health care provider if you have been treated for or diagnosed with a medical condition, or if you are using any medication. Keep stored in a cool dry place away from children.