Product Info
Cellucor C4 is a pre-workout for explosive training sessions.
The original C4 pre-workout has been around for sometime and for good reason.
It has a strong following of fitness enthusiasts who enjoy the 'clean' energy that this product provides.
Formulated with Caffeine Anhydrous and TeaCrine™, the combination of both prolongs the performance boosting effects of caffeine without the nasty 'crash' at the end.
Cellucor have used cutting-edge, trademarked ingredients to make a world-class product.
Beta-Alanine has been well researched for its ability to improve exercise performance, extend endurance and to speed up recovery.
C4 contains patented CarnoSyn® which has 20 years of scientific research backing up all the claims made on the benefits of Beta-Alanine.
The formulation may not be as complex as some of the other pre-workouts on the market.
Instead the scientific developers opted for world-class, patented ingredients that simply work!
Nutrition Facts
Serving Size:1 Scoop (6.5 grams)
Servings per Container: 30

Amount Per Serving
Carnosyn® Beta-Alanine
1600mg
Creatine Nitrate (NO3-T™)
1000mg
Arginine Alpha-ketoglutarate
1000mg
EXPLOSIVE ENERGY BLEND
375mg
N-Acetyl-L-Tyrosine
Caffeine Anhydrous (150mg)
Theacrine (as TeaCrine™)
Vitamin C (as Ascorbic Acid)
250mg
Niacinamide
30mg
Vitamin B6 (as Pyridoxal-5-Phosphate)
500mcg
Folate (as Folic Acid)
150mcg
Vitamin B12 (as Cyanocobalamin)
25mcg
Ingredients
Other Ingredients: Natural & Artificial flavors, Silicon Dioxide, Citric Acid, Malic Acid, Calcium Silicate, Sucralose, Acesulfame Potassium, Polydextrose, FD&C Blue #1.
Recommended products to use with this item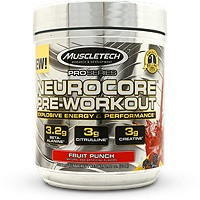 Directions
• Take one serving (1 scoop) mixed with 170 ml. of water 20 - 30 minutes before training.
• Some individuals may experience a harmless tingling sensation, which is attributable to Beta-Alanine.
• USE ONLY AS DIRECTED.
Notice
THIS PRODUCT IS ONLY INTENDED FOR HEALTHY ADULTS, 18 YEARS OF AGE OR OLDER. Do not use if pregnant, nursing, currently taking PDE5 inhibitors or nitrates for chest pain. Before taking this product, consult a licensed , qualified, health care professional, especially if you are taking any other dietary supplement, prescription drug or over-the counter medication; or if, you suspect you have been treated for, diagnosed with or have a family history of, any medical condition. This product contains caffeine and should not be used in combination with caffeine or stimulants from other sources. Discontinue use 2 weeks prior to surgery. Immediately discontinue use and contact a medical doctor if you experience any adverse reaction to this product. Do not use this product continuously for more than 8 weeks. Do not use if safety seal is broken or missing. Store in a cool, dry place. KEEP OUT OF REACH OF CHILDREN.