Product Info
Evolve Nutrition Neuro-EAA Spectrum-9 represents the most up to date intra-workout performance technology.
Formulated for the hardest working athletes and fitness enthusiasts, or those who may not meet their complete amino acid requirements throughout the day.
Serves to elevate the availability of EAAs in the blood stream during and immediately after each workout, and has been shown to accelerate muscle tissue retention, recovery and the muscle full.
This unique offering includes 2 g of Taurine for proper cellular hydration and electrolyte balance in the muscle tissue. The inclusion of Taurine and phosphates, Himalayan Crystal Salt and Cococin™ , a natural coconut rehydration medium, rich in electrolytes with advanced gut health properties and elevated muscle performance levels ensures optimal hydration throughout each workout.
NooGandha™ features at its clinical dosage to enhance adaptogenic and nootropic effects for improved mind-muscle connection, recovery and muscle tissue retention.
NordicCherry® is included as a broad based bioactive polyphenol compounds, including flavanols, proanthocyanidins and anthocyanidins for broad based anti-inflammatory and enhanced joint care.
Evolve Nutrition Neuro-EAA Spectrum-9 is the most advanced essential amino acid product on the market.
Related Products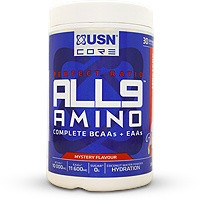 Nutrition Facts
Serving Size: 1 Scoop (15 grams)
Servings per Container: 20

Amount Per Serving
*%NRV
Energy
40 kJ
Protein
0 g
0,00%
Carbohydrate
0,6 g
†
Of which total sugar
0,1 g
†
Total Fat
0,1 g
†
Of which saturated
0,1 g
†
Total Sodium
192 mg
†
Potassium
151 mg
†
Phosphorus
68 mg
5,50 %
BRANCHED CHAIN AMINO ACID BLEND (Fermented)
L- Leucine
3 000 mg
L-Isoleucine
1 500 mg
L-Valine
1 500 mg
ESSENTIAL AMINO ACID COMPLEX
L-Lysine HCL
650 mg
L-Threonine
625 mg
L-Phenylalanine
255 mg
L-Histidine HCL
220 mg
L-Tryptophan
240 mg
L-Methionine
355 mg
HYDRATION SERUM
Taurine
2 000mg
Cococin™ (Cocos Nucifera) (Fruit) Coconut Water Extract
200 mg
Di- Potassium Phosphate
150 mg
Tri- Sodium Citrate
150 mg
Pink Himalayan Crystal Salt
200 mg
ADAPTOGEN-NOOTROPIC & ANTI-INFLAMMATORY STACK
NooGandha™ (Liposomal Organic Ashwagandha Root Extract)
250 mg
NordicCherry® (Bioactive Tart Cherry Extract)(Whole fruit)
500 mg
ENERGY UPTAKE & ABSORPTION ENHANCEMENT
BioPerine® (95 % Piperine Extract)
10 mg
* % Nutrient Reference Values (NRVs) for individuals 4 years and older (2010).
Ingredients
Flavouring, Fruitaric Acid, Silicon Dioxide, Non- Nutritive Sweetener (Sucralose), Stabiliser.
ALLERGEN INFORMATION
No common allergens included.
This product contains coconut derived extracts.
Recommended products to use with this item
Directions
• Take 1 level scoop with 400ml-600ml cold water.