Product Info
Grenade Carb Killa Protein Bar is the ultimate high protein snack. With so many delicous flavours, you'll have a hard time deciding which flavour to try.
Each high protein bar is triple layered and coated in chocolate for ultimate indulgence.
They're the perfect way to curb those sugar cravings while also providing a punch of protein. Low in sugar and carbs but high in protein and fibre which makes them a great snack to keep you going throughout the day.
Made using a specially selected baking process, Grenade Carb Killa high protein, low sugar bars offer exceptional taste.
What Do Protein Bars Do?
Eating a protein bar is an easy way to increase your protein intake.
A protein bar can also give you the great taste of a chocolate bar but with less sugar, with less than 2g per bar.
You can enjoy a Grenade Carb Killa Protein Bar as a nutritious snack or they can help you to achieve your muscle building goals, as they are packed with up to 24g of protein per bar!
Protein also leaves you feeling fuller for longer, so you can consume protein bars alongside a healthy diet and regular exercise to curb those cravings when you are trying to lose weight.
Grenade Carb Killa Protein bars have gone through the Informed Sport testing process and are widely consumed by professional athletes.
Related Products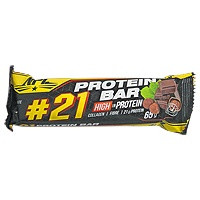 Nutrition Facts
Serving Size: Serving Size : 1 Bar (60 grams)
Servings per Container: 1 / 12 (Box)
Per 100 grams
Amount Per Serving
Energy (kj)
1493
896
Energy (kcal)
357
214
Fat
13 g
7.9 g
of which saturates
6.9 g
4.2 g
Carbohydrate
23 g
14 g
of which sugars
2.4 g
1.4 g
of which polyols
18 g
11 g
Fibre
11 g
6.7 g
Protein
39 g
23 g
Salt
0.75 g
0.45 g
Ingredients
Protein Blend (Calcium Caseinate (Milk), Milk Protein Isolate, Whey Protein Isolate (Milk)), Milk Chocolate with Sweetener (18%) (Sweetener: Maltitol; Cocoa Butter, Whole Milk Powder, Cocoa Mass, Emulsifier: Soy Lecithin; Natural Flavourings), Bulking Agent: Polydextrose; Hydrolysed Beef Gelatine, Humectant: Glycerol; Soy Protein, Cocoa Butter, Soy Oil, Palm Fat, Sweeteners: Xylitol, Sucralose; Skimmed Milk Powder, Low Fat Cocoa, Flavourings, Tapioca Starch, Salt, Emulsifier: Soy Lecithin.
ALLERGEN INFORMATION
Also may contain Wheat, Gluten, Egg, Nuts, Peanuts and Sesame Seeds.
Recommended products to use with this item