Product Info
MuscleTech Essential Series 100% Micronized Creatine delivers the purest creatine monohydrate for increased strength and power.
Most Studied
MuscleTech scientific team have used the most studied form of creatine in their product. Creatine Monohydrate is the single most researched sports supplement ingredient.
Purity
The creatine used in MuscleTech Essential Series 100% Micronized Creatine has been HPLC tested for purity, giving you the highest quality product possible.
Strength and Power
There is loads of information on the Internet about the benefits of using creatine. Strength and power increases during your lifting sessions are the two main benefits.
Being able to lift more weight results in thicker muscle fibers for more lean gains.
Related Products
Nutrition Facts
Serving Size: Serving Size : 1 Heaping Scoop (5 grams)
Servings per Container: 80

Amount Per Serving
%Daily Value
Creatine monohydrate (micronized)
5 g
†
† Daily Value not established.
Ingredients
ALLERGEN INFORMATION
Processed in a facility that processes milk, egg, soy, fish and shellfish ingredients.
Recommended products to use with this item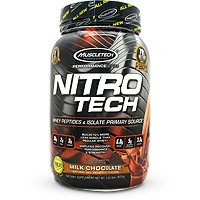 Directions
• For the first 3 days (loading phase): Mix 1 scoop with 230 ml of water and consume 4 times daily.
• After day 3 (Maintenance phase): Mix 1 scoop with 230 ml of water 1 to 2 times daily.
• For more impressive results, replace water with a carbohydrate beverage or sports drink.
Notice
Do not use if pregnant or nursing. Consult a medical doctor before starting a diet or exercise program or if you have a medical condition.