Product Info
My Wellness Pure Pea Protein is a vegan, naturally gluten free pea protein shake.
Pea protein powder is among the most hypoallergenic of all protein powders.
It provides a convenient source of protein nutrients for vegetarians and others who follow restricted diets.
Being plant-based, it's easier to digest than dairy based protein alternatives.
Naturally gluten and dairy-free, pea protein is an excellent source of vital amino acids for plant-based individuals looking at increasing or adding lean muscle.
Related Products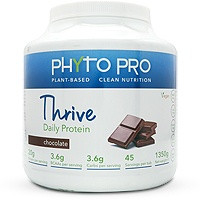 Nutrition Facts
Amount Per 100 grams
Energy
1509kJ
Protein
85g
Glycaemic Carbohydrates
2g
Of which Total Sugar
1.2g
Total Fat
3g
Of which Saturated Fat
0.0g
Cholesterol
0mg
Dietary Fibre
0.5g
Ingredients
Pea Protein Isolate
ALLERGEN INFORMATION
Made in a factory that uses nuts.
Recommended products to use with this item