Product Info
My Wellness Super Ashwagandha contains 450mg of pure root extract per capsule.
Ashwagandha is one of the most important herbs in Ayurveda, a form of alternative medicine based on Indian principles of natural healing.
It has been used for over 3000 years to assist in relieving stress, virility, and improving concentration.
Extensive scriptures describing the Ashwagandha plant and its medicinal properties have been mentioned in both traditional Chinese and Ayurvedic medicine.
Some of the benefits may include increased endurance, alleviation of stress, brain and immune support.
Related Products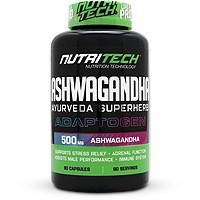 Nutrition Facts
Serving Size: 1 Capsule
Servings per Container: 60


Amount Per Capsule
Ashwagandha Root Extract
450 mg
Ingredients
Ashwagandha Root Extract, Veggie Capsule.
ALLERGEN INFORMATION
No known allergens.
Manufactured in a factory that uses nuts.
Recommended products to use with this item
Directions
Take 2 capsules in the morning.
If needed, take another 2 capsules at night, or as recommended by a health professional.