Product Info
NPL BCAA 5000 contains branched chain amino acids, l-leucine, l-valine, and l-isoleucine have been investigated for their potential at reducing muscle breakdown during training and muscle building effects.
BCAAs are known to stimulate protein synthesis and are essential for muscle growth.
NPL BCAA 5000 come in a powdered form of BCAA's which make the product ideal for using around periods of intense lifting or endurance where lean muscle needs to be preserved.
Related Products
Nutrition Facts
Serving Size: 1 Heaped Scoop (Approx. 5 grams)
Servings per Container: 30

Amount Per Serving
% NRV*
Energy (kJ)
0 kJ
Protein (g)
0 g
0%
Glycaemic Carbohydrate (g)
0 g
Of which:Total sugar (g)
0 g
Total Fat (g)
0 g
Of which:Saturated Fat (g)
0 g
Dietary Fibre (g)**
0 g
Total Sodium (mg)
0 mg
BCAA
5 g
L-Leucine
2.50 g
L-Isoleucine
1.25 g
L-Valine
1.25 g
NRV- Nutrient Reference Values for individuals older than 4 years.
†-NRV not established
**AOAC 985.29
Ingredients
Brached Chain Amino Acids, L-Leucine, L-Isoleucine, L-Valine
ALLERGEN INFORMATION
None
Made in a factory that processes dairy, soy, egg gluten (wheat, barley and oats), nuts and peanuts.
Recommended products to use with this item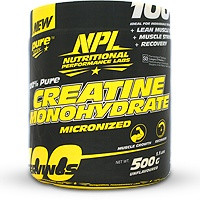 Directions
• Mix 1 heaped scoop (approx 5g) with 250ml of cold water, flavoured drink.
• On training days, consume before and after training.
• On non-training days, consume 1-2 times daily between meals.
Notice
Consult your doctor prior to use. Not intended for use by persons under the age of 18. Do not use if you are pregnant or nursing unless prescribed by a sports physician / dietitian. Maintain an adequate state of hydration while using this product
THIS MEDICINE HAS NOT BEEN EVALUATED BY THE SOUTH AFRICAN HEALTH PRODUCTS REGULATORY AUTHORITY. THIS MEDICINE IS NOT INTENDED TO DIAGNOSE, TREAT CURE OR PREVENT ANY DISEASE.