NPL Reservoir is a large volume water jug with an easy-grip handle to keep lifters and fitness athletes hydrated.
The jug has a capacity of 2.2 litres which should cover the most grueling training session.
An easy-grip handle makes it a breeze drinking from the jug.
Made from BPA-Free plastic and is leak-proof.
Be The First To Add A Review
We're Here To Help
Give Us A Call
Phone us on 011 524 0345 for any help you need.
Send An Email
We really do reply to emails we receive.
Come And Visit
You are welcome to visit our warehouse.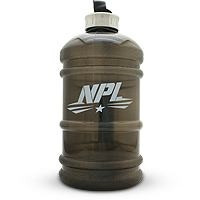 Take your fitness goal to the next level.