Product Info
Nutritech Cream of Rice is a quick-cooking hot cereal.
Made from milled white rice this unrefined complex carbohydrate is naturally gluten, cholesterol, and fat-free.
Available in Chocolate Malva, Vanilla Pancake, and Unflavoured.
To enjoy Nutritech Cream of Rice with added protein, mix one full serving of any protein powder after cooking.
For added crunch and decadence, stir in a handful of walnuts, a dollop of honey, and a generous helping of fresh blueberries.
Related Products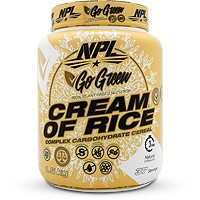 Nutrition Facts
Serving Size: 2 Heaped Scoops (50 grams)
Servings per Container: 20


Amount Per Serving
% NRV*
Energy (kJ)
761
Protein (g)
3,0
5%
Total Carbohydrates (g)
40
of which Glycaemic carbohydrates (g)
39
of which total sugar (g)
0,0
Total fat (g)
0,7
of which saturated fat (g)
0,0
Dietary fibre (g)
1,2
Total sodium (mg)
0
*NRV: South African nutrient reference values for individuals 4 years and older.
Ingredients
Ground white rice, flavour and non-nutritive sweetener (sucralose).
ALLERGEN INFORMATION
Contains no common allergens.
Manufactured in a facility that uses eggs, dairy, soy, wheat, (gluten) and nuts.
Recommended products to use with this item
Directions
MICROWAVE INSTRUCTIONS
• Mix 50 grams (approx 2 heaped scoops) with 200 ml of cold water.
• Microwave on high for 2-3 minutes, or until the desired consistency, stirring every 30 seconds.
STOVETOP INSTRUCTIONS
• Mix 50 grams (approx heaped scoops) with 200 ml of cold water in a pot over high heat.
• Bring to the boil and simmer for 2 minutes, or until reaching the desired consistency.
Customer Reviews
Perfect breakfast

Review by Justin

(21 June 2022)

Cream of rice is the perfect breakfast to have, I add in a scoop of peanut butter and sometimes honey! great for after gym meal.