Product Info
Optimum Nutrition 100% Whey Gold Standard Sachets is the world's premium protein shake in convenient travel packs.
Each pack has 24 grams of protein, 5.5 grams of naturally occurring BCAAs and 4 grams of glutamine.
One box has 24 individual serving sachets. Priced the same as the 908 gram tub which offers 29 servings.
If you need to travel compact and don't have space for protein containers then this is the perfect solution.
Related Products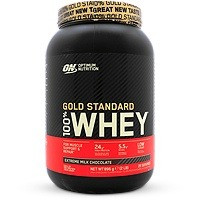 Nutrition Facts
Serving Size: 1 Packet (30.4g)
Servings per Container: 24

Per 100g
Amount Per Serving
% RI per serve
Energy
1558 kJ
474 kJ
6% *
372 kcal
113 kcal
Fat
3.8 g
1.1 g
2% *
Of Which Saturates
2.3 g
0.7 g
4% *
Carbohydrate
5.8 g
1.8 g
1% *
Of Which Sugars
3.9 g
1.2 g
1% *
Fibre
1.9 g
0.6 g
†
Protein
78.5 g
23.9 g
48% *
Salt
0.610 g
0.185 g
3% *
Calcium
463 mg
141 mg
58% *
Sodium
244 mg
74 mg
†
* Reference intake of an average adult (8400 kJ/ 2000 kcal).
† Recommended Reference intake or Nutrient Reference
Value not established.
Ingredients
Protein Blend (Whey Protein Isolate) [contains Emulsifier: Soy Lecithin], Whey Protein Concentrate, Hydrolysed Whey Protein Isolate], Fat-Reduced Cocoa Powder, Flavouring, Sweeteners (Acesulfame k, Sucralose), Enzyme Complex (Amylase, Protease, Cellulase, Beta-D-Galactosidase, Lipase). From MILK
ALLERGEN INFORMATION:
Contains: Milk, Soy, [Lecithin]. May Contain: Gluten, Egg, Nuts and Peanuts.
Recommended products to use with this item
Directions
Gold Standard 100% Whey™ is instantised for easy mixing. Simply add one packet (30.4 g) to 180-240 ml (6-8 oz) of old water and blend, shake or stir until powder is completely dissolved.
TIP: You can adjust flavour by using more or less water.
STACK YOUR SHAKE: You can make Gold Standard 100% Whey™ an even better post workout product wit Creatine, Glutamine, BCAA, and concentrated carbohydrate powders.
THINK OUTSIDE THE GLASS: Gold Standard 100% Whey™ can be used for more than just protein shakes. Try mixing a scoop into oatmeal, yoghurt, or the milk than you pour over your morning breakfast cereal. Better yet, increase the protein content of muffins, cookies, brownies, etc. by adding a scoop or two to your baked goods recipes.
SUGGESTED USE: For healthy adults consume enough protein to meet your daily protein requirements with a combination of high protein foods and protein supplements throughout the day as part of a balanced diet and exercise programme.
Notice
Not for use by those with pre-existing medical conditions or those taking any medications, those under the age of 18 or women that are pregnant or breast-feeing.