Product Info
PharmaFreak Ripped Freak Hybrid Fat Burner supports weight management and to maximise workout intensity.
This supplement has been created specifically for lifters and athletes who are looking to push their performance limits!
Key ingredients found in this formula address major fat-loss mechanisms!
It only takes a short amount of time to begin to feel the effects, which can help boost your body's metabolic rate, support fat metabolism and promote a heightened sense of total-body awareness.
With PharmaFreak Ripped Freak Hybrid Fat Burner in your arsenal, nothing stands in your way of becoming a true RIPPED FREAK!
Nutrition Facts
Serving Size: Serving Size : 1 Capsule
Servings per Container: 30

Amount Per Serving
%Daily Value
PROPIETARY RIPPED FREAK COMPLEX
400 mg
Caffeine (1,3,7- trimrthyl - 1H - PURINE - 2,6(3H,7H) - dione)
†
Green Tean Leaf Extract (Camellia sinensis)
†
Olive Leaf Extract (Olea europaea)
†
Green Coffee Bean Extract (Coffea arabica)
†
CH-19 Sweet Red Pepper Extract (Capsicum annum) (fruit)
200 mg
†
RASPBERRY KETONE COMPLEX
167 mg
Raspberry Ketone (4 - (4 - hydroxyphenyl) - 2methyl ethyl ketone)
†
Gallic Acid (3,4,5 - trihydroxybenzoate)
†
† Daily Values not established.
Ingredients
Other Ingredients: Gelatin, Magnesium Stearate.
Recommended products to use with this item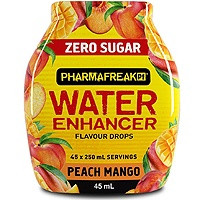 Directions
Adults take 1 capsule of RIPPED FREAK® with an 236 ml glass of water on an empty stomach, first thing in the morning before breakfast.
OPTIONAL SECOND SERVING:
Take your second serving (1 capsule) in early afternoon on an empty stomach at least 30 minutes before you eat a meal.
On workout days. Take 1 capsule 30-60 minutes before your workout.
Never take more than 2 capsule daily.
Drink at least ten 236 ml glasses of water daily.
Notice
KEEP OUT OF REACH OF CHILDREN. DO NOT EXCEED 2 CAPSULES IN A 24-HOUR PERIOD AND DO NOT TAKE WITHIN 6 HOURS BEFORE BEDTIME. Not for use by those who are sensitive to stimulants, such as caffeine. Use at your own risk. Consult a physician before using this product if you have s medical condition, if you require surgery, or if you are taking prescription or over-the-counter medication. Not intended for persons under the 18 years of age. Do not use if you are pregnant or nursing. One serving of this product (1 capsule) contains about as much caffeine as three 8-ounce cups of coffee and should not be taken by individuals wishing to eliminate caffeine form their diet. Do not use with caffeine-containing medications, foods or beverages, because too much caffeine may cause nervousness, irritability, sleeplessness and, occasionally, rapid heartbeat. Do not use if the inner safety seal on this package has been broken. Store in a cool, dry place.
Customer Reviews
Excellent

Review by MJ

(31 August 2021)

I have lost 35 kg so far. Great product. Easy to follow. Really works.

It a good product

Review by Nhla

(22 March 2021)

I once used it i lost 10kg in 2,5 months