Product Info
Weight loss just became easier. South Africa's best-selling and most trusted thermogenic fat-burner, USN's Phedra-Cut, is now available as a delicious, refreshing drink, Phedra-Cut Slim Packs.
Phedra-Cut is an advanced fat loss activator, consisting of a synergistic blend of natural ingredients, which have all proven to assist in safe and effective weight-loss. Phedra-Cut Slim Packs is sold in a box containing 20 sachets that make a delicious berry-flavoured drink. Each sachet contains one drink serving, and is almost the equivalent of three Phedra-Cut XT capsules.
The benefits of USN Phedra-Cut Slim Packs:
• Contains scientifically proven fat loss ingredients
• Breaks down fat for energy use
• Suppresses appetite
• Increases metabolism
• Stimulates anti-oxidation during fat breakdown
• Improves the feel-good factor and boosts energy
• Is tasty, refreshing and convenient
Related Products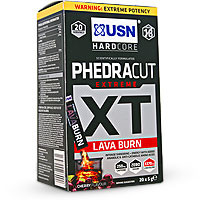 Nutrition Facts
Nutritional Information:
Serving Size: 1 Sachet (4g)
Servings Per Container: 20
Amount Per Serving
Energy
12kJ
Carbohydrates
0g
Fat
0g
Fibre
1.2g
Chromium polynicotinate
250μg
of which Chromium
30μg
Calcium lactate
250mg
of which Calcium
46mg
M-phR™ Proprietary Blend:
900mg
Garcinia Cambogia extract (60% HCA)
Fucoxanthin (10% Extract)
5-HTP
L-Carnitine Fumarate
Natural Caffeine
Green tea extract (45% EGCG)
Citrus Aurantium (30% Synephrine)
Evodia Rutaecarpa
Yerba Mate (25% Xanthins)
N-acetyl-L-tyrosine
Glucuronolactone
of which Caffeine
125mg
Ingredients
Other ingredients: Inulin (Prebiotic fibre), Flavourant, Malic acid, Non-nutritive sweetener blend (Acesulfame-K, Aspartame*), Colourant. *Contains Phenylalanine.
Recommended products to use with this item
Directions
• As a dietary supplement, mix 1 sachet into a 500ml bottle of mineral water, and shake well.
• Take 2-3 times daily, 30 minutes prior to meals or snacks. It is recommended that the first serving be taken in the morning on an empty stomach (with a large glass of water), 30 minutes prior to your morning workout or breakfast.
• Take another serving prior to lunch. Do not use after 4 o'clock in the afternoon.
• Take Phedra-Cut Slim Packs for 5 consecutive days of the week and stop use for 2 days before continuing again (2 off days).
• As with all weight control supplements, Phedra-Cut Slim Packs work best when combined with a balanced, energy controlled eating plan and regular physical activity.
Optional: Take 4 capsules Phedra-Cut Stimulant Free 30 minutes prior to your evening meal to control appetite, assist in blood sugar regulation and to optimise your weight loss results even further. During the "2 off days" of not using Phedra-Cut Slim Packs, it is advised to use Phedra-Cut Stimulant Free 3 times per day, 30 minutes prior to meals.
Notice
As with all exercise and nutritional programs, please consult your physician first (especially if you have a medical condition). Do not use if you are pregnant, lactating or under the age of 18. If anxiety, dizziness, headache, heart palpitations, stomach pain or depression is a result, lower dosage or discontinue. Remember that an adequate state of hydration must be maintained when using this product. Have at least 8 - 12 glasses of water per day. Do not have more than 4 sachets per day and do not use this product for more than five consecutive days per week. Taking more than the recommended dose will not improve results and may cause adverse reactions.
Customer Reviews
Amazing

Review by Sena

(1 July 2019)

It's been my 2nd month using the product i use it once 30 minutes b4 my jogs n i have noticed i have a lot of energy and enjoying gym a lot. I'm starting to loose weight and my body is starting to build muscles loving it

Just Started

Review by Polly

(11 March 2019)

Love love the taste .Bought two different flavors berry &citrus.Berry is my favorite so far.Require one to drink lots of water,which is great.Energy booster &looking forward to loosing weight.Combine mine with gym workouts.

I really like the product it works for me

Review by Meme

(10 March 2019)

I think the people who have medical problems should consult the physician before using the product

FEEL GOOD & EFFECTIVE

Review by Tellie

(14 January 2019)

Good day Viewers
I have been using this product for about 1 year now, as prescribed. I can promise you that if you use this product together with a healthy diet and visiting the gym at least 5 days a week (with a excellent workout plan), you will definitely feel good and get the results you want.
Thelma van Rensburg

Day 2

Review by Qwerty

(28 December 2018)

Still on the fence... taste great but no weight loss yet...

Beutiful

Review by Lady D

(24 November 2018)

Very very good, suppress appetite, no side effects and offers lots of energy.

good

Review by sheryl

(12 November 2018)

on my second day of using the product it made me go to the toilet a alot.. so i used one sachet instead of two yesterday .. im back to it and hoping i dont have to go to the toilet that often. I havent notice any change in my body weight for now.

New to this will await results

Review by Yozit

(1 November 2018)

Today is my third day of drinking the sachet, love the taste of it especially mango-orange. At first i felt very nausea and had a suppressed appetite along with a lot of trips to the loo almost immediately. I just hope that it works even though i don't go to the gym however i am starting to eat clean.

Phedracut slimming pack

Review by Niki

(17 October 2018)

Started using the Phedracut slim pack today, I love the berry taste but having a running tummy, still cant wait for the results.

Wow

Review by Maxy

(22 September 2018)

I've never seen something so good; effective..I am on my second week of using the product and I have lost 6 kg. All tnx to phedracut cut slim pack. It suppresses my appetite and gives me more energy. I take it early in the morning with an empty stomach... therefore I hit the gym and run on treadmill 6 km non stop. I like the grape flavor it tastes so good.

Fingers crossed

Review by Iccy

(2 May 2018)

First time I took it I felt very dizzy and weak and I kept on going to the toilet I noticed
After taking it i was able to stay 6 hours without eating
I'm surprised myself because I'm always by the fridge
It has only being my second day
So fingers crossed I hope it works

The Perfect Boost

Review by RS

(25 February 2018)

I've only been using this product for a week & already I'm powering through my workouts! After normally being completely exhausted after a long day, it is so nice to finally have the energy, along with a feel-good boost to take on late afternoon workouts. I take it at around 3pm and still have a good night's rest. There's no crash as would sometimes be expected. Really excited to see the results when actually measured.

Let Down

Review by Lisha

(8 February 2018)

So excited to start my weight loss programme. After MUCH deliberation and thanks to this website, I finally decide to invest in this product. Not one of the sachets has powder in them. All undissolvable and totally stale. Exp 10/2018 so not sure wth ?! peed off

Taste and works good

Review by Winey

(8 December 2017)

I used it before and it works like magic

love it

Review by wowy

(6 December 2017)

its cheap but not that cheap

Great

Review by Tl

(3 November 2017)

Iv only used it for about a week.... missing days in between but this product works in suppressing my appetite makes me drink loads of water almost 4litres a day.. tastes good when diluted with cold water. Looking forward to weighing myself at the end of my pack.


Tasty drink

Review by Liz

(2 November 2017)

I dont know if it works or not iv never really notice but I buy it monthly for its refreshing great taste, I drink it once a day before gym.

I think I should lower the dosage first and see.

Review by Noz

(25 October 2017)

I have used PhedraCut slimpacks sachets twice, one sachet in 500ml before my morning workout. Its the feeling I get that I don't like..first day it was nausea, 2nd day extreme anxiety that I could not control, I was just too emotional. So today I considering lowering the dosage, that will determine if I give the box to the friend who recommended it. I will then go back to my B4Burn preworkout, which was fantastic because it had no creatine..just pricey..that's why I tried these slim packs

Excellent product

Review by Macawear

(8 October 2017)

Great product the berry flavour has the best taste.follow instructions carefully and ull lose. I lost 2kg in 1 week with diet and exercise.am on a 6 week challenge so im sure il lose more!!

excellent product

Review by Theressa

(24 July 2017)

wow... this is truly an amazing product, works wonders and can really live on it only.