Product Info
Solgar Megasorb Vitamin B-Complex is a high potency balanced vitamin B complex formulated for improved absorption and delivering key B vitamins, including Thiamine (B1), Riboflavin (B2), Niacin (B3), Pantothenic Acid (B5), and Vitamin B6, along with other B vitamins such as Folic Acid, Biotin (B7) and Vitamin B12.
Many B vitamins are interdependent, so it is best to take them in combination, for example in a B-complex or a multivitamin containing a B-complex.
B vitamins are essential nutrients required by the body. They help our bodies convert food into energy, allowing us to stay energised throughout the day, as well as supporting our mental performance.
B vitamins are water soluble nutrients that are necessary to maintain energy and general vitality, but they are also used by a number of other important functions within the body including immune, nervous system and psychological functions.
Although not dependent on dietary fat for absorption, as one of the main properties of B vitamins is to convert food into energy therefore it is recommended to take them with a meal.
When taking Solgar Megasorb Vitamin B-Complex delivers all of the following key B vitamins.
• Extra high potency dose of B vitamins
• Riboflavin (Vitamin B2), Niacin (Vitamin B3), Vitamin B6 and B12 contribute to the reduction of tiredness and fatigue and energy-yielding metabolism
• Pantothenic Acid (Vitamin B5) contributes to normal mental performance
• Thiamine (Vitamin B1), Biotin (Vitamin B7), Niacin (B3) and Vitamin B6 contribute to normal nervous system and psychological functions
• Thiamine (B1) contributes to the normal function of the heart
• Riboflavin (B2) contributes to the protection of cells from oxidative stress and the maintenance of normal vision
• Niacin (B3) and Biotin (B7) contribute to the maintenance of normal skin
• Biotin (B7) contributes to normal macronutrient metabolism
Related Products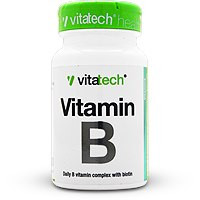 Nutrition Facts
Serving Size: 1 Tablet
Servings per Container: 50


%EC
NRV*
Bulking Agents: microcrystalline cellulose, hydroxypropylmethyl cellulose, dicalcium phosphate, mannitol
Magnesium (as citrate, oxide)
24 mg
6
Vitamin B6 (as pyridoxine HCl, pyridoxal-5'-phosphate)
55 mg**
3929
Thiamin (vitamin B1, as thiamin mononitrate)
50 mg
4545
Riboflavin (vitamin B2, riboflavin-5'-phosphate)
55 mg**
3929
Pantothenic Acid (as D-pantothenate, calcium)
50 mg
833
Choline (as bitartrate)
21 mg
Niacin (vitamin B3, as nicotinamide)
50 mg NE
313
Inositol
50 mg
Soya Lecithin
50 mg
Anti-caking Agents: silicon dioxide, vegetable magnasium stearate
Glazing Agents: hydroxypropylmethyl cellulose, vegetable glycerin (from palm kernel oil and coconut oil)
Pantethine
5 mg
Folic Acid (as pteroylmonoglutamic acid)
400 µg
200
Colour: riboflavin
Vitamin B12 (as cyanocobalamin)
50 µg
2000
D-biotin
50 µg
100
*EC NRV =EC Nutrient Reference Value
**Long term intakes of this amount of Vitamin B6 may lead to mild tingling and numbness.
Ingredients
FREE OF: Gluten, Wheat, Dairy, Yeast, Preservatives,Artificial Flavours or Artificial Colours
Directions
• As a food supplement for adults, one (1) tablet daily, preferably or mealtime, or as directed by a healthcare practitioner.
• Do not exceed directions for use.
Notice
If you are pregnant, nursing, taking any medications or have any medical condition, please consult your healthcare practitioner before taking this product. Keep out of reach of children. Store in a cool, dry place.